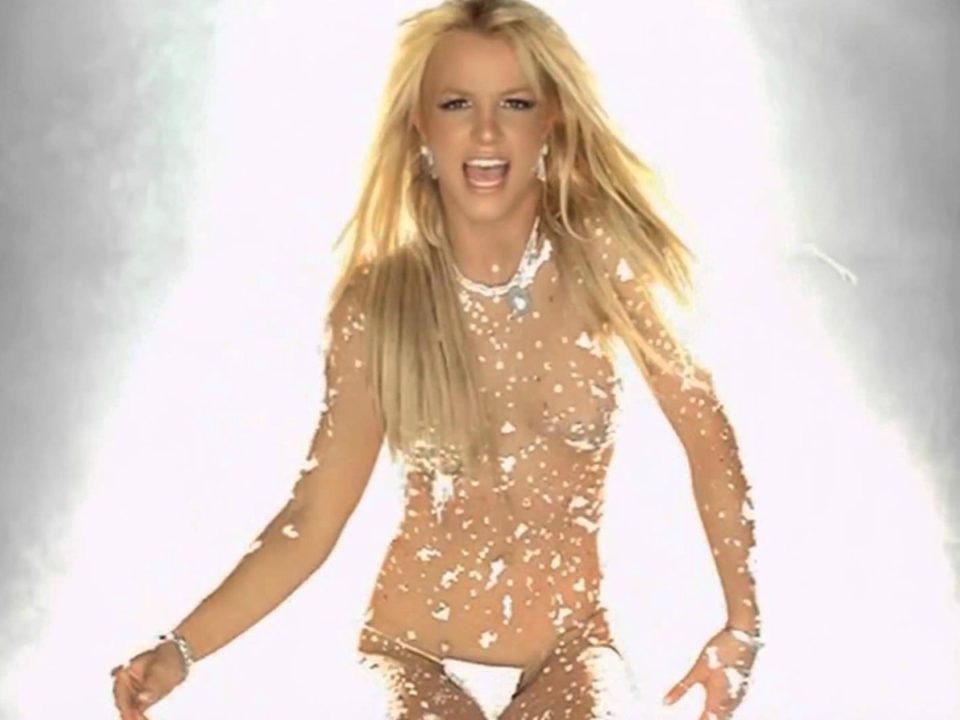 Yesterday I had a hard time coming up with 5 overrated Britney Spears songs, today I had a hard time keeping my list of underrated songs under 20.  With 9 albums under her belt, Britney has plenty of back catalog to choose from, so some hard cuts had to be made.  I started by getting rid of any song that got released as a single (which was basically my criteria for a song getting enough recognition that it could not be called "underrated").  Then I went through her entire catalog, bonus tracks, B sides and all, and found the 20 best underrated Britney Spears songs of all time!  Or at least, like, my opinion on the 20 best underrated Britney Spears songs of all time, man.
And, in an attempt to not bury the lede, here's a handy playlist of the 20 songs I chose right up front (in order of release so you can see the progression of Britney's sound).  Again, no hits, DEEP TRACKS ONLY:
What are my thoughts on each of these songs in an album by album breakdown?  I'M GLAD YOU ASKED:
Baby One More Time
Pretty much this entire album sucks.  I made my feelings known on its two ballad singles yesterday, but aside from the immortal title track and "(You Drive Me) Crazy," there are really no other songs of note here, underrated or otherwise.
Oops I Did it Again
Oops sees Britney doubling (quintupling) down on the song that made her famous, to excellent effect.  There are still a lot of bubblegum clunkers that haven't aged well, but most of the singles are great.  As far as underrated songs go, I really only found one that stood out enough to make the cut:
"What You See Is What You Get" – Pretty great though, like all of her best songs on the first few albums, we've definitely heard this before.
There are a few other good ones on this album, especially the Justin Timberlake-ish "Knockin on my Door" and the decent "Can't Make You Love Me."
Britney
Britney comes into her own with an album that seems a bit more confident about what kind of dance music is best suited to her style.  This album is also full of underappreciated classics, of which I chose four for today's post:
"Lonely" – The talk-singing verse is just ok, but the prechorus and chorus are great!
"Cinderella" – A classic from start to finish.
"Let Me Be" – The start is a little unpromising, but that chorus is a fucking classic.
"Bombastic Love" – The driving chorus is surprisingly catchy.
Other notable songs are the decent "What it's Like to be me," and Britney's first good ballad, "I Run Away."
In the Zone
In the Zone may as well be Britney's Ray of Light (leading into her Confessions on a Dance Floor, Blackout) in that it fully embraces a dancy/laid back/chilled out vibe for much of the play time.  Still, I only found one track to make the cut today:
"Breathe On Me" – An excellent example of the chilled out, breathy style found on this album (extra points for the The Big Sleep reference in the lyrics).
Pretty much all of In the Zone's chill-out down-tempo tracks are worth a listen and could have made this list, especially "Early Morning," "Touch of my Hand," "Girls and Boys," and "The Answer."
Original Doll
Britney, just before her meltdown, broke from her handlers and crashed a radio station with a demo for anew song "Mona Lisa" that she had written herself that was to be the lead single of an album she wanted to release called Original Doll.  Sadly for Britney's attempt at independence, her label wouldn't go along with her, everyone decided not to leave Britney alone, and eventually she came through the other side of a messy breakdown with the triumphant Blackout.  Stylistically "Mona Lisa" is a return to her earlier sound, but still, "Mona Lisa" IS a good song, and deserved more attention than to be relegated to her ill-received Britney and Kevin EP.
Blackout
The dance masterpiece Blackout, among those in the know, is considered Britney's best, most mature, and most consistent album.  Thus it was surprising that I found only two non-single picks to add to today's list:
"Get Naked (I Got a Plan)" – The weird way the dude says "baby baby baby" works pretty well, and the prechorus is on point.
"Ooh Ooh Baby" – Classic chorus–overall this song is basically a better (albeit less polished) version of Womanizer.
"Heaven on Earth" almost made the cut except for an unfortunate major key switch.  "Freakshow," "Toy Soldier," "Hot as Ice," and "Perfect Lover" are all great, but also all slightly annoying with some of their more repetitive elements.  "Everybody" is also fantastic, but, that's just because "Sweet Dreams" is fantastic.
Circus
Circus is basically like Blackout, just not quite as good.  It does however have two excellent underrated songs:
"Kill the Lights" – "Shoot me from my good side–PICK ONE" is just classic Britney, and the electronics are all on point.
"Shattered Glass" – One of my favorite Britney prechorus/chorus combos, this is a brilliant, underappreciated, and dark as fuck song.
The laid back "Blur" is also pretty good even if it doesn't go anywhere, and the weird phrasing on "Mannequin" actually ends up working quite well.
Femme Fatale
Femme Fatale is Britney's underappreciated, late-period, EDM masterpiece.  Calling into question Blackout's top spot, I ended up finding a staggering five underrated songs for today's post:
"Inside Out" – Fantastic song with an awesome chorus…an example of dubstep actually being used tastefully too.
"(Drop Dead) Beautiful" – The chorus might seem a little repetitive at the start, but the second part of the chorus builds on the first nicely.
"Seal it With a Kiss" – I don't love the "uh ooo eee ooo" part, but overal this is a great track with a really strong energetic finish (like most of the songs on this album).
"Gasoline" – Very catchy (if simplistic) chorus, this also has a nice breakdown towards the end.
"Selfish" – Nice driving tune…the lame breakdown in the middle almost scuppers things, but it rights course quickly enough.
There are a few other good ones on here (not that there's much of an album left after the singles and my 5 picks).  The "She-Wolf"ish "Trip to Your Heart" is excellent, but ends up being just a bit too upbeat.  "Down and Up" isn't bad, but overall a bit too annoying, "Trouble for Me" has a great chorus and a dumb verse, and "He About to Lose" sounds like Katy Perry did the verse and Rihanna did the chorus, both of which pale in comparison to the influences.
Britney Jean
Britney Jean found Brit wandering with her sound, and ended up a little unfocused, and only had one song that made the cut:
"Till It's Gone" – This trancy, high-energy electronica number, for my money, might even be better than "Work Bitch."  But, I AM a sucker for this kind of thing.
This album isn't as bad as some (and the sales) might suggest.  It has a few of Britney's worst songs, but there are a few other good ones.  "Alien" isn't bad, and even the reviled Will.i.am team-up "It Should Be Easy" isn't as bad as some suggest…though it does have a fratty vibe.  "Tik Tik Boom" is good aside from the annoying chorus that sounds like she's shouting "dick" over and over.  "Don't Cry" and "Hold on Tight" are both nice finishers too.
Glory
Glory returns to the chilled out, down tempo electropop of In the Zone and ends up as a surprisingly strong outing for Britney.  I found three songs that are in need of a bit more attention:
"Just Luv Me" – An excellent example of the In the Zone callback style of Glory, this song nails the atmosphere.
"Just Like Me" – Some unpromising guitar work leads into a surprisingly effective song with a great chorus.
"Love Me Down" – Another one that starts with a stumble, but once it kicks in it proves to be very catchy (though I swear I've heard it before).
The rest of the album is quality too, though some of it is a little underwhelming (not many bangerz on this one).  "Invitation" is cool, but really just an intro.  "Man on the Moon" is a good ballad, and "Liar" has a lot to recommend it as well.  "Clumsy" has a good verse despite some over-processed vocals.
Finally, because I just couldn't keep my list to 20, here's one more song!
Honorable Mention:  Giorgio Moroder Collaboration – Tom's Diner
Britney found time to work with Giorgio Moroder on a cover of "Tom's Diner" and ended up turning in probably her strongest song since Femme Fatale.  It's just too bad it never got more exposure, because it rules!
That's it for Britney Week I'm gonna take a break with some underground black metal this weekend…see everyone on the other side!