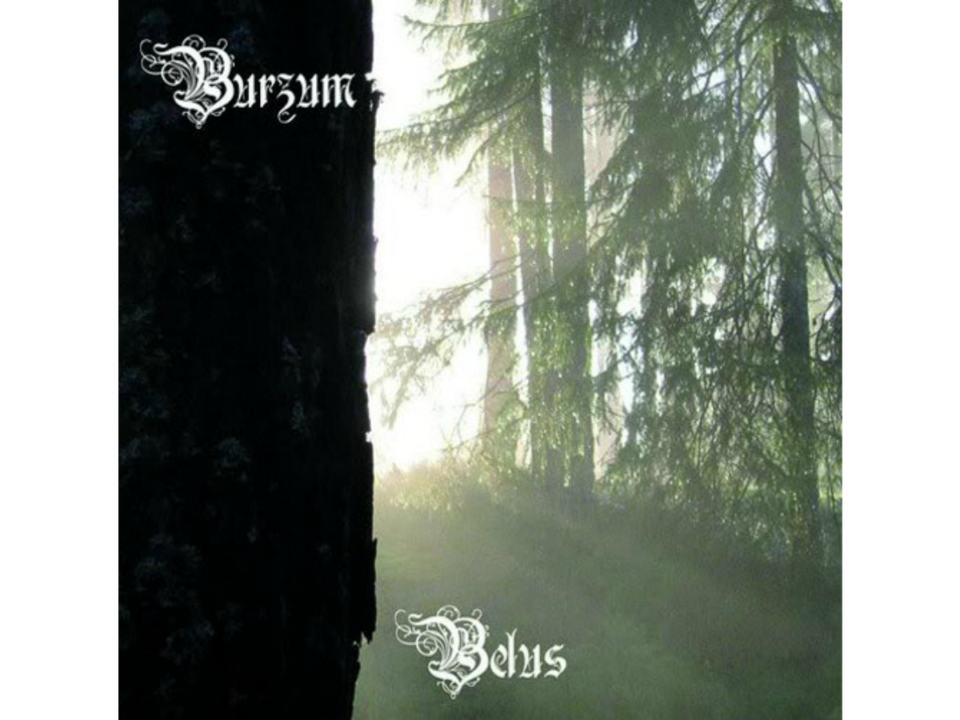 I think it is fair to call Burzum the greatest Black Metal band of all time.  The one man project of Christian "Varg"/"Count Grishnakh" Vikernes, Burzum pushed a very narrow genre to its artistic peak.  With his albums Hvis Lyset Tar Oss and Filosofem, Varg crafted two of the most fully realized Black Metal masterpieces.  Unfortunately, Varg's incarceration in 1993 led to an immediate musical silence (aside from two ambient keyboard albums that were of only moderate interest) from Black Metal's most creative musician.
Then, soon after his parole last year, Varg released his first Black Metal album in 16 years.  The immediate post prison release (in addition to a last minute title change from "The White God" to "Belus") led me to assume that Varg needed cash (he claims the title change was to avoid media attention that he "didn't realize" he would get with that title…but you don't give interviews to Guitar World if you don't want media attention).  However, as it turned out, the album was pretty great!  At least I think so.  At least I thought so.  To get everyone's heads around the (semi?) triumphant return of Burzum, here are two separate reviews of the new album Belus from myself and my only high school friend who knew his metal, Brian.
Isley's Take
I don't have much faith in pop bands past their first couple of albums.  Barring massive stylistic or lineup changes, working within the confines of genre is a creatively limiting factor and bands rarely have more than a couple masterpieces in them.  Later albums might have flashes of brilliance, but all the most important things the band had to say probably got said on their early albums.  This is why it was such a shock to discover that the new Burzum album, released over 20 years after the founding of the band, was still so creatively relevant.  Especially considering it was most definitely Black Metal, one of the most creatively limiting genres of music since Punk.
Despite changing ideologies more often than Brave Sir Robin changes his armor, Varg's inspiration for Belus remains the same as all of his pre prison albums:
Inspiration for the album has come from a variety of sources, and I find my inspiration from fairy tales and myths, from classical music, from memories of what once was, from traditional music, from fantasy, from the wind and weather, from deep forests and running water, from the sky and the sunset, from misty mountains and from yellow leaves falling from age old trees.
With quotes like that, it should be obvious (to anyone who knows me) why Burzum is one of my all time favorite bands.  Of course whether or not Varg was able to match such lofty images with his music is another question.
The production is the most obvious change from previous Burzum albums.  The guitar's distortion and tone is so "clean" it almost takes on a bell-like quality with sparse programmed drums, a more prominent bass and more typical Black Metal vocals (the shredded wailing of past releases is unfortunately gone, though the new vocals are quite well done) to round out the mix.
Though I was initially disappointed with the first track, since it was only a reworking of a song from one of his ambient keyboard albums, it is nevertheless quite well done and brings the listener up to speed on the "new" Burzum sound:
The next track is my personal favorite, an almost 12 minute epic that manages to remain engrossing throughout despite being composed of basically 2 riffs.  Of all the tracks on Belus, "Glemseles Elv" is the track that I feel comes closest to the Burzum masterpieces on Hvis Lyset Tar Oss and Filosofem.  Through subtle variations of the drumming, vocals and guitar parts "Glemseles Elv" never feels like it overstays its welcome though it, compositionally, by all rights should.  Though not exactly what anyone would call "tight" playing, the unrestrained guitars give an appropriate illusion of a organic complexity (which is what Black Metal is all about: the illusion of complexity from minimalism) in this song:
The album continues to pick up tempo with the next song, "Kaimadalthas' Nedstigning" which alternates between a discordant uptempo riff and poppy, clean sung chorus (a variation of which is sampled in Brian's section of the review) that almost seems to have a neofolk/RAC style influence to the vocal delivery (though I don't know enough about those genres to really say for sure…I figure I already listen to enough ideologically reprehensible music to go down that road):
The album's tempo increase climaxes with the 2 minute long, old school (reworked from one of Vargs old Uruk Hai songs from the late 80s) "War" style piece of metal mayhem "Sverddans" (Sword Dance) that has a great, hilariously (and awesomely) sloppy central riff/solo:
After "Sverddans", the tempo of the album slowly begins to wind down, though not without a few nice thrashy parts like this section from "Keliohesten":
The remaining tracks are increasingly minimal until you are left with the 2 note, 8 minute final track of "Belus' Tilbakekomst":
My first listen through of the album left me completely wowed.  Against all expectations, Varg had created yet another Black Metal masterpiece, which, if not as good as Hvis Lyset Tar Oss or Filosofem, was at least close.  Yet, as I became more familiar with the album, I began to detect a few problematic areas.  First, and most importantly, the songs were a bit more simplistic than usual for Burzum.  I don't mind an ABAB pop song structure, but that is all that the songs on Belus seem to follow (aside from the AAAA structure of the final track) and only Glemselens Elv seemed to have the necessary variation to elevate the song out of verse/chorus territory.  Of course, this isn't an issue unique to this Burzum album.  Though I can speak no ill of Hvis Lyset Tar Oss, I still remember when my dad poked his head in my room back in 1997 to ask me "is that guy every going to play a different fucking riff?"  The song was Filosofem's Jesu Død, and my dad had a good point.
However, Filosofem had such a distorted, almost organic, production that the album felt naturally warmer and more varied because of it (not to mention including plenty of variation in the delivery of its riffs).  Belus has its simplicity exposed to the direct sunlight of its clear production, unadorned riffs and sparse drumming, and it suffers for it.  I continue to feel that "Glemselens Elv" is the greatest success because it is one of the few songs where he incorporated variations on the main riffs to mix things up, but the rest of the album does feel somewhat stunted when compared to Varg's best work.
Still, there is no denying the quality of the music.  Belus is a varied (in mood, style and tempo) album that I've happily listened to around twenty times in the last two months, 10 times as much as I've listened to Morbid Angel's Heretic in the last 7 years (a complex, intricate album that is nonetheless a sad example of a band with nothing left to say).  Belus is a powerful album despite the failings of its simplicity, and, importantly, Varg has proven that he still has something to say.  If you ask me, that's all that really matters in the end.
Brian's Take
The emotional attachments we have to our favorite artists sometimes do funny things to our expectations.  Often, our rabid infatuation with a band's prior output forces us to find a way, almost as a defense mechanism, to appreciate their new material, lest we become disillusioned with our heroes' slide into mediocrity.  I did this very thing in 1994 with the release of Megadeth's Youthanasia.  I knew on a gut level that it was garbage, a radio-ready cash grab.  Yet I tried so hard to convince myself to like it, simply because I couldn't face the reality of one of my favorite bands plumbing the depths of suckitude.
Other times, though, the cynical fan's underlying fear of disappointment preemptively withers any hope that an album will be worth its salt.  This is especially true in the case of "comeback" albums like Burzum's Belus.  Burzum's first album in 11 years and first black metal release since 1996's Filosofem, Belus is not an album for which I had terribly high hopes.  While I'm happy to report that Belus convincingly exceeded my (admittedly low) expectations, it nevertheless doesn't bear close scrutiny in many important respects.
The opening track proper, "Belus' Død," simultaneously wows and, in a small way, disappoints.  Because it's simply a remake of the MIDI-formatted "Dauði Baldrs" (from 1997's same-titled LP), there is the sense that a rationing of original ideas may well be the order of the day.  Still, the arrangement, replete with the traditional instruments of metallurgy, is so stunning that it's clear this is how the song was always intended to be heard.  The vocal performance, while not screeching with anguish as on past releases, is quite grim and eminently listenable, while the guitars and overall mix are much fuller through the lower-midrange frequencies.  While quite pleasing to the ear, the mix – coupled with the lack of bite in the guitars' distortion – ultimately gives the production a too-laid-back feel, especially for an album that serves as a return to Burzum's black metal roots.
In hindsight, the most disappointing aspect of "Belus' Død," which only becomes apparent as the album progresses, is that it foreshadows two of Belus' most notable flaws: structural simplicity and a robotic delivery.  Belus' ideas are often arranged in what closely resembles the verse/chorus structure of more traditional pop music.  In and of itself, this is no crime.  Burzum's own Filosofem leans heavily on such pop framework, yet remains a high point in the genre.  No, what throws the structural simplicity of Belus into such sharp relief is the album's mechanical presentation.  Each song's utter invariance of tempo, thanks to the precision of the drum machine, is a constant reminder to the listener that what they are hearing is something manufactured rather than something expressed.  Though certainly not of the Sam Cooke variety, Burzum's black metal was always full of soul in the sense that it was a raw utterance of human emotion.  Here, the mechanized feel of the drum machine, guitar parts that sound as though one measure was recorded and then copied-and-pasted throughout the song, and relatively simple song structures combine to  form what I'd almost call Pro Tools black metal.
Despite the fact that they sound looped over the course of any given song, nearly all of the guitar parts on Belus are quite good.  A particularly shining example occurs when a second guitar overlays the opening riff of "Kaimadalthas' Nedstigning":
The albums emotional high point, punctuated by clean vocals and a clever selection of bass notes occurs in the same song:
Because this album is, in most respects, just an extension of Burzum's mid-90s work, there is nothing genre-bending to be found here.  Nevertheless, it's a credit to Varg Vikernes' innate understanding of composition (which few of his peers share) that the guitar riffs are so engaging.
While the composition of individual riffs is quite strong from start to finish, the arrangements of the songs as wholes are less adept.  Burzum has shown in the past, most notably on the masterpiece Hvis Lyset Tar Oss, that the repetition and subtle building of a central motif can build tension and result in an astounding emotional climax.  The repetition on Belus, unfortunately, is much more rote.  Although slight variations to central themes are introduced throughout, they often seem to be looped ad infinitum.  The pop-like song structures don't lend themselves to a slow buildup and release; rather, the songs tend to go back and forth between riffs and typically end where they started.  This is ultimately why Belus fails where past Burzum releases transcended.
In the end, my expectations for what a Burzum album should be, and what a Burzum album could be in 2010, both helped and hurt Belus.  I wrongly assumed that Varg Vikernes, a man who spent the last 16 years in prison, wouldn't have anything left in the tank.  The Count not only seems full of ideas, he surprisingly manages to introduce a somewhat lighter mood on several tracks while hewing to the tenets of black metal ideology (check the bouncy bass line on "Glemselens Elv"):
Still, for a Burzum album to be truly successful in my eyes, be it in 1994 or 2010, I demand that I be taken on an expressive, emotional journey.  Belus fails in that regard, yet still manages to succeed in greatly raising my expectations for Burzum's next release.