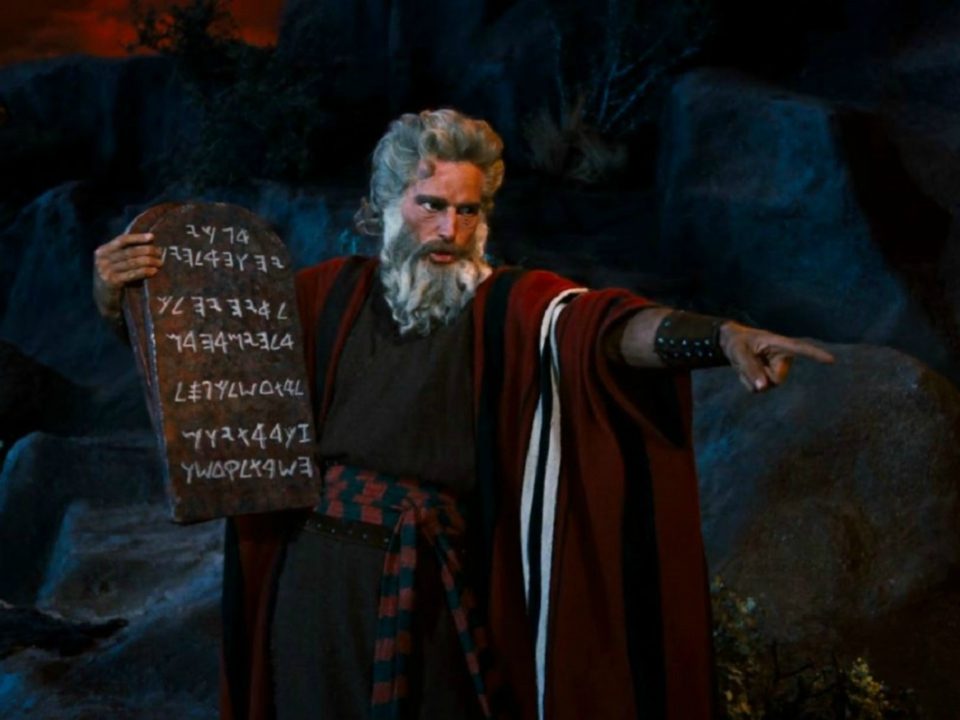 Though I have no formal religious education, I have actually learned a fair bit about Christianity over the years, both via apophatic deduction with my metal collection, and, through cinema.  In this recurring series, I feature a classic biblical movie (typically of the "epic" variety), and discuss just what one can learn about "America's religion" by watching it.  Today, I will look at the biblical epic I have seen more than all other biblical epics (no mean feat), the one, the only, The Ten Commandments.
To start, some quick internet research tells me that the relevant section of the bible (or, the Torah for our non-goy friends) is quite short and thus much of this 4 hour movie is either filled in from supplemental Jewish texts called Midrashim, or from the screenwriters' desire to make god a bit less of an asshole (mission failed).  So, everything I've learned from this film might not be strictly canon, but, considering the muddy (to put it nicely) origins of the texts it is based on, I'm not so certain that the movie version of events shouldn't be considered authentic doctrine at this point–especially considering this film's monumental cultural impact.
So, here are 20 some things I've learned from The Ten Commandments (one for each of the 20 some books of the bible this film covers).
1. Moses' Egyptian mother had powers.
Specifically, she had the power of prophecy (dooming her faithful maid to an oathbreaker's death), the power of ROCKING a white hair net, and the power of producing a baby from thin air at the exact moment when the Pharaoh had just condemned all Hebrew babies to death without anyone thinking twice.  Of course, in a world where "kill ALL the babies" is a logical ruling decision, maybe no one was thinking too hard about any of it.
2. Nefretiri and Sethi were not great gamers.
I say this only because they seem to have no idea how to play Hounds and Jackals.  Not only would "cheating" be very hard to pull off, but based on the board state, Nefretiri was close to winning, not losing as they both claimed she was.  Also, Hounds and Jackals is basically just Egyptian Chutes and Ladders, and no self-respecting gamer would ever play it more than once.  Fucking bush-league, man.
3. Biblical bad-girls are always totally hott.
Speaking of Nefretiri, she continues a long running streak for biblical epics where the (spoiler alert) bad girl was always the hottest chick in the film.  Her possibly see through dresses don't hurt either.
4. The Sabbath day of rest was Moses' idea.
God might have rested on the seventh day when he created the world, but it was MOSES that came up with the whole day of rest for us humans before he was even woke.  Then, I guess, like the dick he is, God moved in and stole the idea.
5. Nefretiri was cold AF.
Seconds after fucking murdering her long-time house-servant, girl's all trying to put the moves on a clueless Moses.  Savage.
6. There is a reason there are no historical records of Moses.
I mean, according to this movie, Pharaoh got so mad at Moses for being a secret Jew that he had all mention of his name "stricken from every book and tablet, stricken from all pylons and obelisks, stricken from every monument of Egypt."  Well, I guess that explains why some big time contender for the throne isn't mentioned anywhere except for the holy book in which he plays a central role that was written 700 years later. How conveeeeeenient.
7. Moses was rescued from the desert by horny shepherdesses.
After being cast out of the Pharaoh's capital city for not being smart enough to realize you only express your true feelings about slavery AFTER you take the throne, Moses wanders in the desert until he is rescued in some kind of Castle Anthrax scenario by a Muslim (you know our current cultural climate is bad when the 1956 characterization of Muslims seems forward thinking by comparison) and his seven DTF daughters with foot fetishes.  All of which ended up making Ramses' plan to send Moses to a certain death about on par with your average Bond movie villain plan.
8. Moses embodies the racist "Jewish Savoir" archetype.
You know those movies, they are everywhere, the Jewish guy enters another culture and instantly becomes their most powerful and successful member.  Well, Moses is the basis for that as he quickly rises through the ranks to become the greatest Muslim shepherd in Sinai.  Of course, it was 1956, people didn't realize how inherently racist the Jewish Savoir trope was back then.
9. God is a shoes OFF in the house kind of guy.
Yes, I've been letting the Jews rot in the Pharaoh's slave pits for a couple hundred years, but, seriously Moses, remove your me-damned shoes before we discuss this mission I have for you!
10. Popeye's mantra comes straight from God.
When Moses asks what he should call God, God answers with the non-answer, "I am that I am."  Yes, this will clarify it for everyone.
11. New hairdos are pivotal character development moments.
Moses comes down from talking to God with skunk hair and acts like a self-righteous, judgmental, spouse-neglecting dick the rest of the movie.  Ramses cuts off that side top-knot thing he had and you actually start to feel bad for him for the rest of the movie for being a rational thinker in a world of Gods.  I've illustrated this in the following graph:
12. Ramses, like his [aunt?], had powers.
Interestingly, it seems that it is not so much that Moses' god is the only God, it's just the strongest one.  You can see this when Moses is revealed to have access to Summon Monsters II, which makes short work of the snake Ramses summons with Summon Monster I.  This also explains why Ramses wasn't able to get his Raise Dead spell to work–talk about trying to spellcast above your level!
13. God's plagues were TOTALLY metal.
I'm not just talking about that Metallica song--I mean, damn, rivers of blood, locusts, fire raining down from the sky?  FUCKING. METAL.  Even the frogs are metal, if my main website image is to be believed.
14. Jewish cooking ranks pretty high on the list of worst cultural cuisine.
I'm not saying the Jewish people haven't had a rough go of it over the years (centuries, millennia), but at the point in which you are eating unleavened bread and bitter herbs, TO REMIND YOU OF THE BITTER EXISTENCE YOU ARE NOT EVEN FREE FROM YET, you are just wallowing.
15. The Jews are a fickle people that will turn on you in an instant.
Look, I'm just reporting what I saw in this movie.  And what I saw is that at the very first sign of trouble the Jews that Moses freed turn on him like he was a packet of quick dry yeast in a synagogue kitchen. Sure, that dastardly Dathan was usually to blame, as was that one dude that shouts "STONE HIM!" every chance he gets, but, goddamn, give the dude a chance Jews, he's over here moving oceans for you, the least you could do is give him the benefit of the doubt when you suffer the slightest setback.
16. You can't play a playa like Ramses.
Calling it "work for a butcher, not a Pharaoh," Ramses delicately extricates himself from the sticky situation of riding a chariot across the floor of a sea that Moses is TOTALLY going to throw down on you once you get into it.  Bummer about all his soldiers, but Ramses himself wasn't about to go out like that, he'd much rather go back to awkwardly sitting on his throne while getting cucked by Nefretiri.  As a side note, as a kid, I always wondered if Christians went out to look for cool Pharaoh armor at the bottom of the Red Sea…since there should be a shit-ton down there.
17. Moses invented the "broken doll" model pose, not Tyra banks.
Moses spends most of the second half of the film striking dramatic poses while bloviating judgmentally.  However, at one point he inadvertently NAILS a perfect "broken doll":
18. Why make Moses wait 40 days?  It sure wasn't to give God time to work on his kerning.
So Moses goes and leaves his faithless Jews alone and without a babysitter to go up on Mount Sinai to get some rules so they'll quite trying to stone him all the time. Then God makes him wait 40 days (I hope Moses brought enough bitter herbs) before giving him the most poorly kerned sentences since reed was first put to cuneiform.  Seriously, just look at this font spacing disaster:
19. Graven images were UNFORGIVABLE for some reason.
I mean, seriously, how the fuck would "thou shalt not make a graven image" even make it into a top 100 list of "ways to live a good life", let alone break the top ten?  As hard as this movie hits the whole graven image thing, you have to think a lot of watching Christians had to have been nervously fingering their crucifixes in a confusing crisis of belief through most of the run-time.
20. Moses does NOT like a party.
What started out as a fairly tame orgy, with only some mild human-riding…
…quickly escalated to human sacrifice and, horror of horrors, graving of images.
Seriously though, the Jews were stuck in the desert for 40 days, surely they can blow off a little steam?  But, judging by the venom with which Moses says the sound of their partying is "the noise of SONG and REVELRY," apparently Moses is the kind of guy that calls the cops on a party that has the music up too loud past 9:30 on a Saturday night.  Or, in this case, he doesn't call the cops, he just fucking murders the partiers in a fire and earthquake.  That's what they get for graving that idol.
Bonus Observation – God is a dick.
So, after being slaves for hundreds of years, God decides to make all the Jews wander around in a desert that google maps says can be traversed on foot in 6 days…for forty fucking years.  Real dick move God–but, they DID grave an image, so, you gotta make an example I guess.  Still, I have a feeling all these Cinema Scripture School posts are going to end with this observation.