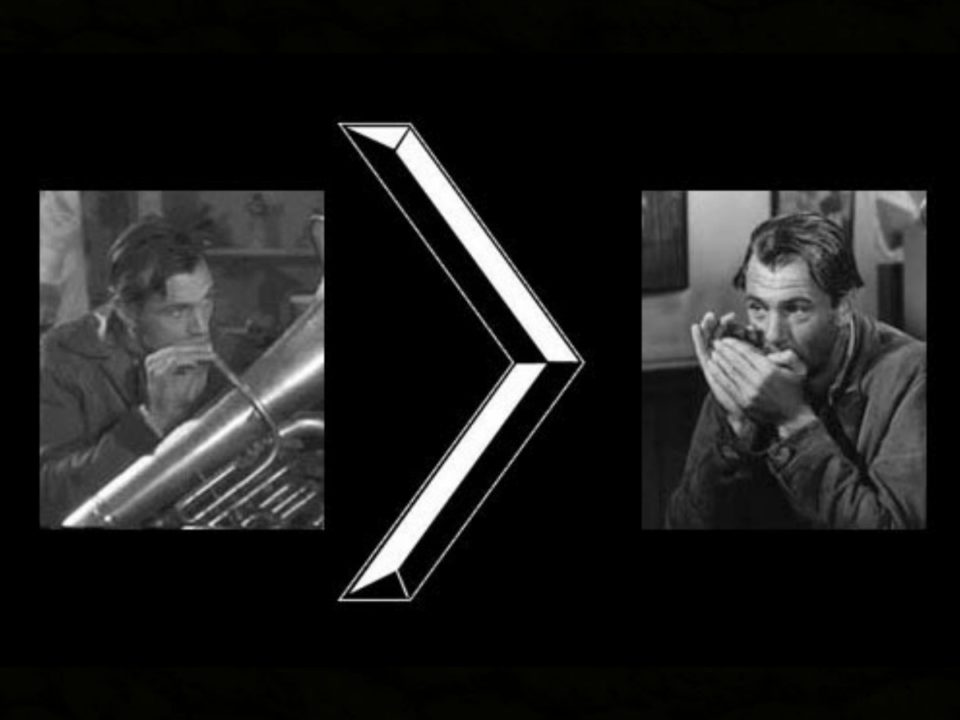 I'll be the first to admit that I'm not entirely fair in my reviews of movies with a strong message.  It doesn't matter how delicately the filmmaker has incorporated their "message" into their film, as soon as I get a whiff of proselytizing I immediately find my opinion of the film is lowered.  It is important to keep in mind that I am making the distinction here between the filmmaker showing their view of the world (something every filmmaker should do) as opposed to attempting to change the audience's view of the world (something I feel should not be overtly attempted).
While discussing this with a friend, the point was made that while the purpose of art should not necessarily be to inform, "the role of art for the artist is self-expression, so objection to their doing so in a political or otherwise partisan way is disingenuous".  Which is a good point, one that I will look into in greater depth here today to find out just what it is about everything from I was a Fugitive from a Chain Gang to The Lost Weekend that immediately turns me off.
I think the key to my feelings on films with a message is the distinction between "self-expression" and "self-imposition".  No one can give one definition of what art is, or what the purpose of art is, but saying "the role of art for the artist is self-expression" is something not many (including myself) could really argue against.  But I do feel that when creating art there is a big difference between expressing myself (including any views I might have on politics, religion, or the world in general) and attempting to convince others to think along the same lines that I do (something few who have strong views on politics, religion or the world in general are able to resist doing).
When I watch  a movie I don't want to watch a commercial, no matter how well made or how commendable the subject.  In some ways, Plato wasn't completely wrong when he worried that art appealed too much to our base emotions to be considered safe for the masses without regulation.  True, as free thinking individuals with the sense to know when we are being manipulated, I do not think that art should be regulated.  However, art is naturally dramatic, and thus naturally biased when it attempts to convince the viewer of a message.  If I really want to reevaluate my beliefs, turning to a work of art is about as "fair and unbiased" as listening to Fox News to choose a political affiliation.
Again, I really do feel that every work of art should have something to say (not necessarily in a partisan way, but, in theory there also isn't any thing wrong with taking a side while you say it either).  Thus, many might be quick to ask what makes LeRoy's condemnation of the chain gang system any different from Fassbinder's condemnation of marriage, Sirk's condemnation of contemporary society or Clouzot's condemnation of everything. This is a tricky question.  After all, Douglas Sirk's All That Heaven Allows, for example, is a devastating critique of 1950's societal mores, much like I was a Fugitive from a Chain Gang is a devastating critique of 1930's chain gangs.
I think the difference between the two is the complexity of their ideas and the depth of their raison d'être.  Viewing the myriad layers of hypocrisy and self deception (all rooted in very universal human motivations) in All That Heaven Allows is an infinitely more rewarding experience than the "hey, it's bad to brutalize your fellow man" message of I was a Fugitive from a Chain Gang.  A simplistic message like this is then made all the more shallow by the suspicion that that message (and the desire to get all who view the movie to think the same way) was the sole reason for that movie's existence.  Not to mention that if the message is something as painfully obvious as a case for the horror of lynch mobs, the holocaust, alcoholism or humanity's capacity for brutality I am not only going to have an unpleasant experience being forced to view such awful truths, I will also feel talked down to: "Really? The holocaust was bad? Humanity has something like that in it? Duh!"
I also find it annoying that so many message movies are so blatant about their message.  Look at Capra's Mr Deeds Goes to Town.  It has a similar "everyman shows country how to live" message as his later film Meet John Doe, but is thankfully devoid of the heavy handed moralizing and bile inducing religious subtexts that so thoroughly scupper Meet John Doe.  Mr Deeds Goes to Town might be a movie with a message, but Meet John Doe is a message that happens to be in a movie.
None of this however takes into account all the movies with very obvious messages that "lay it on thick" that I love nonetheless.  After all, almost all Russian silent films, Triumph of the Will, Z, and many more commit many of the above grievances, but you won't see me writing about them in anything less than glowing terms.  So what is the difference?  I'm not a communist, fascist or even remotely political, it is not the message that appeals to me.  I think it is that in all cases, the film maker, while undoubtedly motivated by the desire to convince the audience of their message, was even more so motivated by the desire to create a great film.  Many of these films are such marvels of editing, and full of such breathtaking energy and genuine insight beyond their "message" that the heavy handedness of the subject matter was easily eclipsed.
In fact, these films actually demonstrate the relative unimportance of the messages themselves when evaluated as cinema.  For example, I find the idea of "faith" to at times have the potential to be one of the most insidious ideas ever dreamed up by the human race, yet Dreyer's testament to "faith", Ordet, is an undeniable masterwork resting upon the same lofty peak as Riefenstahl's hymn to societal manipulation, Triumph of the Will.  However, when we come back to I was a Fugitive on a Chain Gang, a film with a genuinely good message (as opposed (in my opinion) to the messages of the first two examples), I find myself with no desire to rewatch it any time soon.
So, what is going on?  I have presented a lot of ideas here, and plenty of evidence that I like a lot of movies that seem to share quite a few of the same qualities that I say I despise in other movies.  But I think I can still pull a few ground rules as to what it takes to get me to like a movie with a strong partisan message.  Speaking in general terms, films whose overall reason for existence is to convey an overly simplistic (of which political (or otherwise partisan) messages are often guilty of being) message and who choose to do so in an overbearingly didactic manner will fall short as films for me.  The exceptions to this rule are movies that both have something deeper to say than a quick partisan slogan and are in reality more concerned with the cinematic than their message (though I realize this is a subjective distinction).
Thus, to me it doesn't matter what the message is, but rather how cinematic the film is and what it really has to say.  Because if a movie with a message ceases to be cinema it becomes a commercial, and nobody likes to be told what the proper way to think is.  As free thinking human beings we can all do very well on our own deciding what the right thing to think is without someone trying to decide for us.  So just because I object to I was a Fugitive on a Chain Gang for personal reasons doesn't mean you have to.  Besides, I was a Fugitive on a Chain Gang was quite cinematic after all, so maybe I don't know what I'm talking about anyway!