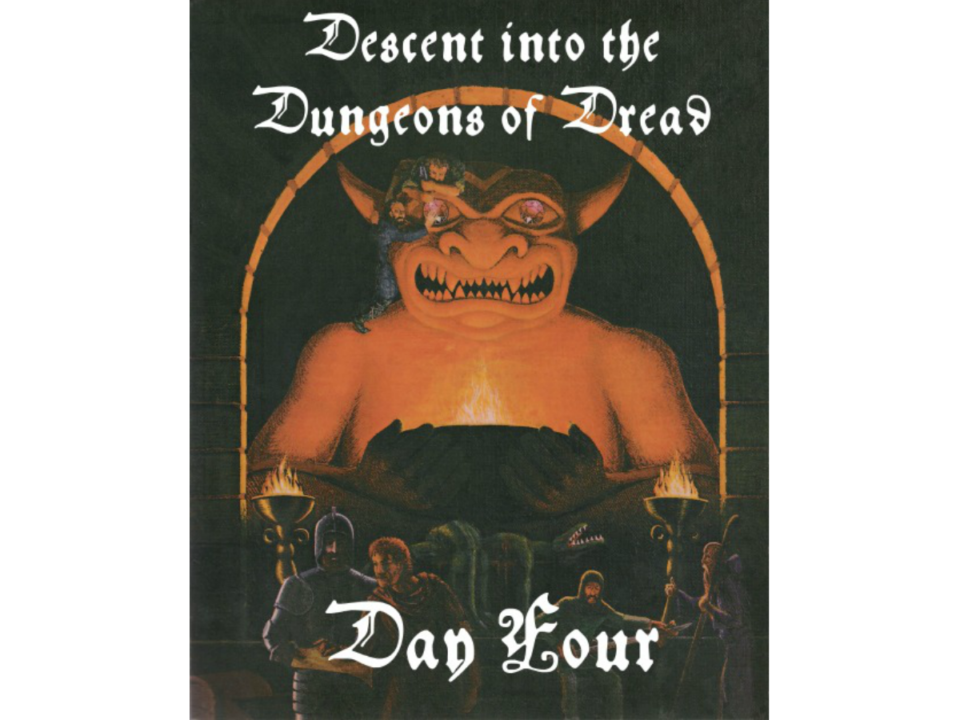 I was recently asked to take part in an epic 50 hour long marathon game of Dungeons & Dragons in Washington DC. Sadly, I was not able to attend. Thus, I was forced to send my nerd alter-ego Eugene Pendergrass in my place. The results were not pretty. This was day four:
10:36 AM – I must have failed a con check at some point because I just opened my eyes to light streaming in the window and angry knocking coming from the bedroom door. I assume my party members have decided to bring my character back into the fold. Perhaps they heard me singing my newfound cavern rat friend to sleep last night (the Bathtub Song from Lord of the Rings of course). Either way they are pounding on the door to my bedroom pillow fortress. It is, of course, locked. Only a fool would risk drifting off to sleep in a dungeon without first locking his door.
11:09 AM – Judging by the urgency of the pounding coming from the other end of the door, apparently this is now a LARPing party. Which is to say, we are now in my world. I've moved a chest of clothes in front of my bedroom door and extracted the tennis balls of lightning bolt from my bag. I've woken my cavern rat and have retreated to my pillow fortress to await their arrival. All these years of camping on Xbox live are about to pay off! It is, as they say, "on like Sauron."
12:38 PM – My fellow party members are apparently not as good LARPers as I had thought. I've found myself forced to break character and tell them that I refuse to respond to any their entreaties to come out of my room that are not directed at my character name. As I guessed on day one, noobs.
1:03 PM – Negotiations have broken down. I've explained that I have claimed this section of the dungeon in the name of Ingrid Blackward and her newfound cavern rat friend. They responded with some nonsense about "getting out of my bedroom" and "calling the police." I rolled my dice for my linguistics skill but was unable to determine what "police" were, or why they think this is a bedroom.
1:46 PM – New voices are filtering through the other side of my barricaded dungeon door. One, who by the bass timbre of his voice I assume must be some manner of orc, has identified himself as Sergeant Rutledge. Has my party sold me out to a regiment of orcs in the employ of the Drow in this dungeon? If so, I may need to get creative with my resistance to this siege.
2:48 PM – I rolled a natural 20 on a bluff check to convince Sergeant Rutledge the orc guard outside the door that I am fully willing to cast a fireball at the first person to enter through the door to my room. Luckily I rolled high enough that he did not realize that fireball is not on my spell list. I heard them worriedly discussing "gas lines," though a failed linguistics check once again has left me in the dark as to what a "gas line" is.
4:30 PM – My new orcish antagonists have now claimed that if I don't leave my dungeon room they will be forced to summon forth a mighty "swat" I laugh quietly to myself. A summon spell only lasts one round per level, this summoned "swat" will spend all its time breaking its strength against my "silk to steeled" fortress before it vanishes back into the void from which it came.
5:22 PM – Apparently I misheard, they are actually summoning forth a team of Swats rather than a single one. At this point I begin to doubt my prospects for survival.
6:16 PM – I am huddled in the far corner of my silken fortress, hugging my dear cavern rat friend tightly to my quivering bosom. I don"t know how it has come to this, but I would like to think that for a brief period of time I was happy in my little corner of paradise in this dungeon. The team of monstrous Swats that have begun to pound on the door outside my shelter have brought my happiness crashing down like a Hammer of Bogardan. I now know how the dwarves of Khazad-dûm felt as they wrote the last pages of the Book of Mazurbul. The banging on the door from the Swat team"s battering ram grows ever more insistent, reverberating through the walls with a rhythmic drumming. I cannot get out. The end comes soon. I hear drums, drums in the deep. They are coming…