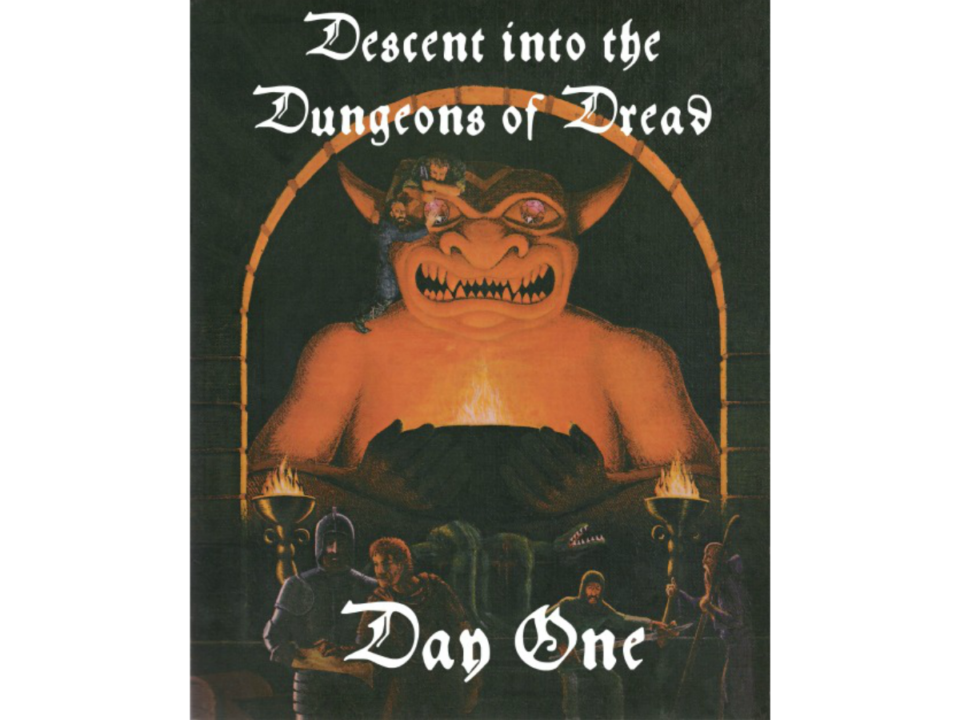 I was recently asked to take part in an epic 50 hour long marathon game of Dungeons & Dragons in Washington DC. Sadly, I was not able to attend.  Thus, I was forced to send my nerd alter-ego Eugene Pendergrass in my place. The results were not pretty. This is his report of day one:
5:40 PM – I just walked in the door. They appear to have purchased Cheetos puffs instead of Crunchy Cheetos. This does not bode well.
5:51 PM – Our party will apparently have a Cleric, Samurai, Thief, Summoner, Archer (along with my Witch). I generally try to avoid parties with fighter classes as they have little use in the role playing focused campaigns I prefer to play. I'll give them the benefit of the doubt for now.
5:55 PM – Ten seconds in and someone has already cracked a Star Wars joke. I am so disappointed they beat me to it. I can only hope I will be able to work in the first Monty Python reference of the night.
6:14 PM – Our characters are introducing ourselves to each other. NO ONE is doing voices. I'm starting to think my choice of coming in costume may have been a mistake.
6:47 PM – Our party has met up with a bard to journey forth into the dark forest of the druids to seek adventure and fame. Hopefully I will be able to use my maxed out profession: cabinet-maker skill soon.
6:53 PM – Why are the non-thieves attempting to act as scouts? Have I somehow trapped myself in a 60 hour D&D game full of noobs?
6:59 PM – Our incompetent scouts have somehow managed to wake up a sleeping camp of gnolls. Or, as I like to call them, "coup de grace targets." Definitely noobs.'
7:39 PM – I just caused the gnoll leader to fall into a magical sleep. What does the rest of my party do? They attack him like cavemen and wake him back up. Apparently my plan of having all of us slink away back into the forest while he slumbered was, to use the ever so delicate phrasing of our Samurai, "weak sauce dude."
8:00 PM – I just got my first Monty Python quote of the night in. I guess this encounter hasn't been a total waste so far.
8:16 PM – The gnolls are finally dead. Accusations of cowardice have already been leveled my way. As the kids say these days, "haters gonna hate."
8:40 PM – We are still dividing up the loot. Those suckers are all fighting over weapons and armor. No one seemed to want the mummified elf hand that casts minor telekinesis at will. Just think of the shenanigan possibilities say I!
9:03 PM – I've raised the point that it is now getting past the time where we will be able to get back to the inn before nightfall. However, apparently our party would rather continue on into the dungeon past the gnoll camp than get a good night's sleep.
9:20 PM – In the dungeon we found the corpse of a man we saw only the previous night at the inn in town! Does the party immediately set to solving the mystery of the dark doppleganger of dread (as I have taken to calling it)? No, they are fighting over who gets his sword.
9:47 PM – Want to guess who argued about loot so long that another group of gnolls attacked us? Hint, it rhymes with "everybody but me." I'd complain in more detail, but I'm currently trapped under a door with a gnoll on top of me.
10:37 PM – Our gnoll problems suddenly seem less pressing now that the entire forest outside of the dungeon has come to life and attacked us. I now know how the orcs in the aftermath of The Battle of Helm's Deep felt. And it's a feeling that is even worse than being trapped under a door with gnoll on top of you oddly enough.
11:42 PM – While our fighters were busy hacking away at the treant horde, I was busy with my spark spell and a pile of tinder working up a mighty blaze with which to single-handedly end the combat. Sadly our Samurai single-handedly ended the combat with a critical hit while I was still working on getting my blaze past a mild roar. To add insult to injury, our Samurai had the first "I'm not dead yet" quote of the night. And, I must begrudgingly admit that it was a good one. The first dungeon has officially been defeated.
12:41 AM – We have leveled up. Picking my second level ability now. My party members are telling me I should take Cackle, the single best and most useful witch hex ability. I'm thinking about taking the ability that lets me sleep under water instead.
1:21 AM – Back to town, finally I'll have a chance to ply my trade as a cabinet maker!
1:24 AM – Wait, no, apparently my party would prefer to go off to a new dungeon instead. Though, I guess this dungeon is where the friends of the doppleganger for the dead body in the gnoll dungeon went. So if nothing else we can attempt to solve the mystery of the dark doppleganger of dread! There better not be any monsters in this dungeon.
1:39 AM – Guess what? There are in fact monsters in the new dungeon. Werewolves in fact. Unfortunately there are even more outside the dungeon. We are currently trapped inside with a horde of werewolves on the other side of the entrance door because no one thought to ask if it was a full moon before our night raid. I'd cry noob but I'm afraid that I too did not think to check the phase of the moon. I guess now I know how it feels to make a mistake.
2:02 AM – Given no choice we have delved further into the second dungeon. After encountering a giant pit full of rats I made my classic joke: "RATS!" Not a single laugh. Not even after I explained the joke.
2:55 AM – After killing a wererat it reverted to its human form. That of a party member's long lost sister. We all had to take a moment to reflect about the extent to which shit just got real.
3:23 AM – Our reverie for the departed has ended with the sounds of werecats in the next room. I have a brilliant idea that just might save the day.
3:49 AM – Or, at least I had a brilliant idea until it was ruined by an unimaginative dungeon master. I took a large barrel of oil from my Heward's Handy Haversack, opened my flask of endless air, dropped it in, sealed the lid with its iron band, covered the outside in oil, lit a torch and went running down the hall to throw the barrel into a room that was full of lions, tigers and hyenas in various stages of evolution between human and beast. One would think that such a fearsome contraption would have given even Galactus pause. What damage did our wretched excuse for a dm arbitrate that the explosion inflicted? 2d6. That's right, a measly 2d6 damage. Also known as being hit by 2 flasks of boiling oil. And the blast range was ruled to be so small that only one werelion got damaged. Thus, my grand plan turned into nothing more than a way to piss off a room full of werelions. Now they are all charging me.
3:51 AM – Now I am bleeding out on the floor. I hope our cleric both has some healing spells left, and has forgiven the things I said about clerics which, at the time, he claimed could not be unsaid.
4:03 AM – He had a healing spell left. I could have done without the attitude from our cleric, but I suppose I'm back on my feet at least.
4:40 AM – The fight with the werelions has gone from bad to worse. Now we are being attack by werebears as well. And a weretiger. I feel like there is a joke here…
4:45 AM – DAMNIT! "Lions and tigers and bears…oh my!" Our samurai just made the reference while I was trying to remember it. I suppose it is almost 5:00 AM and I'm getting tired I guess.
4:56 AM – In the back of the cavern full of werelion/tigers/bears (oh my!) was a giant minotaur chained to the wall. I just cast "enlarge person" on it…now it is even more giant…and fighting the werelions/tigers/bears (oh my!) The rest of our party has retreated into a hallway where the fearsome sounds of the battling monsters echo over the wet dungeon walls. Our dungeon master is making a bunch of dice rolls. Our thief is eating the last of our pizza. Our summoner is asleep on the floor. I can't believe it, but there is talk of taking a sleep break after this battle finishes. Noobs.
5:04 AM – Quite a fight has started. The cleric has claimed that I dozed off. Words were said. Accusations of a "lack of stones" have been leveled. We have decided to take a small break. Probably for the best considering we don't seem to be able to rouse the Summoner from his sleep on the floor.
Check back tomorrow for DAY TWO!