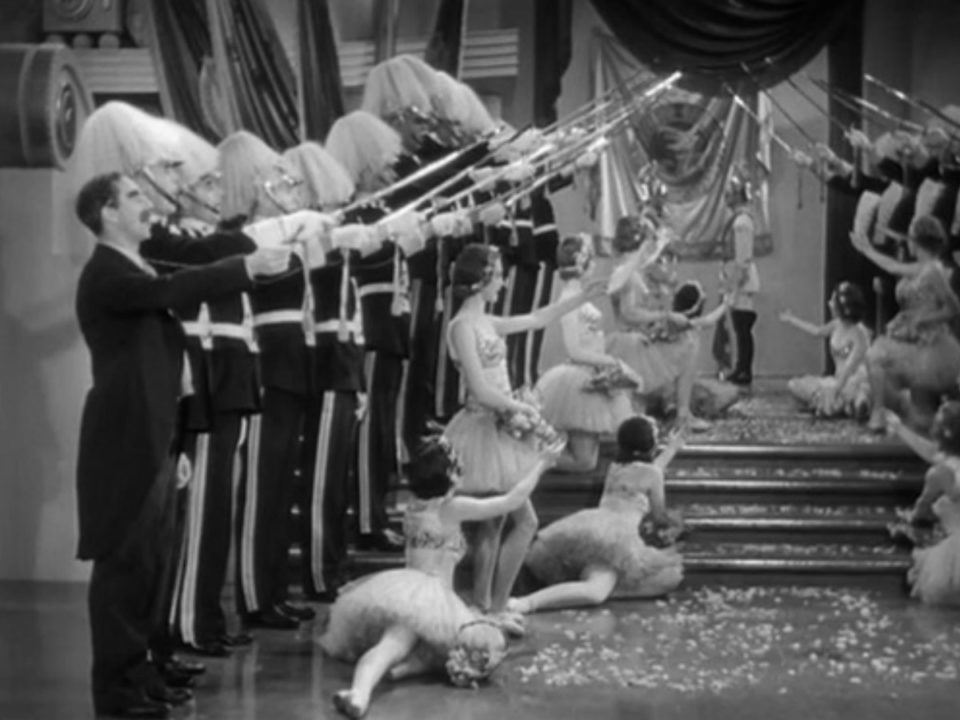 For someone who has always been a silent comedy fan, it took me a while to give the humor of the Marx brothers a chance.  Sure, the visual gags were still there, especially with Harpo running around like a feral, rapey Carrot Top, but otherwise, the Marx brothers practiced a decidedly scripted and verbal form of comedy.  Luckily, Woody Allen referenced the Marx brothers enough in his films that I decided to give them a chance and, thus, finally discovered just how brilliant they actually were for myself.  And today's film, 1933's Duck Soup, just might be their best film.
I've talked about what made the Marx brothers so great before, (hell, I've even talked about today's director, Leo McCarey before), so I'll try to focus on the film itself today.  Duck Soup is a quick, 68 minute slab of anarchic mayhem, a movie full of nonsense, and not ashamed one bit of the fact that the fictional land of Fredonia in which it is set is "a silly place."  The film opens with an opening bit of perfunctory plot machinations that no one on either side of the frequently broken fourth wall really gives half a shit about.  And then the movie jumps off into a brilliant series of increasingly insane sketches.
Harpo runs around cutting everything in sight with a pair of giant scissors while Chico bludgeons his way through the most groan inducing set of bad puns in the most earnest and endearing manner possible (even more impressive that he remains so likeable while keeping up his dated Italian caricature.  Meanwhile, Groucho presides over everything, vomiting forth a constant stream of one liners and insults (most of which land at the oversized feet of the hapless Margarete Dumont).  Honestly, most of Groucho's lines are not really much better than Chico's "bad joke" schtick, but he delivers them at such a breathless pace that, if only for the fact that I've never seen anything like it, I have to nod my head in awed appreciation every time he takes the screen.  Not to leave out Zeppo, but that's just what the Marx brothers do here, relegating him to a bit player, and, thankfully, completely omitting his usual sappy romance story.
At its heart, Duck Soup is pure anarchism.  There isn't a single rational suggestion or logical thought that is not immediately turned upon its head.  Sure, this is a movie where they sing songs, Harpo honks some horns, and Chico makes a horrible "irrelevant"/"elephant" pun (that, as is always the case with Chico, works far better than it has any right to).  But that kind of stuff was never what the Marx brother's films were really about. People go on about the "political satire" that makes Duck Soup stand out, but this film isn't a political satire any more than Monkey Business is an ocean liner satire.  Yes, it is set in a political world, but, like all their films, the Marx brothers only use that as just a jumping off point to indulge their urge to systematically destroy ever rational thing in the world around them.  And this, more than anything is why I love Duck Soup so much.  It could have been a film like Chaplin's The Great Dictator, ever so earnestly trying to say SOMETHING IMPORTANT, and scuppering itself in the process.  Instead, Duck Soup just wants to watch the world (and, especially, that lemonade salesman's hats) burn.
Plain and simple, the Marx brothers were spreaders of chaos, the flies in the ointment, the reason you can't have nice things, and the final word in absurd comedic nihilism.  Is it really a surprise to anyone why I love them some much?