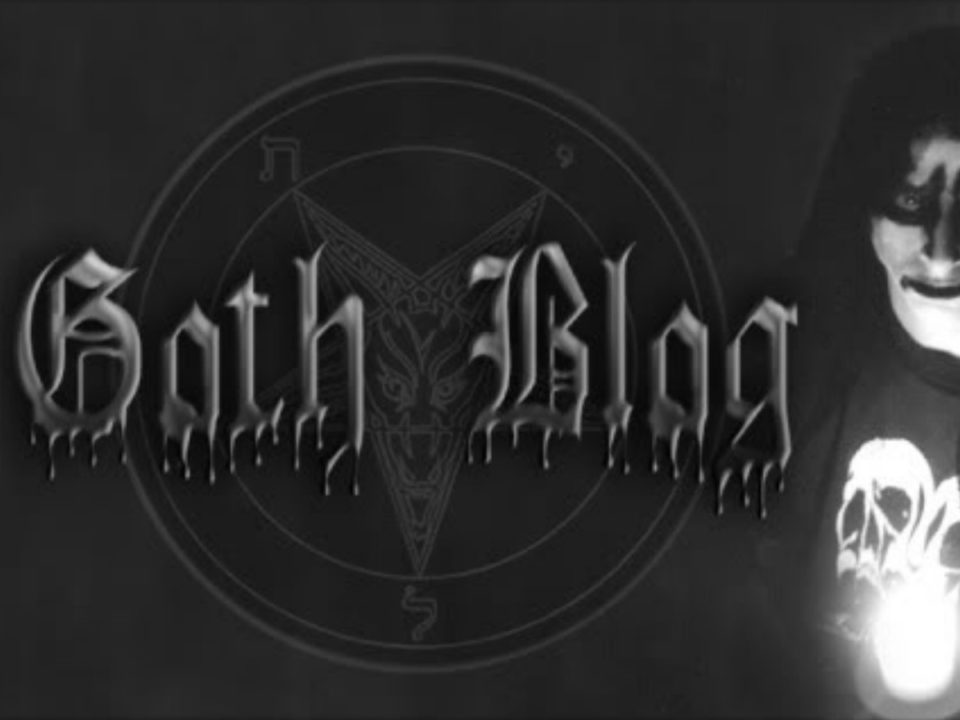 My very first foray into internet blogging was Goth Blog, the fake journal of a high school goth kid. And now, 5 years later, I figured it would be fitting to return to the land of Center Valley High and Goth Blog for my 200th post. However, this isn't just a normal Goth Blog post, it's the start of a new Spinoff Crossover Special! So, come back every day this week for a new post from the ever growing Center Valley High cast of characters to find out what really happened in today's post!
With that said, let's let the Tales of Center Valley saga continue with GOTH Blog 4 – Hey Little Sister! Look no further if you are in the mood for something rather silly that is full of black nail polish, nerdy references, capes, teen drama and plenty of horrible poetry!
Previously in Goth Blog:
Goth Blog 1 – Our hero Khaine introduces himself and his one true love Thorn.  Alas, but the gothqueen Thorn does not return his affection and his attempt to woo her with a public poetry reading in their English class goes disastrously awry.
Goth Blog 2 – After nursing his wounds all summer Khaine returns to school to find, horror of horrors, Thorn has joined the pep squad.  Sorrow turns to rage which turns into an epic plan to ruin the school's pep assembly.  Though it goes disastrously awry (as usual) Thorn (having recently quit the pep squad) is impressed by Khaine's rebellious gesture and agrees to be his girlfriend.
Goth Blog 3 – Khaine discovers that having a girlfriend is not as easy as he thought it would be when Thorn attempts to get him to light a giant flaming pentagram at the school's fall formal.  Though they mutually chicken out the gymnasium mysteriously burns down anyway (see Snob Blog 3.5 for the details).
Monday, November 13th
This morning I found I had a certain swagger to my prance as I walked the halls of a school that I had, with my own talons (however inadvertently), so recently left the flaming mark of the beast upon.  A rogue's life seems to suit me far more than my less than imposing frame would suggest.  In fact, and it could just be my eyes playing tricks on me, but I could swear that I almost discern a hint of admiration in the curled lips of my lovely Thorn's usual sneer.
All of which did nothing to keep the hated daystar from vaporizing my black clouds of happiness when I got to choir class this morning.
Anyone who knows me at all, knows that I feel as naked as a dwarf without his battle axe when I am without my cape.  Thus, you can imagine my horror, when I arrived at school to find out that our administration had, in the wake of the weekend's events, implemented a new dress code that strictly banned capes (in addition to other "terrorist" apparel like shorts above the knees, burkas and "Big Johnson" t-shirts).
My quick remedy of wearing my cape under my tunic (and tucking it into my pantaloons) was discovered by my tyrannical choir teacher Ms. Kockenlocker as I was leaving class.  A spirited discussion of "rules" followed until she stormed out of the room to fetch the gym teacher Mr. Robinson for "help".
Any reader of this journal knows how many of my capes have met an ill fate at his ogreish hands, and I knew if I did not hide it it would be confiscated for sure!  After quickly abandoning my initial plan of body cavity concealment, I jumped onto the speaker sitting on the top row of the bleachers in the back of the choir classroom and hid my cape in the hollow space above the ceiling tiles.
When Ms. Kockenlocker arrived with Mr. Robinson they were eventually forced to give up the search for the missing cape, though not without a bunch of vague threats from Ms. Kockenlocker about how she was just following the rules and would continue to do so if I showed up with a new cape.  Of course, I think we all know another group that claimed they were "just following orders".  Thus, with my new-found boldness, I delivered a parting "that's what the orcs said too" as I left the room.
3:37 PM
Tuesday, November 14th
Ms. Kockenlocker was not at school today, which rather than placating my indignation, only served to incense me further.  All day I was forced to fume with nothing between me and the horrors of high school than the tunic upon my back.
And now, as the witching hour approaches, I still can not stop thinking of how unfair my newly capeless existence is.  As is always the case when I am wronged by that wretched prison they call high school I have decided a vengeful poem is in order.
However, my blood forged poem-hammer does not always need fresh lexical carrion to craft its barbed sonnets.  Since this was Choir class I figured music was the thing to fully express my rage, thus, instead of crafting an entirely new poem, I re-purposed the lyrics of one of my favorite songs.  Though I have been warned repeatedly against such behavior, I believe tomorrow will bring another of my (in)famous impromptu a capella performances in choir class.
Though I shall have a rough time of it approximating Billy Idol's baritone with my high falsetto, I believe the new lyrics speak for themselves:
Hey choir teacher what have you done,
Hey choir teacher now you better run,
Hey choir teacher you'll fear the Dark One,
Hey choir teacher you're the one He wants,
Hey choir teacher Satan!
It's a nice day to pay Satan.
It's a nice day for a Wrath Wreaking.
It's a nice day to pay Satan.
So excited was I that I even braved a call to Thorn's house before going to bed.  Unfortunately, as I finished reading my newest poetic offering I realized it was not Thorn but her dad who had answered the phone.  He seemed less than impressed.  I wish I could say he only said so in so many words, but he said so in so many words plus a few choice extras.
But now I must return to the shadows with only my ever present companion insomnia to keep the torments of my dreams at bay.  I shall wake on the morrow refreshed and with a song of vengeance upon my blackened lips!
11:31 PM
Wednesday, November 15th
Before any accusations of cowardice are directed my way I must remind you dear readers that you are accusing the man who very recently nearly singlehandedly destroyed his high school gymnasium in a great gout of Satanic fire.  So no, cravenness on my part was not the reason that my song of retribution remains unsung.
As it turned out, the reason for Ms. Kockenlocker's absence yesterday was her visit to the Elementary school to organize the upcoming all choir concert.  And before I could even clear my throat to deliver my unholy musical broadside she had announced that the 5th graders would be coming to our class on Friday to practice with us before the concert!
And as you may well know, my little sister Chloe is one of those 5th graders.  What better chance to show her how fearsome her brother's reputation is amongst the peasants of his high school than to save my demonic recital for Friday's class!
Thus, my vengeance will merely be delayed.  On Friday the week will end with shrieks of horror, you can mark my words on that fact.
4:14 PM
Thursday, November 16th
Revenge, like grapes (and my precious ambrosial cherry koolaid) is a dish best served cold. I now feel that my one shot at a song in my choir class must be used for prostration rather than protestation.
I suppose I should explain.  Unable to resist I told my sister when she got home from school today to not be frightened tomorrow, and that anything "that happened" during her visit to my choir class would not be directed at her.  Rather than admiration and curiosity, I received only a disdainful sneer that would have made Thorn proud.   Her response "why, are you going to steal more of my Barbie Beach Party™ stuff?" was not at all the response I had been hoping for.
I could only stand there stunned.  It is easy to forget the little people from so lofty a dark throne as my own.  And while her Barbie Beach Party™ boombox had been returned to her after its confiscation last year, I must admit that her Barbie Beach Party™ bubble machine was an unfortunate casualty of the pep rally fiasco.
I tried to imagine what it would be like if someone had stolen something similarly dear to me.  And in each instance, my Lord of the Rings trivia game, my wooden sopranino recorder, my dragon incense burner or my talking Sauron doll, I could only feel more ashamed for what I had done.
I know my sister would not want me to merely replace her Barbie Beach Party™ bubble machine, thus I have re-purposed my re-purposed song to express my sorrow for my actions:
Hey little sister what have I done,
Hey little sister I have ruined your fun,
Hey little sister I'm the thieving one,
Hey little sister I'm the one you want,
Hey little sister sorry!
It's a nice day to say sorry.
It's a nice day for a [Barbie] Beach Party.
It's a nice day to say sorry.
Yes, Lord and Master Sathanas makes no appearance in this version.  But apologies are not His style, He has no tongue for them.  If I ever need someone roasted in the depths of a Slor, Satan will be my man, but for acts of contrition, Billy Idol will do just fine.
8:03 PM

Friday, November 17th
Today could not have gone more wrong.
Yes, I know this comes as a shock, you would think that at some point the witch's hex upon my luck would change.  Anyway, I suppose I better start at the beginning.
The choir class was abuzz as soon as the 5th graders filed in.  Ms. Kockenlocker's feeble attempts to impose some kind of order upon the chaos appeared to be as futile as an orcish shield wall in front of a Rohirrim charge.  In the cacophony, my sister was oblivious to my presence as she chattered away with her friends.
As I waited for the chaos to die down so I could deliver my apology song, I  realized that all eyes were upon my sister and Ms. Kockenlocker who appeared to be arguing about the odd cloak that my sister had suddenly draped around her shoulders.  As their argument grew more heated I saw my chance.  If I could retrieve my hidden cape and then leap down to her side, the show of caped solidarity it would be as good as any apology!
I carefully climbed upon the speaker on the back row of the bleachers, unseen because of the commotion from the front.  I then removed the ceiling tile in front of the tile that hid my cloak, reached in and quickly pulled it out with a grand flourish.
I don't know what had happened up there over the course of the week, but I pulled out a lot more than my cloak.  Hundreds of crumpled bits of paper were apparently piled on top of it and they came flying out over the rows of students in front of me.  To further complicate things, my cape smelled worse than the vulture pen at the zoo one a summer day (a fact that once again made me reconsider my longtime dream of having a pet vulture).
Undeterred, I fastened my curiously damp cape about my shoulders and prepared to leap to my sister's side.  But the choir class had descended into complete anarchy.  Piercing screams and flying bits of the wadded up paper filled the air as Ms. Kockenlocker desperately tried to confiscate the mysterious projectiles and restore order.  I don't know why people were reacting with such horror, but I realized I wasn't going to have a better time to sing my song than the present and so I desperately started shouting out the verses.
It was not to be though as Ms. Kockenlocker had by this point corralled the entire 5th grade class and was marching them down to the principal's office. I don't think my sister even knew I was there.
I was left alone, with my apology wasted and with a cape whose need of a washing was increasingly becoming more apparent.
5:30 PM
That's it for Goth Blog this week!  If you want to find out what the mysterious confetti was, what happened with Ms. Kockenlocker and the 5th graders and why Khaine's cape smelled so bad, come back tomorrow for Khaine's sister's version of things in Goth Blog 4.5: Pretty Princess Blog!