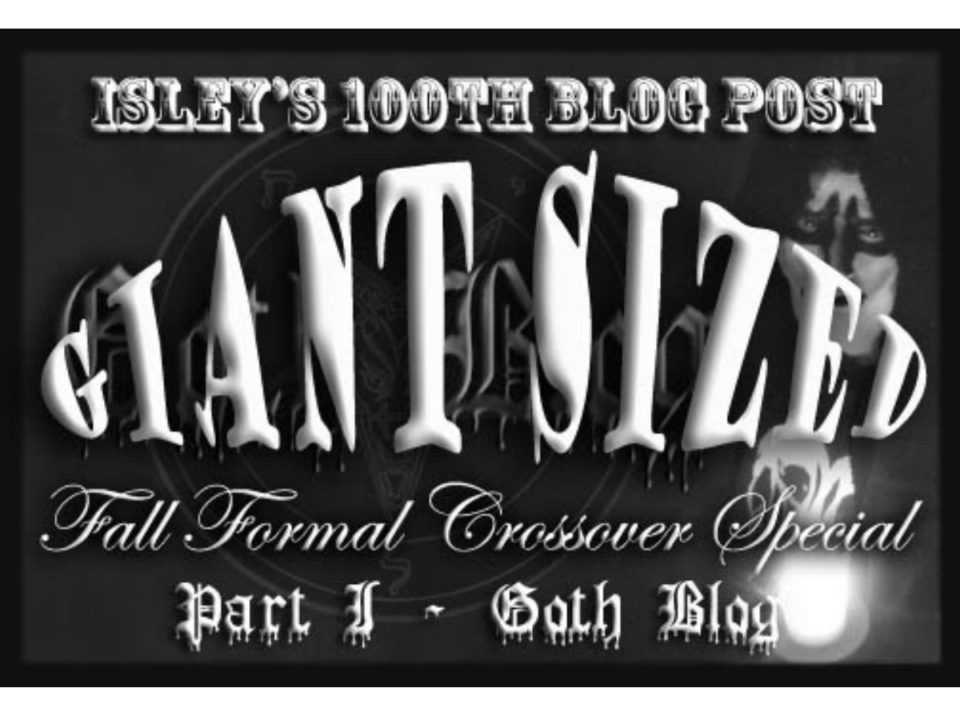 Here we are at my 100th blog post, which, if you only write one post a week (in a good month), kind of takes a while to get to!  And it does seem like quite a while ago when I first sat down and wrote the post that would become Goth Blog 1, my very first blog post ever!  So now, four and a half years later it seems only appropriate to return to Goth Blog for my 100th Blog post. 
If you've been following along the past few weeks, there is a storm brewing at the semi fictional Center Valley High where three different semi fictional characters (I will neither confirm nor deny that the beloved Goth, Jock and Snob are in any way facets of my personality) are on a collision course for their high school's Fall Formal.
The buildup is finally over though, and in this, the first of three epic conclusions this week we find out if goth kid Khaine will go through with his goth girlfriend Thorn's crazy plan to light a burning pentagram over the fall formal stage or if he will call the police/city guard instead in an attempt to save them both from certain imprisonment/expulsion.
But enough of my yappin', let's boogie!
Sunday, November 12th
My great relief knows no bounds as last night the tendrils of a mighty hellfire caressed my pale cheek and then spewed me forth like a phoenix feeding its young, back, back into welcome embrace of my black-walled basement abode.  Such tales I have to tell you my dear readers of love, daring, adventure, valor and most of all, not getting arrested.  Though my head is still reeling as though beguiled by my ever present friend who is also my enemy (it is fumbling attempts to express concepts such as that that make me curse the narrowness of the english language!) absinthe, I shall try to make sense of the night by starting with its inauspicious beginning.
Yes, I am afraid I did indeed carry out my coward's plan of informing the authorities as soon as I arrived at the Fall Formal with my dear Thorn at my side, a radiant Hot Topic dress upon her shoulder and destruction in her eyes.  Her resolve to paint a burning pentagram upon the stage of our dance was breathtakingly alluring in its fury.
But it could not stop me from doing what I knew I had to do, so after excusing myself to touch up my corpse paint I found the school payphone and phoned the city guard.  Deciding to play upon the fears of terrorists from earlier in the week I affected my most fearsome growl and declared that I was "Gozar, destructor of trees", and that I had left some mighty casks of Greek Fire outside the door to the stage of the school gymnasium.  I left the person on the other end of the phone undoubtedly cowering in fear as I returned to the dance hall with a great weight lifted from my hunched shoulders.
I knew that all I had to do was stall Thorn for a few short minutes until the city guard arrived at which point we could enjoy the Fall Formal as only two of our delicate black natures were able.  And upon entering the gymnasium I had to admit that it was quite grimly lit with flickering candles and lanterns which restored a modest bit of respect for my freshman English Teacher Mr. Brinkley and that new choir teacher Ms. Kockenlocker who were apparently in charge of the Formal this year.  But my hopes for any kind of return on my investment into a new dress cape were soon dashed.
No sooner had I entered the gymnasium than Thorn rushed to grab my hand as the students were milling around while Mr. Brinkley shouted something about wanting a volunteer to dance with him while he waited for tea or something.  The half filled gymnasium was growing unruly as Thorn pulled me aside saying that we needed to sneak onto the stage.
You can imagine my horror when rather than making the beast with locked lips I instead saw the very buckets we had left outside staring at me from behind Thorn's knee high boots.  She explained to me that she had decided to bring the buckets inside while I was gone since no one was watching the back door.  With each word my withered heart sank into my withered groin.  At that moment I knew that all hope was lost and that I was as doomed as a Pelargirian foot soldier before a Mumakul charge.
Resigned to my fate, I grabbed one of the paint rollers we had stolen from Thorn's father and began sketching out our mighty pentagram upon the back wall of the stage.  It pains me to say it, but never have I blasphemed so halfheartedly.  As our paint rollers met at the bottom point of our finished upside down star inside a circle I finally managed to raise my eyes to meet the gaze of my one love (and artificer of my final doom).  Imagine my astonishment when the eyeliner framed windows to Thorn's soul bespoke a terror equal to my own!
Not wanting to miss my chance, I desperately stepped forward to try to dissuade her from this task one final time as she turned away to open the final bucket of gasoline.  But before the words could escape my mouth the most unholy stench I had ever had the pleasure to experience (yes, far worse than the car ride on Thorn and I's ill-fated first date) assaulted my nostrils.  Thorn and I jumped back gagging, for this gasoline had obviously spoiled overnight what with the assorted floating brown lumps in a putrid grey sludge that was spreading a smell far worse than the time one of my brother's oafish friends threw up in the heater over lunch.
But at this point Thorn was acting as one possessed and ignoring the impossibly vile smell, she began slopping the  mixture in a line from the edge of the stage to our fuming gasoline pentagram creating the trail that would light our creation ablaze (though frankly I questioned whether or not the final bucket's gasoline would burn considering the strange state it was in!)
It was when she spattered the final dregs of putrefied gasoline onto the base of the wall that I realized that my ice queen's shoulders were shaking with great racking sobs!  Turning to me she asked, through running eyeliner, how I could do these things without a hint of fear, and then went on to say how she just wanted to impress me with a deed equal in magnitude to my own recent exploits.
Well dear reader, at that moment what little remnants of a heart I had left melted like that nazi who let loose that undead wight-jesus in that one Indiana Jones movie.  I finally admitted to my dear Thorn that I had had nothing to do with the destruction of the tree earlier in the week and that I only wanted to impress her and was just as terrified as she was.  Upon the sight of my great sobbing man-tears Thorn hugged me in relief and we agreed right there to abandon our foolhardy actions that we were lucky had not already led to our arrest.
What is that dear reader?  Where are the fires I spoke of in my introduction?  Was this the end of Thorn and I's adventure?  It is not, though I am afraid the rest of my tale is a mystery even to myself!
As we snuck off the stage a very different scene awaited us in the gymnasium.  The football coach Mr. Robinson, with whom I have had many a run in, appeared to have taken over the Formal from Mr. Brinkley and Mrs. Kockenlocker who were nowhere to be seen.  Thorn and I sneered at the festivities in a corner as Mr. Robinson played some insipid song about "taking care of business in all manner of ways" on the gymnasium's stereo system.  It was then that I saw my horrid brother Chet yelling at one of the guys that always comes over to our house and tries to play "catch the cape" whenever I leave my dungeon fortress to refill my Mountain Dew goblet.
Chet and his friend seemed to be about to come to blows when the most amazing thing happened.  A strangly epic song came on over the sound system while the stage curtains began to open as if by magic.  Thorn and I stared at each other in amazement as, when the curtains were fully open, our magnificent pentagram nearly 20 feet high burst into flame just as the brutally epic song became even more epic!
And as the screams of the dance-goer's broke out across the gymnasium, suddenly, two figures, a guy and a girl, rose in front of the flames with white helmets upon their heads but wearing naught else.  Before the stunned auditorium knew what was happening the strange naked demonic figures jumped from the stage and ran through the gymnasium towards the front doors.
It was at this point that, naked demons be damned, everyone realized that the mighty fire was spinning out of control with all the fury of my dark lord and master Sathanas at a puppy convention!  As one, the entire gymnasium broke into a sprint for the parking lot through which the naked, helmeted fire demons were running as all 4 police cars from our local city guard shouted threats at them.  But they were quickly forgotten, for, in front of double doors that led to freedom was a great sea of the same putrefied gasoline mixture that (much to the horror of the people in front) appeared to be very slippery.
Complete chaos broke out as the billowing smoke squeezed the frantic crowd into the bodies of those who had already fallen as the Fall Formal attendees writhed their way through the slippery minefield of the overwhelmingly nauseating substance.
As is probably obvious by now, everyone made it to safety, though the fire department was unable to extinguish the blaze until it had consumed half of the basketball court.  I don't know that we'll ever know who the mysterious naked fire demons were, or how the pentagram had caught on fire, but suffice to say that Thorn and myself learned an important lesson last night.  When almighty Sathanas wants a burning pentagram at Fall Formal, almighty Sathanas will get a burning pentagram at Fall Formal!
That's it for Khaine's story!  Tune in tomorrow at 5:00 PM to find out just what Chet was up to this whole time!  Will the streakers be revealed?  Who started the fire?  What happened to Rico?  Why did coach Robinson take over the dance? What happened to Ms. Kockenlocker and Mr. Brinkley?  What song was so epic that it even captured Khaine's cold heart?  Some will be revealed… Tomorrow!