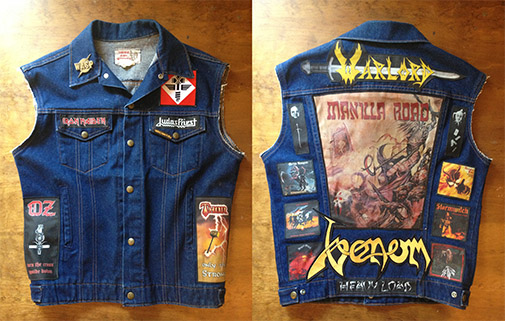 Looking for custom printed patches but you don't have access to a high quality print shop?  Contact me HERE, I can make any patch you can think of, just let me know!
Welcome back to Battle Vests of the KVLT and TR00!  Today we will take a look at another one of my own creations; this time it is my "classic" heavy metal battle vest.  Additionally, this is the vest where I learned how freeing it can be to make your own patches instead of having to depend on the shapes and designs that you might find on ebay!
My journey down the path of patch design freedom started with Manilla Road.  Now, I know that some long-time www.isleyunruh.com readers, *cough* BRIAN *cough*, might claim that the Wichita, KS based Manilla Road doesn't deserve a spot in the hall of heavy metal greats.  I'd hate to expose him to the wrath of the legion of Manilla Road fans out there, but I've even heard him use the phrase "kinda shitty" when describing their music.  However, not to be dissuaded by those of poor taste, I decided that Manilla Road would be my centerpiece back patch for my new "classic heavy metal from the years 1980-1985 including many epic sounding proto-power metal bands" patch vest.
In addition to having a lot of my favorite songs, Manilla Road's 1985 classic Open the Gates also had a totally kick-ass cover. However, I was heartbroken to find that not only were there no back patches with that picture, there weren't even any shirts with that cover that I could turn into a back patch.  Shaking off any niggling doubts about what this said about the veracity of Brian's constant claims that "nobody has heard of Manilla Road," I suddenly had a flash of inspiration.  A quick phone call verified it; a local t-shirt printing place confirmed that if I brought in my own fabric, they could print any picture I wanted onto it.  Just like that I no longer had to wait for patches to show up from shady Mexican bootleggers, and I no longer had to settle for whatever pictures, bands, and sizes were available on ebay, I could make my own!
After getting the Manilla Road patch (which turned out great!), I needed a custom patch for the top.  My first idea, this Mercyful Fate patch, just didn't quite feel right composition wise:
I know I was probably just nitpicking but that big wall of fire on top just felt like it overwhelmed the vest.  Also, maybe my eyes were playing tricks on me, but I could swear something was off with the framing with the way that flat bottom interacted with the Manilla Road patch.  Anyway, I ended up taking the Mercyful Fate patch off and switching it with a Warlord logo + sword patch.  Initially, I'd tried adding the sword to the Jag Panzer logo with the words "HARDER THAN STEEL" under it, but after a bit of reflection I decided that that would be pushing the homoerotic level (of a vest that was already playing on 11) a bit too far.  I like the Warlord patch a lot better, though I still feel like it's not perfect–the logo is a bit small in relation to the Venom logo on the bottom.  Still, good enough for now, besides, if you forced me to choose, I have to admit I prefer Warlord to Mercyful Fate anyway (suck it Brian…and every other metalhead ever).
Otherwise, with my new-found ability to make any patch I wanted, the whole vest came together pretty quickly.  I already had the sweet shaped Venom patch, as well as the Manowar hammer patch (because, while I love Manowar, apparently I didn't have the balls to own up and rock a patch that also had their actual name on it) from ebay, but every other patch on the vest was a custom job.
I did run into a minor problem only a few days after I finished sewing.  While clicking around listening to music on youtube and following "related links" to bands I'd never heard of, I came across this album cover from a German band called Metal Law: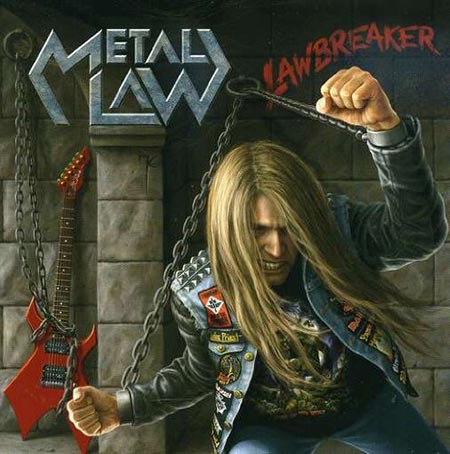 That's right, just like Leibniz and Newton's independent discoveries of calculus, the Metal Law dude and I independently discovered the "golden" layout of a Manowar hammer over a Priest logo on one pocket flap with a Maiden logo on the other pocket flap.  At this point I'll never be able to add Running Wild and Saxon patches to the front of my vest (even though that is a distinct possibility considering how awesome they are and where I have extra space) for fear of being labeled a total copycat.
Best of all, I ended up finishing the vest just in time to catch Iron Maiden in KC
THE BANDS
Just like with my black metal patch vest, for those who might not be familiar with EVERY band on my battle vest, I went ahead and included a representative song from each band.  Unlike my black metal vest, all of these bands' representative albums fall in the years 1980-1985, so instead of ordering them by date, I've just listed them alphabetically.  Get ready to bang your head:

Angel Witch – "White Witch"
(Angel Witch, 1980)
[audio:https://isleyunruh.com/wp-content/uploads/2013/08/Angel-Witch-White-Witch.mp3]
Angel Witch were one of the very earliest NWOBHM bands, and they are still one of the best.  This whole album is great, but rather than pick the raging title track, I figured I'd go with something a little different.  I absolutely love the intro here–hell, the whole song is quintessential NWOBHM, from back in the time when metal bands wrote SONGS to remember.

Grim Reaper – "See You in Hell"
(See You in Hell, 1983)
[audio:https://isleyunruh.com/wp-content/uploads/2013/08/Grim-Reaper-See-You-in-Hell.mp3]
I've always claimed Grim Reaper were basically just a more epic version of W.A.S.P., and, based on that description, it should be obvious that I'm a huge Grim Reaper fan.  It's tough to listen to any of the songs on this brilliant debut without headbanging right along with the ridiculously catchy riffs while grinning from ear to ear.  Classic stuff, I don't care what Beavis and Butthead say.

Heavy Load – "Run with the Devil"
(Stronger than Evil, 1983)
[audio:https://isleyunruh.com/wp-content/uploads/2013/08/Heavy-Load-Run-with-the-Devil.mp3]
Swedish band Heavy Load has been around since the late 70s, and while they didn't change their sound much during their brief career, their albums were always guaranteed to be chock full of epic songs and epic riffs.  All their releases are worth listening to, but this song from their final full length is quintessential Heavy Load and can only be described as delightful.
Iron Maiden – "Hallowed Be Thy Name"
(Number of the Beast, 1982)
[audio:https://isleyunruh.com/wp-content/uploads/2013/08/Iron-Maiden-Hallowed-be-thy-Name.mp3]
Iron Maiden. Great band, or greatest band?  No matter what Priest fans might have to say about the answer to that question, no one could argue that they were deserving of a hallowed spot on a front pocket flap on this jacket.  This song, from their first album with Bruce "voice of a god" Dickinson marked the start of one of the most remarkable runs of perfect albums in metal history.  "Hallowed Be Thy Name" was also the start of a remarkable string of perfectly epic album closers, and, it might just be my favorite of them all (from among a very tough field of contenders).

Jag Panzer – "Harder Than Steel"
(Ample Destruction, 1984)
[audio:https://isleyunruh.com/wp-content/uploads/2013/08/Jag-Panzer-Harder-than-Steel.mp3]
Jag Panzer is either a power metal album back when power metal had some teeth or a speed metal album back when speed metal wasn't afraid to be catchy as hell.  Part of the credit goes to the "just the right side of over the top" vocals of Harry Conklin, but the viciously melodic songwriting is the real secret weapon here.  One of the most spectacular releases of the 1980s, and the only full length they released in that hallowed decade!

Judas Priest – "The Sentinel"
(Defenders of the Faith, 1984)
[audio:https://isleyunruh.com/wp-content/uploads/2013/08/Judas-Priest-The-Sentinel.mp3]
Judas Priest. Great band, or greatest band?  No matter what Maiden fans might have to say about the answer to that question, no one could argue that they were deserving of a hallowed front pocket flap on this jacket.  Priest wasn't really NWOBHM considering they started their career way back in the mid 1970s.  And over the decades their sound went back and forth between hard rock and heavy  metal, but for this, their 9th (!) studio album they went full metal and never sounded better.  Lots of classics on Defenders of the Faith, but "The Sentinel" is always a favorite for how fucking epic those choruses are when belted out by the one, the only, Rob Halford.  Even if you aren't into metal, I'd suspect you'd find yourself banging you head by pure reflex for those last 60 seconds of this one.

Manilla Road – "Metal Storm"
(Open the Gates, 1985)
[audio:https://isleyunruh.com/wp-content/uploads/2013/08/Manilla-Road-Open-the-Gates.mp3]
Wichita, Kansas' own Manilla Road is the unsung hero of epic metal in the 1980s.  Actually, despite SOME people claiming they are no-names, I guess plenty of people give Manilla Road the respect they deserve.  This song, from their follow up to the classic Crystal Logic, proved that not only could Manilla Road makes some extremely epic music, they could also make some extremely METAL music too.  And it goes without saying that ol' Mark the Shark Shelton's vocals match the epic metal intensity of this track perfectly.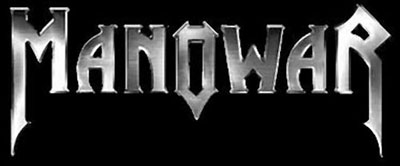 Manowar – "Blood of my Enemies"
(Hail to England, 1984)
[audio:https://isleyunruh.com/wp-content/uploads/2013/08/Manowar-Blood-of-my-Enemies.mp3]
You can make fun of Manowar all you want (and, honestly, they really do deserve it), but too often people forget that not only were they one of the first power metal bands, they were also one of the best.  This track from their classic Hail to England album has it all: Ridiculous lyrics, a cheesy as shit chorus, over the top vocals, and more heart than the entire output of every power metal band in the last twenty years.  If there were ever a reason to proclaim oneself a Manowarrior, it would be songs like this one.

Mercyful Fate – "Desecration of Souls"
(Don't Break the Oath, 1984)
[audio:https://isleyunruh.com/wp-content/uploads/2013/08/Mercyful-Fate-Desecration-of-Souls.mp3]
I know that I've, possibly only semi-facetiously, disparaged the vocals of Mercyful Fate's King Diamond.  But you know what? No matter how comedic you might find his falsetto vocal tone, Mercyful Fate was one hell of a band.  Today's song from their second full length showcases the classic Fate sound: both epic and metal with a nice dark edge that suited their occult lyrics perfectly.  That awesome intro was also one of the first things I learned on my guitar back when I played.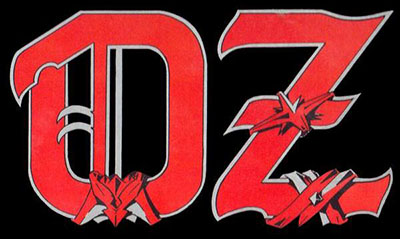 Oz – "Turn the Cross Upside Down"
(Turn the Cross Upside Down EP, 1984)
[audio:https://isleyunruh.com/wp-content/uploads/2013/08/Oz-Turn-the-Cross-Upside-Down.mp3]
If the first five notes of this song don't immediately grab you by the hard to reach hairs in the most epic places on your balls, then heavy metal is probably not for you.  Oz was one of the first metal bands from Finland and damned if they didn't set a very high bar for all future Finnish metal output.  The fact that this song takes that awesome intro and then only gets better and better boggles the mind.  This song is so good that I'll overlook the unfortunate fact that the vocalist decided to quit writing Satanic songs after getting a 666 Finnish dollar royalty check for this song.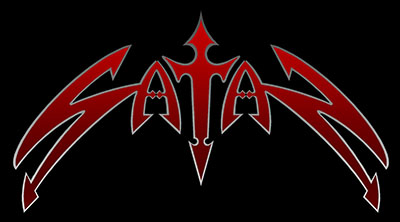 Satan – "Trial by Fire"
(Court in the Act, 1983)
[audio:https://isleyunruh.com/wp-content/uploads/2013/08/Satan-Trial-by-Fire.mp3]
If you don't count Iron Maiden, Satan is right up there with Angelwitch as one of the best bands to come out of England in the early 80s.  Consummately composed, every song on this album is pure gold.  Still, the opener is the clear highlight: "Trial by Fire" positively roars right along, never letting up the speed metal intensity for one second, and proving that NWOBHM could be as visceral as the burgeoning thrash genre that was merely a glint in bands like Satan's eyes at this point.

Stormwitch – "Cave of Steenfoll"
(Walpurgis Night, 1984)
[audio:https://isleyunruh.com/wp-content/uploads/2013/08/Stormwitch-Cave-of-Steenfoll.mp3]
Though their subsequent albums failed to live up to the inspired greatness of Walpurgis Night, this debut accomplishes the impressive feat of actually living up to the "black romantic" handle with which the band has branded their music without once sounding cheesy.  Raw, almost out of control, and epic as hell, "Cave of Steenfoll" makes me wish my voice was able to sing along with the high part without sounding like King Diamond (OH SNAP!)

Thor – "Let the Blood Run Red"
(Only the Strong, 1985)
[audio:https://isleyunruh.com/wp-content/uploads/2013/08/Thor-Let-the-Blood-Run-Red.mp3]
Canadian bodybuilder Jean-Michel "Anger" Thor wrote plenty of great songs during his long and prolific career, but Only the Strong was the release where all the elements came together and formed an album of PURE METAL.  Sure, songs like "Let the Blood Run Red" might sound like they were composed and played by a neanderthal, but damned if that neanderthal didn't know his metal.  I don't know who this metal avenger is, but I've sung his praises at high volume along with this song many many times.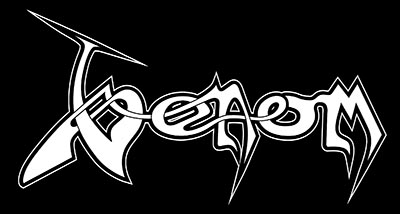 Venom – "Black Metal"
(Black Metal, 1982)
[audio:https://isleyunruh.com/wp-content/uploads/2013/08/Venom-Black-Metal.mp3]
I don't buy the claim that Mercyfull Fate is black metal, but, Venom on the other hand, they are just nasty enough where I'd concede the argument.  Sure songs like "Black Metal" are just protothrash heavy metal, but listen to that production! Listen to that atmosphere!  If there was ever a song that lived up to its name, it's this one!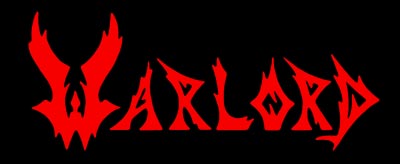 Warlord – "Deliver Us From Evil"
(Deliver Us… EP, 1983)
[audio:https://isleyunruh.com/wp-content/uploads/2013/08/Warlord-Deliver-Us.mp3]
Warlord only really put out one album in the 1980s, but it had more epic riffs than, well, not the rest of the albums on this list, they have plenty too, but, let's just say it had a lot of epic riffs.  This version of "Deliver Us From Evil" showcases exactly what I love about the Warlord sound.  Epic, melancholy and with a nice dark edge, it's everything I love in heavy metal.  I love it so much that I'll overlook the fact that this song is singing about delivering us FROM evil.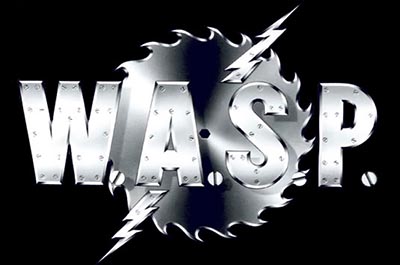 W.A.S.P. – "I Wanna Be Somebody"
(W.A.S.P., 1984)
[audio:https://isleyunruh.com/wp-content/uploads/2013/08/W.A.S.P.-I-Wanna-Be-Somebody.mp3]
It would be easy to dismiss W.A.S.P. as sophomoric hard rockers that are pretending to be metal, especially their first album.  However, songs like "I Wanna Be Somebody" have that certain visceral je ne sais quoi that make them embody everything there is to love about TR00 heavy metal.  Blackie's graveled voice will reach into your soul and leave it in shredded misogynistic pieces as the driving riffs keep your head banging long after the song is over.  So simplistic and thematically reductive as to be ideologically problematic, but undeniably a work of true genius at the same time.
BONUS BAND:

Saracen – "Horsemen of the Apocalypse"
(Heroes, Saints & Fools, 1981)
[audio:https://isleyunruh.com/wp-content/uploads/2013/08/Saracen-Horsemen-of-the-Apocalypse.mp3]
If anyone knows anything about my taste in metal, I'm a little iffy on how much I like Prog.  And I'll admit, Saracen's bizarre brand of prog NWOBHM is not quite my thing.  But I really liked their Heroes Saints and Fools (well, not the Saints so much) album cover, so I used elements from it to fill in those problematic upper shoulder side spots.  Not to say there is anything wrong with Saracen, songs like "Horsemen of the Apolcalypse" are actually quite fantastic.
Love these songs?  Want a way to listen to the whole list all the way through?  You, my friend, should click through to Isley's Heavy Metal Battlevest: THE PLAYLIST!