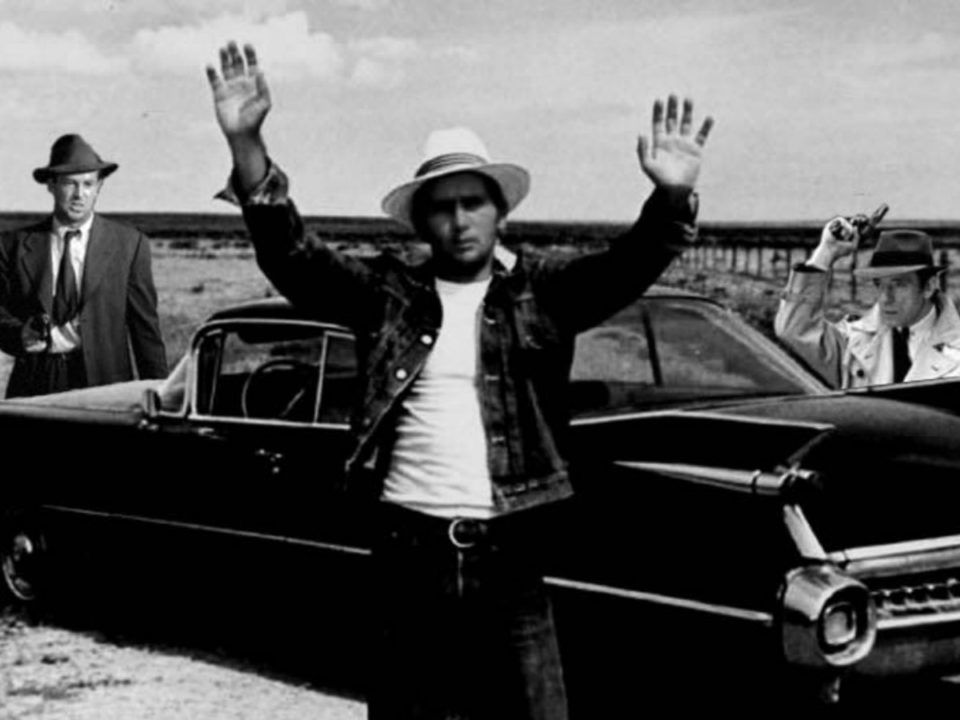 After finally watching Robert Altman's Thieves like Us the other day, I had a bit of a revelation: I'm just not that into "crime spree" movies. It was a very confusing moment for me; a rogue at heart who can appreciate a bit of larceny and who counts the "heist" film as one his favorite genres of movie-making. Yet for those movies about a pair or group of people who head out on a long crime spree (usually involving bank robbery, but not always) that inevitably ends with everyone getting shot, I have to now put them right above "movies about the holocaust" on my list of "genres of film I'm just not that into".
So why do I like heist films but not crime spree films? They both involve the doomed protagonists committing crimes. What has polarized my tastes when it comes to two seemingly similar types of film? After going over some of the basic elements of the two genres, I can actually find quite a few reasons.
It seems like most of the classic examples of the crime spree film take place in rural America. The townsfolk are hicks and the security of the thieves' targets is minimal as the "asphalt jungle" is replaced with the "backwoods". Personally, I find this setting far less appealing than teeming European (the French make GREAT heist films) and American metropolises with their jaded citizens and impregnable thievery targets. I grew up in small town America after all; I'd rather not watch movies about it.
The protagonists in most crime spree films are also not incredibly appealing to me. While they are usually likable, it seems they are more often than not pretty dumb–or at the very least incredibly naive (I should add that I'm ignoring Butch Cassidy and the Sundance Kid in this post if only for the bile inducing "Raindrops keep falling on my head" scene). Heist movies are another story. There may be a "muscle" guy around, but there are always more suave, cynical gangsters who are true professionals in on the heist as well.
The series of robberies featured in crime spree films are usually fairly amateur affairs. People run into a bank yelling "this is a holdup" and forcing the teller to shovel money into a bag. Even worse are the crime spree movies that just feature a bunch of random killings as the protagonists make their way through the country. It is the ultimate in unrefined, uncultured criminal behavior. The heist film on the other hand is all about being clever. There may only be one robbery, but it is always a triumph of superior criminal intellect over "the man". Also, aside from some very early examples of the genre (Criss Cross) and some late takes on the genre (Reservoir Dogs) the criminals in heist films pretty much always pull their heist off.
It seems studios have always been leery about making a film where crime pays, so the protagonists pretty much always die in both crime spree and heist movies. I should also add that I'm not counting "fun heist movies" like Ocean's 11, etc. They can be enjoyable, but are not the real thing. There is a bit more to it than "just deserts" however. In the crime spree film, the point is often the tragedy of the innocents that get sucked into their crime spree. You see somewhat likable yet imbecilic characters marching headlong to their doom and think to yourself "so young, so misguided, what a tragedy!" While in the heist film, the characters should get away with it. They are intelligent, street-smart and charismatic people with a flawless plan. The fact that they always die in the end–and always after a successful heist–owes more to a desire to portray existential absurdity rather than tragedy on the part of the director. Or perhaps that is what tragedy really is, an expression of existential absurdity. Either way, I still prefer the way the characters in heist films self destruct.
So, while I am not saying that crime spree films are no good (there are many great examples of the genre after all: Bonnie and Clyde, Badlands, Thieves like Us to name a few), I have realized that because of the conventions of the genre, I really can't call myself a fan. The classic heist film on the other hand has pretty much everything I look for in a movie, but hell, I'll probably go over all that in greater detail in a future blog post!
For anyone wanting to check out some "classic heist" films, here are my favorites:
The Asphalt Jungle – For anyone who has the Noir box set this DVD comes in, check out how it totally blows away the crime spree film Gun Crazy. Of course that was just a good B movie while The Asphalt Jungle is a John Huston masterpiece and one of the finest American films ever. It is also the first real heist movie, setting the standard for every other heist film since.
Rififi – Blacklisted American director Jules Dassin went to France and using The Asphalt Jungle as a springboard created one of the all time great heist films and further cemented the essential elements of the genre. Very stylish and cynical, I can't recommend it enough.
Le Cercle Rouge – Probably my favorite Melville film (and he did some great movies), this is pretty much the stylistic apex of the heist genre. Some call it slow and pretentious, but I say it is simply brilliant. The heist film had nowhere to go but down after this movie.