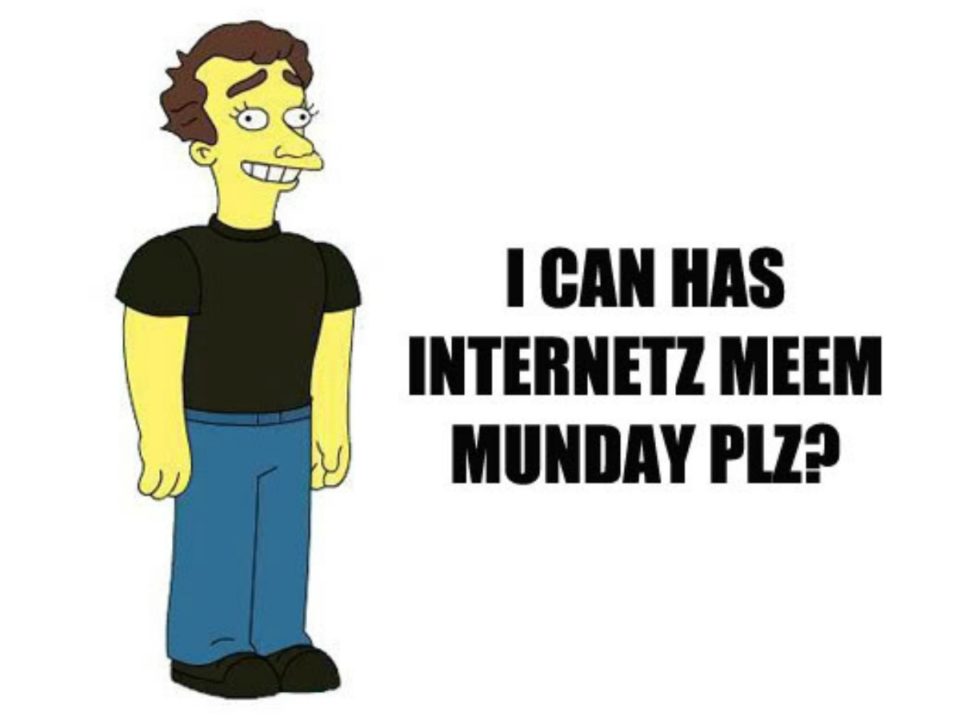 Welcome back to Internet Meme Monday!  What is a meme you say?  Well, as I understand it, a meme is similar to a gene, except instead of passing on genetic information it passes on cultural ideas.  A meme can take many forms, from a catch phrase to a hand gesture, but the type of memes I'll be looking at every second Monday of the month are "internet memes".
On the agenda this month?  I take a look at how everyone's favorite Wyld Stallyn having a sad day somehow turned into the new hot meme of the summer!
The "Sad Keanu" meme started with the following paparazzi photo of Keanu Reeves:
So sad!
Anyway, on June 3rd (2010), reddit user rockonforlife posted a humorously captioned versionof the picture (along with a similar picture of Keanu eating his sandwich) and the meme took  off from there.  Of course, you can read all that on www.knowyourmeme.comlike I just did.  What is important is that there have been a lot of funny pictures posted online that insert sad Keanu into amusingly apropos situations.
So today I decided to try my hand at the meme.  I figured I would see what would have happened if Sad Keanu had been a part of a select few classic youtube videos.  If you missed any of these videos the first time around, just click on the picture, it will open up a link to the youtube video that inspired it:
Greatest freakout ever
I'm pretty sure the original video is faked, but either way, it's an impressive remote up the ass freakout.  Keanu doesn't lose control like that though.  He just sadly contemplates all those (now) wasted hours he put into that level 80 night elf priest.
Charlie bit me – again!
"Charlie bit me – again !" is one of those classic youtube videos that appeals to email forwarding grandmas and scat forwarding 4chan users alike.  Some kid bites his brother's finger and the hilarity ensues.  It's awesome, check it out if it's been a while.  Anyway, Keanu tried his luck with the steel trap of Charlie's mouth.  He didn't scream, but it did make him sad.
Charlie bit me – again! (redux)
What people always forget, is sometimes Sad Keanu quits being sad and fights back.  Bite his finger?  He'll bite yours!
Techno Viking
The "Techno Viking" is some shirtless, ripped, E'd up, Norse dude who seems to spontaneously create an entire parade from the thin air of a German techno-fest.  Of course, before he busts out his dance moves, he first asserts his dominance over some dude who pushed a lady out of the way.  In this version, he banishes Keanu for his refusal to dance.
Fat Kid on a Roller Coaster.
Yes, the title is mean, and yes you feel bad for laughing at this video and yes, you do worry for the kid's safety.  But it's also kind of hilarious.  Of course, Keanu doesn't find it all that amusing.   Apparently he doesn't even like roller coasters, let alone laughing uncontrollably at a child who is about to fall to his death.
Lightning Bolt!
Making fun of LARPers (Live Action Role Players) is like shooting fish in a barrel.  But, this video takes the cake.  I mean just look at that kilt dude throwing his tennis ball lightning bolts.  It's probably safe to say that LARPing doesn't get more ridiculous than this–not to mention there is no way that dude had access to that many lightning bolts at his level.
Anyway, I'd be sad too if some dork in a dress wouldn't quit throwing tennis balls at my head.
Double Rainbow
This double rainbow video is a fairly new one, but it can stand with the cream of the youtube crop.  Basically  just some dude on strong acid having a three minute pants jizzing over a double rainbow.  Can you imagine what would have happened had he seen a "Double Keanu" (almost a "Triple Keanu") instead?  What does it all mean indeed.
Monkey Pees in its own mouth.
I once knew a guy who would break into uncontrolled paroxysms of laughter at the mere mention of this video.  It's not actually quite that hilarious, more just kind of gross, but changing the monkey to Sad Keanu helps with "teh funny".
Worst Wedding DJ EVER
This Youtube classic features a most likely drunk wedding DJ performing a 10 slap combo hit on [his wife's?] boobs.  The look of grim acceptance on her face says that she had been there before.  It is actually quite similar to the look on Sad Keanu's face as he prepares to take his own ten slap combo to the nuts.
Let's dump water on a dead pig with maggots.
A while back I posted a detailed examination of the short film "Let's dump water on a dead pig with maggots".  At the time I drew attention to the existentially depressing nature of the video.  Well, if you thought the original was a bummer, take a look at the Keanufied version.  Keanu is totally sad and what is good ol' Jack Dickson going to do?  Dump a big ol' bucket of water on him.  And Keanu is just going to sit there at take it.  Just wait till he finds out what he's been sitting on…then he'll really be sad.