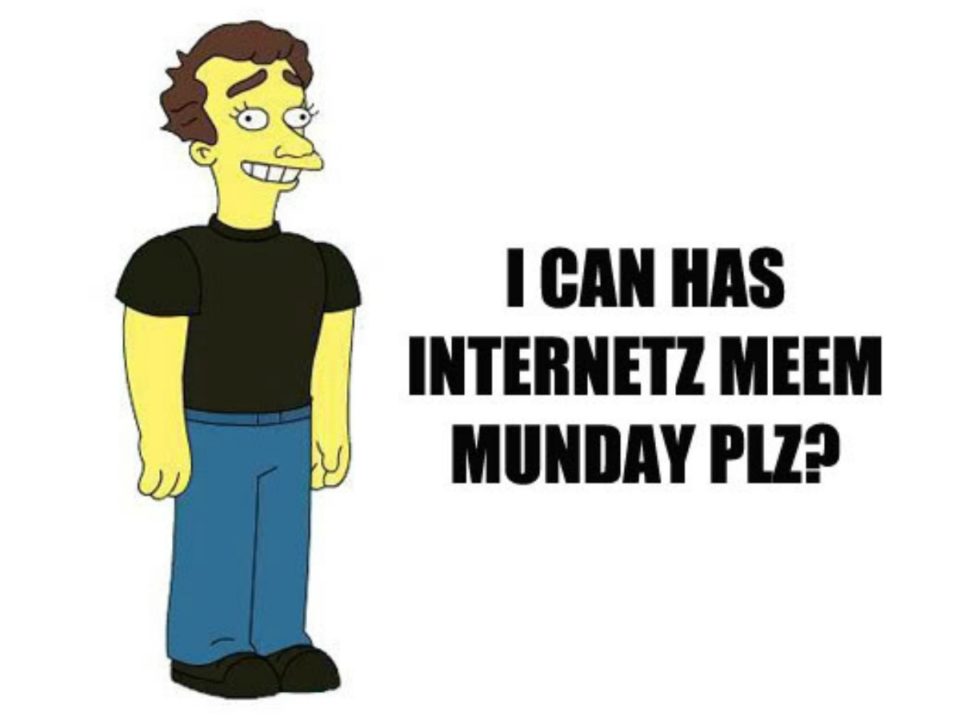 Welcome back to Internet Meme Monday!  What is a meme you say?  Well, as I understand it, a meme is similar to a gene, except instead of passing on genetic information it passes on cultural ideas.  A meme can take many forms, from a catch phrase to a hand gesture, but the type of memes I'll be looking at every second Monday of the month are "internet memes".
On the agenda this month?  I phonetically subtitle a Latin song to sound dirty in English!
I was introduced to this meme with the "hot bun lava" video on youtube.  Made by youtube user "Buffalax", it was some ridiculous Indian musical that had been given nonsense English lyrics.  Made me giggle.  Searching around youtube there were a lot of "buffalaxed" foreign songs out there, which, as I learned on wikipedia, the act of "interpreting lyrics in one language as similar-sounding lyrics in another language" even has a name: soramimi.  Which is not to be confused with "mondegreen" which is doing the same thing without changing languages (think: "excuse me while I kiss this guy" in Purple Haze, or wonderful videos like THIS…assuming that was english to start with).
Anyway, I could have sworn they kept saying "fuck me" on the song Inflammatus et Accensus from one of  my favorite Pergolesi cds Stabat Mater (sung in latin), so I thought I would go ahead and soramimi myself up an internet meme rip off.
I suppose a bit of explanation is in order for why I chose to make the song about bestiality with a swan.
See, with the "fuck me" stuff I decided to start by searching for "enlightenment erotica" to find some paintings to go with the video of the song.  Oddly enough, the vast majority of "dirty" paintings from olden days depicted the story of Leda and the Swan.
The story, for those who don't want to wikipedia it, is basically that Zeus turned himself into a swan and seduced this Spartan woman Leda who consequently gave birth to Helen (of Troy fame).  Why a swan, I have no idea (though maybe "most beautiful bird"="most beautiful offspring?), but the bestiality (according to Ovid) was apparently consensual on both sides.  As to why there are so many paintings of it, I guess back in the day it wasn't considered dirty to paint a picture of a woman doing a swan?
Anyway, I had my theme, I had plenty of paintings, then it was just a matter of inserting dirty words, which turned out to be a pain in the ass.  Aside from the "fuck me" parts, it wasn't easy coming up with lyrics that both made sense and sounded like what they were singing.  I had to stretch a bit for some sections…I guess that's why so many videos like this are more nonsensical words than actual stories.
So, I now present to you the Story of Leda and the Swan (oh…lots of painted boobies and curse words…so, NSFW I guess):
I hope that you have all learned a little something about mythology today.  Internet Meme Monday is not just for entertainment, it is also for education!