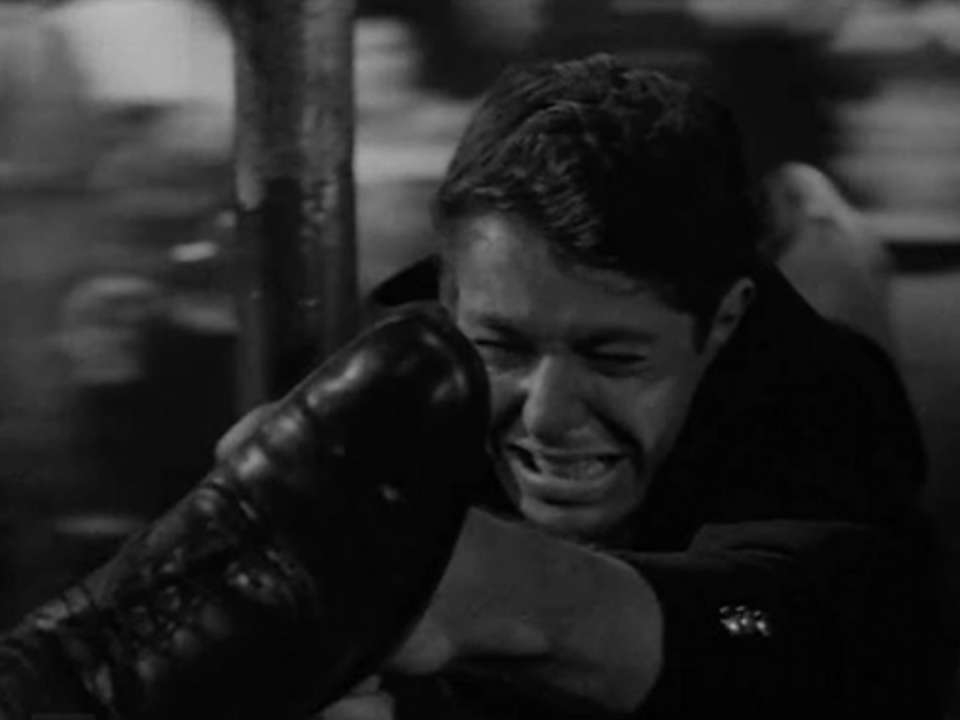 Welcome back to my most infrequently occurring Monday feature!  I'm speaking, of course, of Infrequently Occurring Fifth Monday (IO5M), where I come up with a new "top 5" list on a quad-yearly basis.
Today I'll be looking at some of my all time favorite set-pieces from the undisputed set-piece master, Alfred Hitchcock.
(Note: most of these clips have now been blocked on youtube…oh well, they were full of spoilers if you hadn't seen the movies anyway!)
When I say "set-piece", I'm not talking about a prop that is a piece of a film set.  I'm talking about those big memorably elaborate scenes in movies that everyone talks about as they leave the theater.  That CGI car chase that is the only part anyone still remembers about Matrix Reloaded, Indiana Jones stealing the shiny thing in the beginning of Raiders of the Lost Ark and Buster Keaton getting caught in a hurricane in Steamboat Bill Jr.are all examples of set-pieces.   While the definition is somewhat flexible and they don't always have to be as elaborate and expensive as the previous examples, a true set-piece should be one of the most memorable scenes of a film.
Alfred Hitchcock was no stranger to the set-piece, indeed, some of my favorite films from him (like The 39 Steps and North by Northwest to name just a few) are nothing but a long string of set-pieces.  So today I've come up with a list of my top five Hitchcock set-pieces.
All of these scenes represent Hitchcock at his very best.  Many hinge on heavy use of crosscutting to build the tension, and all are excellent examples of Hitchcock's technical and artistic mastery of the film medium.
So why isn't the airplane sequence from North by Northwest on this list?  Well, aside from me being a contrarian, I feel that each of the following examples are just a bit more thrilling than the airplane sequence.  Don't get me wrong, it's a brilliant, superbly cinematic scene, but for me it just doesn't produce quite the same visceral thrill that the following five clips do.
Oh, and needless to say, spoilers ahead…so go watch all these movies before you read this (well, maybe you can skip Torn Curtain–but watch the rest!)
Foreign Correspondent has a lot of nice set-pieces, but the final plane crash scene is a real standout.  First, technically, it is supremely impressive.  I know they just filmed it in a big tank at one of the studios, but damn if it doesn't look like they actually are out in the middle of the ocean.  Hitchcock wasn't just a creative genius, he also had a complete technical mastery of his medium, and scenes like this are the result.
However, technical mastery is not enough to make this list.  I've included this clip specifically for the part where the passengers have to run to the tail of the plane as it goes down.  By expert use of crosscutting to build suspense, Hitchcock makes the brief uphill flight to the tail of the plane a nightmarish Sisyphean journey.  Humanity trapped in a machine that is hurtling towards death as they slowly crawl away from the water that rushes towards them…it's the kind of image that would have made Herzog proud.  Maybe that sounds a bit pompous, but, nonetheless, I still found the scene a bit more emotionally investing (and suspenseful) than the North by Northwest plane chase, thus Foreign Correspondent takes the 5th spot.
4. The Birds (1963) – The birds attack the school.
I actually only watched The Birds for the first time recently.  It was always such a populist Hitchcock movie that I just assumed it wasn't going to be all that great (and sounded pretty silly), but I'm here to say: it was awesome!  The film is full of great set-pieces, but this scene in particular made me catch my breath with how cinematic it was.  First, the very clever set up as the birds slowly fill the gymnasium, then that utterly brilliant shot of the birds swarming over the top of the school as the children run down the road and finally the long "Odessa steps" style chase as the birds attack the children.
Some might find them cheesy, but honestly I was pretty impressed with all the effects in the movie.  The film is full of so much rear projection and super saturated color that it gives a nice stylized feel to the whole thing.  It was a fantastic film that I should have seen a long time ago, and this scene was my personal highlight.
3. Torn Curtain (1966) – The kitchen fight.

Torn Curtain is not one of Hitchcock's best films.  There are some great scenes, but a lot of it just doesn't work.  However, in a key central segment it has the best and most brutal fight scene Hitchcock ever filmed.  For pure cringeworthy edge-of-your-seat suspense, this scene is right up there with the killing in Dekalog 5 and that fight in season 3 of Deadwood.
As far as set-pieces go, this one is fairly low key, but Hitchcock fills the long fight with enough props (the dude gets attacked with a pot, a knife, a shovel and finally a stove as they battle across the kitchen) and creative touches that it holds its own with the more expensive big budget technical marvels on this list
This scene just feels effortless.  Starting with the simple premise that Doris Day has discovered an assassination plot at a concert, but must remain quiet because the assassins hold her son hostage, the scene (and music) just slowly builds in wordless intensity.  Only Hitchcock could milk a scene this long and never once lose the audience's interest.
Making the climax of the scene revolve around a concert cymbal crash gives a nice visual metaphor to alternate with Doris Day's helpless emotional focal point.
1. Strangers on a Train (1951) – The out of control carousel.

http://www.youtube.com/watch?v=niI4Ac5C37g

If I had to pick my favorite scene in any movie ever, this one would be right up there with Wooderson entering the Emporium in Dazed and Confused.  The fairground setting had been established earlier in the film which logically led to Hitchcock's masterstroke move of staging his climactic battle on an out of control carousel.  Cross cutting is superbly employed to cut between the old man crawling under the carousel, the fight, the frantic mothers on the side and the carousel horses that relentlessly gyrate like humping demons.
Scenes like this are why I love movies almost as much as I love The Lord of the Rings.