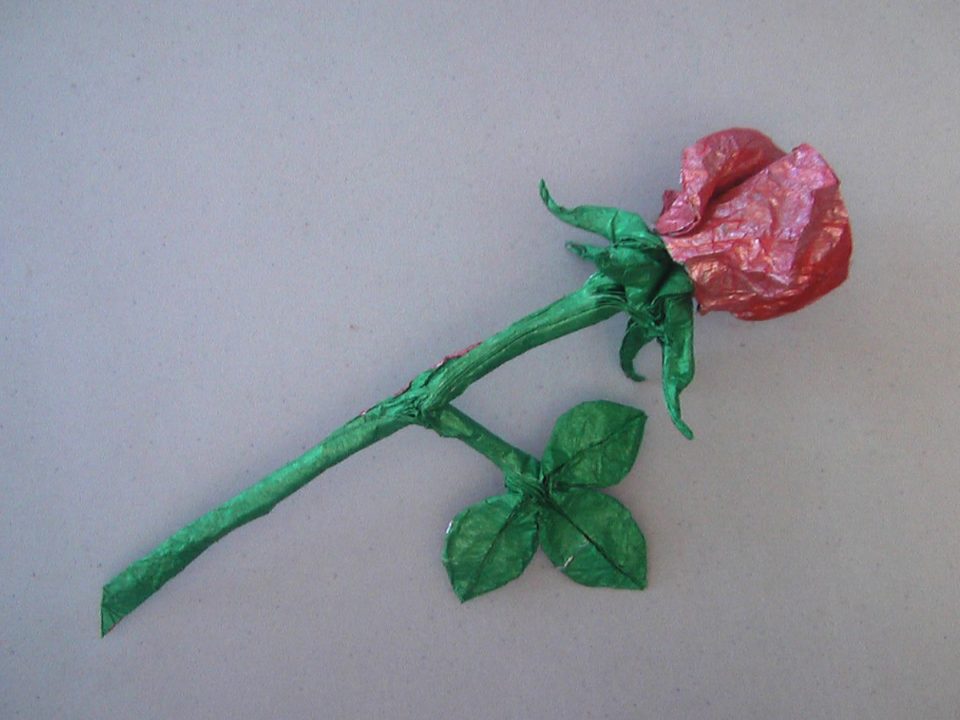 Is origami art? The question is not completely fair since origami involves the act of creation after all, making its artistry hard to argue against. Still, can origami really be elevated to the level of the great masterworks of film, painting, music, writing, etc.? I also do not mean to put the word art on a pedestal. There is a natural tendency that I will try to avoid that uses the classification "art" as a badge of honor; "oh, my framed puzzles are ART not a hobby". Mainly I'd like to look at origami along with the process involved in its creation to see if I can justify the amount of time I spend folding it.
First, the type of origami I am going to be talking about will be, origami that follows a strict set of rules by using only one square sheet of paper with no cutting to make its sculptures. For the most part everything I fold follows the above rules.
Oddly enough, while origami has been around for hundreds of years, the "strict" origami rules are a more recent addition. Up until the 1960s origami often used cuts and non square sheets of paper. Around this time more and more people began applying mathematics to the creative process allowing them to come up with super complex models that would have been impossible to create with the previous trial and error methods. The older (and usually much simpler) "traditional" models were not without their artistry, but from the 60's onward there was an explosion of groundbreaking models, often of quite extreme complexity.
That bit of history aside, the first thing I would like to look at is the "strict" set of rules: "one sheet of square paper, no cuts". Why should a paper folder limit themself to these rules? Either of these rules could be broken without dire consequences (and even I fold from rectangles occasionally), but where do you stop? If you cut a point to make two legs for your model, why not cut another point to make two arms, etc, until you may as well just cut out the entire model. If you use a rectangle, why not other shapes: a triangle, circle or even just the shape of the model itself? These are extreme examples of course, but they are part of the reasoning for the rules. I suspect the other reason for the set of rules is to give paper folders the ability to brag to their friends about how their latest model of a Ferris wheel with people in each seat was folded from "one square, no cuts!" It really is amazing what the experts can do with one sheet of paper, and I suppose that is part of the fun. Making some incredible 3D model out of one flat sheet of paper without cutting it is pretty satisfying.
This leads to the next subject: what is the creative process like with such a strict set of rules? My favorite models are very complicated: dragon with claws/spikes/wings, wizard with fingers/robe/staff, etc. Now I've been folding on and off for 7 years or so, and I only have a hazy idea how the designers of such models came up with them, and I definitely can't create anything very complicated myself. Not only do you need an entire bag of tricks to turn flaps into fingers tentacles and wings, you also need a deep understanding of the mathematical processes involved just to get the number of flaps/points necessary to even start folding your model into something realistic.
In fact, some modern origami creators have gone so far as to feed numbers into complicated algorithms to generate a "crease pattern" for their model. Want to make a tarantula? You'll need 8 flaps of length x for legs, 2 flaps of length y for front appendages, and separate points to turn into the body sections of various lengths. Put those numbers into your algorithm and you will end up with a pattern for a "base" that doesn't look much like a tarantula, but will have all the requisite flaps necessary to apply the proper folds needed to create a realistic looking tarantula.
Sometimes it almost feels like asking a film director to make his film stock from scratch and build his own camera before they can begin filming. Not necessarily a bad idea, but a very restrictive entry qualification for aspiring film directors! Even those that are able to design their own models don't exactly have a sculptor's freedom. Given an arbitrarily large sheet of paper, pretty much any model can be folded, but who can even get a hold of a 5′ square sheet of thin paper (which has limits on its complexity as well)? While I haven't done it myself, creating the base for a new model almost seems like a mathematical puzzle rather than a more creative process (once you get past the initial conception of what you want).
Finally, what about people like me, who just fold other people's models? I've made some models I'm pretty proud of that require quite a bit of paper folding skill and patience. Is there more to it than technical prowess though? Does the final shaping of a model really provide enough opportunity for expression to put paper folding up there with oil painting? Some of the more complicated models I've made with smaller paper really don't leave a lot of room for final shaping. On the other hand, all it takes is a few well placed pinches and twists of the paper to change a finished drab model into something spectacular. Ultimately it is a question that is hard to answer.
The reason for this discussion is really my own uncertainty about the worth of origami. There are times were I can't help but feel like I am just spending a few hours doing a paint by number as I blindly follow someone else's instructions for one of their models. After all that, I spend a few minutes (I should really spend more time, but by then my patience is finally wearing thin) shaping it and putting my personal touches on the model.
I often see origami as something akin to knitting (to be fair, I've never knitted). It is mostly a repetitive (anyone who has ever folded origami knows the soul crushing agony of seeing the phrase "repeat steps 127 to 213 on the other seven flaps") exercise in dexterity. Is that really something I want to spend my time on? (No knock on knitting is intended here, I know some very creative knitters).
On the other hand, the ordered subdivision of polygons (which is all origami really is at its heart) is something very stimulating to the left side of my brain (Bach and origami make for a relaxing rainy afternoon). Also, just like finishing a painting or pruning a tree, the completion of a new model is immensely satisfying. Something new has been created, and that feeling is hard to beat.
Does that mean that the six hours I spent folding an origami ancient dragon couldn't have been better spent on a lump of clay? Honestly, after writing all this, I'm still not sure!
To see some examples of some of the best "technical" origami out there, definitely check out the following sites:
Robert Lang is one of the best folders in the world and has done a great deal for the hobby from the mathematical standpoint as well. His book Origami Design Secrets is also the only reason I have even an inkling as to how the hell those guys can come up with the models they do. Some of his creations can be found here: Robert Lang's Origami.
Eric Joisel started out as a sculptor who then moved on to origami. His models are definitely the most fantastically shaped models out there, but underneath their sculpted finish lie some very ingenious origami designs: Eric Joisel's Origami.
Satoshi Kamiya is probably the king of super complex origami. His models are about as complex as any manageable sheet of paper is capable of producing, and his book The Works of Satoshi Kamiya is quickly becoming one of my favorites to fold from (He designed the wizard and dragon models I have recently folded). His website is in Japanese, but just click on the links below the white scaled dragon (again, one square no cuts!) to see his other models: Satoshi Kamiya's Origami.
Finally, my origami can be found here on myspace, or on my flickr site www.flickr.com/photos/isleyunruh