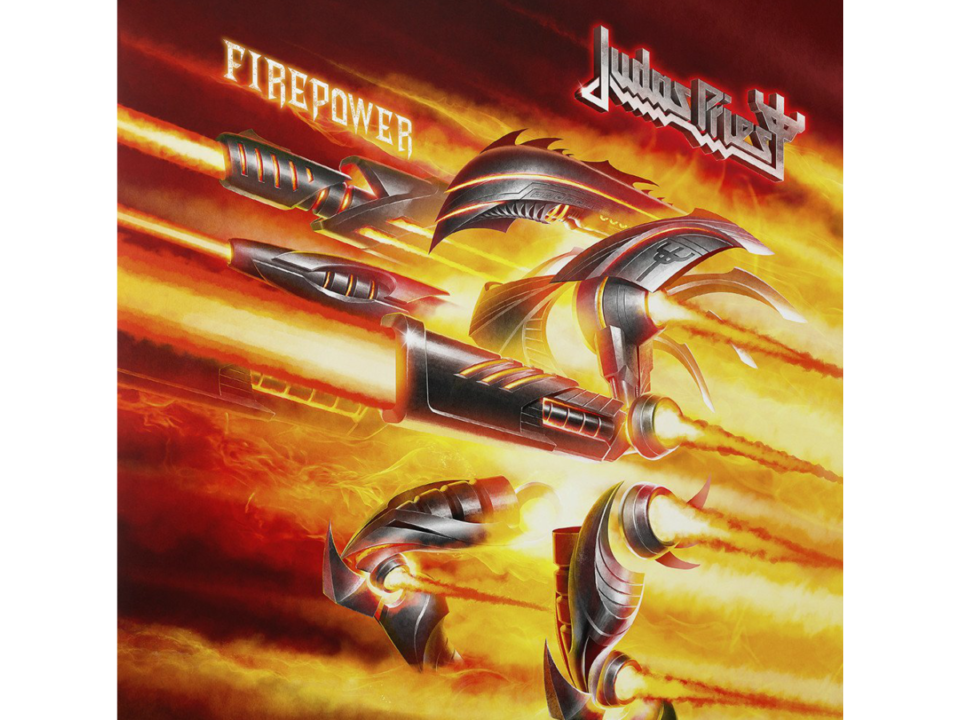 Recently, Brian and I decided to check out the new Judas Priest album, Firepower, and chat about our thoughts over Gchat as we listened.  After we'd finished, I realized this might make a good feature for this blog, and thus I have posted our comments, thoughts, and poor-taste jokes below for all the internet to see.  Read on to see what we thought of Judas Priest's 19th album, released almost 50 years into their career.  You'd think the album would suck with those kind of numbers, but, spoiler alert, it was actually kind of pretty damn good in parts!
Click here to listen along with us:
Isley
Listened to the new Priest yet?
Brian
Nope, just that one song.
Isley
I wish they'd quit making fucking hour long albums.
Brian
Oh God, now I don't want to.
Isley 
Hehe, right?
Brian
I think there should be a hard cap at 40 minutes.
Isley
37 minutes is the golden Form of all album lengths.
Brian
Are there some notable examples?
Isley
Just pulled that number out at random–but I definitely notice that around 40 minutes or less DOES seem perfect.  Let's see if Priest can prove us wrong.
Firepower
Brian
Ok, I'm really enjoying this first one.
Isley
Yeah, I like this one a lot too.
Isley
Supposedly Tipton still did a bunch of solos on this album, even with Parkinson's.
Brian
Should I expect lightning-fast hammer-ons?
Ok, sorry, that was cruel and unnecessary.
Isley
Hehe, jesus dude…too soon.
Lightning Strike
Brian
This is also good. These guys really know how to write this kind of song.
Isley
Yeah, I dig this one, even if I've definitely heard it before.
Brian
Yeah, generic Priest sound, but still.
Isley 
They nail the chorus here too.
Evil Never Dies
Isley
This seems a little off brand…sounds like an Ozzy song or something–except for the chorus which I don't much like either.
It's not bad I guess, just a little poppy for my tastes.
Brian
The verse riff is just kind of boring, but the vocal melody rescues it a little bit.
I like that poppy sounding bar right before the chorus.
Isley
THAT is precisely the bar I disproved of.
Brian
Best part of the song, dog.
Isley
Maybe if your band is Coheed and Cambria.
Brian
Motherfucker…
Isley
OH SHIT… #shotsfired
Brian
Halford's voice is still really good.
Isley
Yeah, though in parts of this one he does sound a little like Mustaine.
Never the Heroes
Isley
What is this techno shit, fucking Bladerunner?
Also, I've heard this wailing guitar riff before I swear.
Brian
Sounds like one of their cheesy ballads that you like so much.
Isley
Liiiiivvvving bad dreaaaaaaams…
Brian
Everything about this song is uninspired.
Isley
Now, the same COULD be said of "Lightning Strikes"…do we give that a pass because we prefer the style?
Brian
Now you're catching on!
Isley
This does have a nice build to the chorus.
Brian
I think the verse riff in this song is particularly lazy and generic.
Isley
I'd buy that, but its execution creates a good sense of rising energy, as uninspired as it is.
Necromancer
Brian
Ok, "Necromancer," let's see what you've got.
Isley
Oh hey, now we're talking
Brian
I like the chord changes in the verse riff…and the pre-chorus is solid as fuck.
Oh, but the chorus is a bit of a letdown.
Isley
Yeah, this is good stuff, though this is still just, what, "Nightcrawler?"  …or really any number of songs from Painkiller.
Brian
Yeah, totally.
Isley
And yeah, the chorus does kind of drop the ball–everything up to that is great though.
Brian
It sounds like an Alice Cooper chorus from the 80s, but not as good.
Isley
"What do we do for the chorus?" "Just keep saying the song title at a slower pace than the verse."
Brian
Is he saying "Necromancer, drinking from the hose"?
Isley
lol
Brian
Because I totally did that as a kid, too!
Isley
Homophobe.
Brian
Dude…lol.
I didn't even mean it that way, but that's hilarious.
I TOTALLY DIDN'T DO THAT AS A KID.
Children of the Sun
Isley
This chorus is boring to me.
Brian
This song is boring to me.
Isley
Well, there is that–let's see what this acoustic interlude does.
Brian
This interlude is nap time.
Isley
Maybe this will be their "Rime of the Ancient Mariner."
Ok, nope–it's not even their "Living Bad Dreams."
Brian
This is probably the worst song so far.
Isley
Yeah…why force something like this out when your album is already overlong.
Guardians
Brian
Oh shit, piano.
I may have spoken too soon about the worst song.
Isley
Lol–oh wait, this is just an instrumental.
Rising from the Ruins
Brian
The guitar harmonies here sound kind of like Maiden, so I'm not NOT on board.
And we've kicked it into high gear.
…not disliking this so far…
…and the verse tanked, dammit.
Isley
Yeah, it was almost there!
Ok, full disclosure, I kind of love this chorus…
RIIIIIIIIIIISSSSSING FROM RUIIIIIIINS!
Brian
Yeah, the chorus brought it back.
I definitely much prefer this song to the last one.
Isley
It was a rough road there, but I'm on board…this song is epic.
I can "rise from ruins" to this.
#6tomidnight
Brian
Wonderful.
The half-time part after the guitar solo is also epic.
Then they keep the melody going, while the drummer goes double-time, nice.
Isley
Those keys are bordering on cheese though.
Anyway, yeah, I don't just kind of like this chorus, I think it's great.
Brian
Yeah, this song is epic and well-constructed, with the verse the sole detractor.
Isley
Yeah, verse was like "I don't know, throw some fast power chords in there…we'll fix it with the chorus."
Flame Thrower
Isley
I don't know about this opening…yeah…pretty meh so far.
Brian
Pre-chorus was kind of good.
Isley
Yeah, but the chorus is back to lame.
Too bad, that prechorus was promising–sounded kind of NWOBHM.
And he said "heavy load"…giggle…
Brian
I'm gonna give the chorus another chance…let's see.
Isley
I want to hear the rest of the song that this prechorus came from.
Yeah, the chorus is OK…better than the verse anyway.
Brian
Yeah
Isley
This song is disjointed.
Brian
That bridge into the solo sounds like it came from a heavier song.
Isley
Agreed.
Brian
Disjointed is exactly it.
Spectre
Isley
The opening didn't do much for me, but this middle section before the solo is pretty cool.
"This tyrant takes his toooooolll" I think my favorite part is how he ends all the lines of the verses like it's "Jawbreaker" or something: "For all the yeaaars it bore the looooaaad!"
Brian
I am not disliking this one.
Isley
Yeah, this is pretty good, but maybe just because the good parts are reminding me of better songs (like most new Priest).
Traitor's Gate
Isley
Speaking of stuff that reminds you of better Priest songs!
Brian 
I like this kind of phrasing.
Isley
I have high hopes for this one.
Brian
I think more could have been done melodically.
Isley
Yeah, fairly simple…works well enough though.
This is what, their 50th album? Let's not go crazy here with the expectations.
Brian
I'm just comparing it to what they've done elsewhere on this album.
I like this song.
Isley
Heh, yeah…"Surviiiiiiiiiiiivor!"
Halford can sing an epic line
Brian 
The chorus is a departure, but in a good way.
Isley 
Yeah, I wasn't super sure about it, but it closes things well.
Brian
I don't like the vocal phrasing at the end of the chorus, but that's a minor gripe.
Isley
I think it works, I like how "traitor's gaaate" ties into the next section.
This middle part is sweet.
Brian 
I'm liking this a lot…reminds me of Andy LaRoque from King Diamond.
Isley 
Ah, yeah, I can see that.
Yeah, this song is a definite album highlight.
Nice use of the Doctor Who theme after the solo.
Brian 
I don't remember the Doctor Who theme at all.
Isley
Heh, it was a reach…but sounded similar.
Cut out half the songs on this album leaving the good stuff like this and we'd have a damn good album here.
Brian 
So far I'd probably only jettison three of them.
No Surrender
Isley 
I want to like this opening, but it sounds awful damn familiar.
Uh oh, here comes the syncopation…
Brian
I kinda like it.
Sounds like 80s hair metal.
The verse, that is.
Isley
I mean, this chorus IS catchy.
Ugh, I hate this synchopated verse though–20 years of listening to black metal has left me with a deathly fear of any kind of rhythmic phrasing.
Brian 
Between that and your disdain for major keys…Christ…
Isley
This is pushing it with the pop, but it's catchy and kind of epic, I'll give it a pass.
Hmm..that just kind of ended–or I wasn't paying attention due to being too busy savaging syncopation in all forms.
Lone Wolf
Brian
This one has a groove metal vibe you won't like…
Isley 
You are correct…my ears were all "what the fuck, do we detect a GROOVE??"
Brian 
If you groove, synchopate, or are in a major key, GTFO.
Isley 
srsly
Brian 
I don't hate this song, but I also could have done without it.
I have no such aversion to grooves
Isley 
I can definitely do without this one, it will definitely be on my chopping block.
…if for no other reason than he had the temerity to write the lyric "a lone wolf walks beside me…"
Brian 
No earthly reason for it to be five minutes long.
Isley
Also true.
Sea of Red
Isley
Time to bring it down a notch.
Brian
This is a pretty melody.
Isley
Yeah, it is nice…FOR A CAMPFIRE.
Brian 
Threw in a little bluesy thing real quick.
Isley
The acoustic guitar stuff is actually pretty decent–except for the bluesy thing he threw in real quick.
Brian 
I knew it, lol.
Isley
(Add "blues" to my list of shit I want no truck with).
Man, he really is a great vocalist…
Brian
His voice doesn't sound great in this context…
Lol…ok then.
Isley 
Hah! OR NOT.
And fine, his voice did sound more confident when this kicked into the more typical production.
Brian
I'm still detecting a lack of METAL.
Isley
Oh WAIT….this song: "lack of METAL YOU SAY?????"
Brian 
This song: "did someone say POWER BALLAD?"
Isley
Fine, I can see people (not just half of those involved in this chat) rolling their eyes at this one, but I'm digging it.
Brian
I'm not liking this at all anymore.
Ok, I like that part they just did.
Isley 
That little synchopated part before the choirs killed it right?
Brian
God dammit.
Isley
I'm pretty sure we could have had this entire conversation about this album without the other present and just written in each other's comments and it would have been the same result.
Brian
You're not wrong.
Isley
SEAAAA OF REEEED…WHERE THE GLORY HAS NO ENNNNND!
Ugh…here they go again with the syncopation.
Brian
Fuckin best part of the song by a country mile.
Isley 
Oh, and I guess the song's over just like that.
"Fuck it, we got our hour, let's call it."
Final Thoughts
Isley
Oh shit…did Painkiller autoplay for you?
Brian Coffman
I cancelled auto play.
Isley Unruh
Well kicking straight into that did this album no favors…
Anyway, I'm giving "Sea of Red" a pass…
Brian Coffman
Ok, so I'd throw out "Never the Heroes," "Children of the Sun," "Sea of Red," "Lone Wolf," "Flame Thrower," and "No Surrender."
Isley Unruh
I'd get rid of the same, but maybe keep "Sea of Red" for "Evil Never Dies" which was just the wrong side of too poppy for me.
Isley
Highlight? Probably "Traitors Gate" for me–or "Lightning Strike."
Brian
I liked "Firepower," "Necromancer," "Rising From Ruins," and "Traitors Gate."
"Lighting Strike" is also very good.
Isley
Agreed on all those, though I'd still give "Necromancer" a new chorus…
Brian 
All in all a very impressive effort considering how long these dudes have been at it.
Yes, formulaic for the most part, but most people can't even manage that. Supremely talented guys.
Isley 
Yeah, and still a "nice, cosy [thirty]-minute set" if you take out our pinpointed filler tracks.
Brian
And, I mean, at least they wrote the formula.
Isley
Yeah, I never would have guessed a band would still be putting out good stuff 10 years in, let alone…what, 45 years in?
Brian
We should do this with Book of Souls sometime.
Isley
Yeah…you think an hour long album is bad.
Brian 
Fuck, you're right, Book of Souls is an hour and a half.
Screw that.