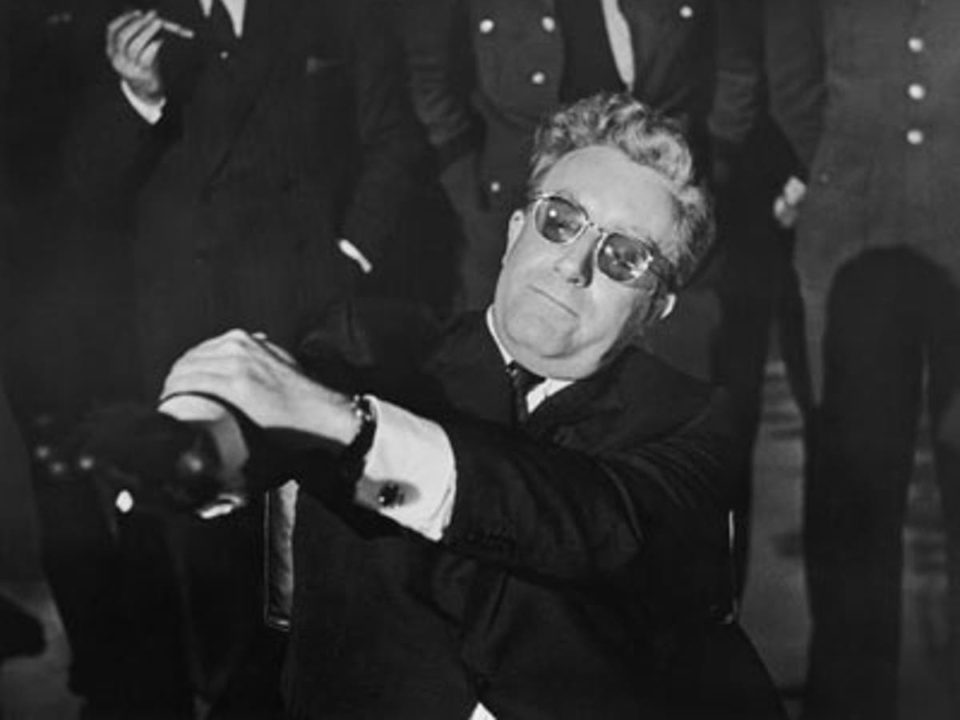 I know, I know, the real blunder here is pursuing a graduate degree in the humanities, but if we move past the obvious, my time spent obtaining a masters degree in film was filled with a few massive successes (rigging the vote to get our production class to make a music video about jocks playing D&D to Manowar, FUCKING CRUSHING Madonna at a grad student Karaoke party, turning an old blog post in my thesis), and quite a few more massive failures.
Today, I wanted to take a look at my biggest grad school blunders so that future generations might learn from my mistakes, and, at the very least, not show unscreened YouTube compilations to kids that paid good money for their Graduate Teaching Assistant college education experience.
5. Poking the Baskett Bear
Every graduate program has that one professor that takes themselves far too seriously. Professor Baskett was like three of those assholes in one for my program. He was self righteous to the extreme–he once went on a lengthy tirade about how it was his RIGHT to pirate movies from torrent sites as his research was a gift to all humanity, and how could anyone say he didn't deserve those movies…followed by a conversation about how he downloaded Sex Drive and thought it was pretty good. He was a self-aggrandizing blowhard while pretending not to be–he had no problem constantly letting stories about his time in a Japanese motorcycle gang, or his kung fu mastery, or how he brought Final Fantasy to the US sneak into every outside of class conversation. And most damning of all, he just plain overworked his students–not just the usual dense theory book a week, but also multiple massive papers due every week, sometimes on SUNDAY. Basically, all around, just a massive dick.
On the other hand, he was the finest scholar in the program, and, possibly, just maybe, all those stories he told were even true? Anyway, over my first year in the program, I went from a student who actually tried to play his game [again, he WAS an impressive scholar for all his faults and actually knew his movies–which wasn't true of all the faculty] to a student who realized that Baskett's shit wasn't for me. So, I decided to see if a bit of light trolling could lighten up the typical Baskett class experience.
It did not.
Reactions ranged from "Never let the phrase "the post-modern thing" pass your lips again," to "YOU…do that a lot…STOP. [fucking poking the bear]" to barely restrained indignation. It all came to a gloriously stunned, awkwardly silent head, when, after berating a student for not finding out how much fucking color copies cost on their exhaustive report on a California film archive he yelled "NEVER assume…NEVER!" to their guess of… "Fifty…cents??" Not 30 seconds later he proceeded to say "I assume…" about something else in their report only for me to interrupt "NEVER assume!"
I can't prove it, but I'm fairly sure that resulted in my first grad school A MINUS (the grad school mark of shame)–a grade that I mostly didn't deserve. As opposed to my mostly deserved B+ for my phoned in New Media Studies efforts the next semester…that one was fair (even generous) Germaine, so, you're cool, but, Baskett…get over yourself.
4. Comment, not a question at the Tolkien panel
One thing graduate students and professors love more than anything is their conferences. A place to bring their precious papers (typically on the same subject, only reworked every so slightly year after year) and then gloriously fellate each other with praise and technobabble over the course of one long weekend of overwrought PowerPoints.
I attended a few of these conferences myself, mostly because the grad school paid for my plane ticket and registration, so I could then duck out and visit friends on the coast for the next week on the company dime. My conference of choice was the Pop Culture Association national conference, mostly because they took ANYONE that submitted a paper (proven by the fact that I never actually wrote a paper for any of my panels, getting by solely with an abstract and an overwrought PowerPoint of my own).
My first few times attending, I actually DID go to a lot of the panels, and would silently laugh at the people that asked "questions" at the end that had little to do with the presentation just given, and more to do with some tangentially related fact that they felt the need to broadcast to the sparsely attended room of people at that moment. I was obviously above such displays.
Or at least I was above them up until I hit up my first Tolkien panel and found I was unable to restrain myself during the post presentation Q&A. In response to the paper entitled "Tolkien's Queer Spiders and Binary Codes of Gender Performativity," my eyes turned a deep Morgul wounded black and I found myself explaining in great detail how the Galadriel section could be fleshed out more, specifically with regards to her marital issues with Celeborn and possible infidelities with Celebrimbor. I believe I was able to stop myself before moving on to my theory about Goldberry revenge killing Primula Brandybuck due to Tom's dalliances in Buckland, but either way, the damage was done. I'd submitted more of a comment than a question with my non-canon Unfinished Tales bullshit.
3. Screening Excalibur
Let's be honest, the only reason anyone goes to film school is to have a chance to pick the movies to screen for their classes whenever they get a chance to lead a class. And, I definitely had a few disastrous screenings (kids these days are not Tati fans), but none were quite as disastrous as my screening of John Boorman's CLASSIC Excalibur.
My eyes, once again, turning as dark as the depths of Utumno as I went on and on about the movie's parallels to The Lord of the Rings (and how much better Boorman's version would have been when compared to that Peter Jackson trash), I finished my lecture and popped the movie in, ready to bask in what would assuredly be a standing ovation when the screening was over.
The laughter started even BEFORE the dude fucks Arthur's mom in full plate mail. Before they even heard what voice Nicol Williamson decided to go with for Merlin. The roars of laughter got so bad, I could barely hear myself recite "Now, once more, I must ride with my knights to defend what was, and the dream of what could be" along with Arthur. I believe I was, as the kids these days say, in shambles.
2. Getting a backup copy for a Professor
Ass-kissing is probably the number one way to excel in grad school, so, for my first class in my first year, I was determined to make a good impression. The class was Documentary Film, the professor was a nut, and one day he realized his copy of the movie he wanted to screen didn't work. He sat there, fuming, his whole lesson ruined, contemplating calling off class for the day.
"But wait!" I said, "I live five minutes away, I can run home and get MY copy of this movie, and then we can screen that! So, to my professor's delight, and my new classmates' resigned annoyance, I ran back home, and returned with my own copy of…
Triumph of the Will.
Now, say what you will about Riefenstahl's brilliance as a filmmaker, but if I was EVER in a situation, where someone was willing to freely admit to a room full of new acquaintances that they owned a copy of that movie, I'd definitely have some questions for that person.
1. Screening an unscreened Youtube video
It was probably no secret that I was not a great GTA. My students would ask if *I* was grading their tests, and then all cheer and chant "we're all getting A's!" in a Rodney Dangerfield voice when I said that I was. Especially towards the end, when I started a full time job (and would speed across town to teach my class over my lunch break), I really started to phone things in.
On one particularly ill-prepared day, I breathlessly showed up to class my usual 5 minutes late with NOTHING prepared. No problem, just put in a movie! The main class was screening a Peter Sellers movie, and, I really hadn't seen a lot of Peter Sellers movies, but knew he was a versatile actor and figured I'd start the class off with a compilation of his best performances while I jotted down notes for a quick lecture while it played.
So, I gave a quick speech about what a great actor he was while clicking on the first "Top 10 Peter Sellers Performances" video I could find. As it turned out, Peter Sellers did a LOT of yellowface. And brownface…hell, all the faces. And the guy that made the video thought they were HILARIOUS.
I think I covered it up fairly well by pretending the lecture that day was going to be on film's problematic history with portrayals of race, though I'm not sure how much they believed my "so, I showed that for a reason, let's see if we can unpack this…" comment after the video considering how red my face was. All things being equal, it actually turned into a decent discussion!