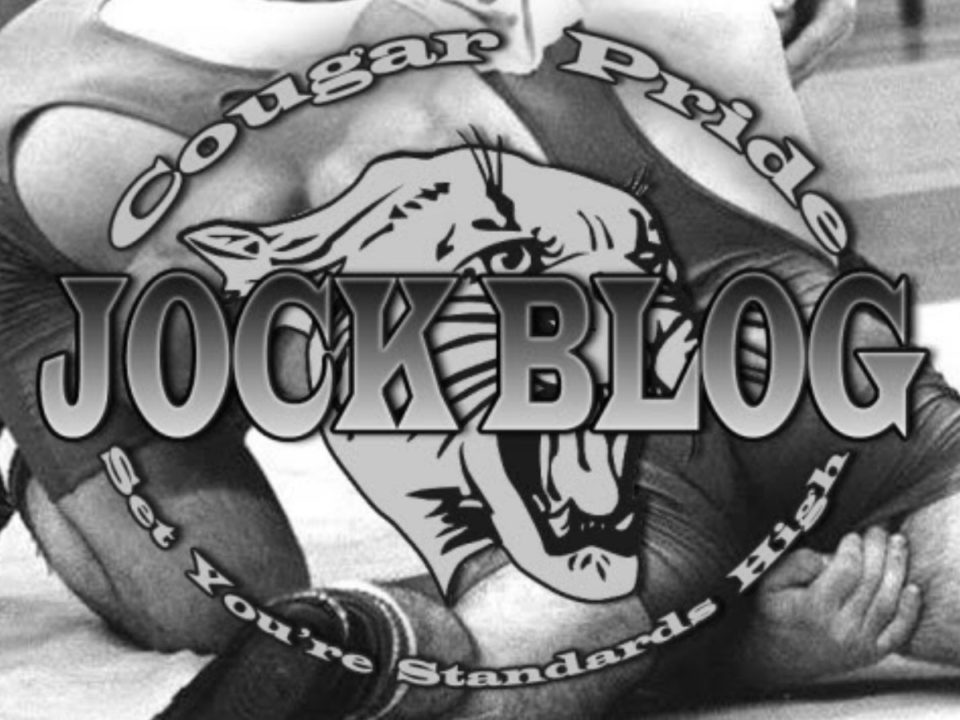 From the pages of Goth Blog, here is the third installment of the spinoff that everyone has been clamoring for: Jock Blog 3: The Giving Tree! That's right, more wacky adventures from everyone's favorite jock older brother, Chet! Will someone get sprayed in the face with shit again? Read on dear reader and see! But enough of my yappin, let's get on with the Jock Blog!
(Warning, this is not for the weak stomached. I have culled knowledge gained from years of close contact with jocks in their natural habitat into what is actually a mostly hyperbole free post based on actual events. So yeah, jocks are filthy filthy people. You have been warned.)
Previously in Jock Blog:
Jock Blog 1 – Our hero Chet introduces himself and decides that maybe writing isn't just for homos.  As it turns out he has plenty to write about when a rash of "German Situps" (a trick situp that Dane learned at wrestling camp that ends with someone's ass in the "sit-up-er's" face) sweeps the wrestling team.  The fun is over when Chris is unable to control his ex-laxed bowels while tricking the assistant coach into doing a German Situp.
Jock Blog 2 – Eddie and Benny's feud over who was a better runningback comes to a head when Eddie frames a rival school in Shadyville for his trashing of Benny's sweet 1978 El Camino. The boys first decide to make a "shitbox" for revenge but when it soaks through the cardboard on the way to Shadyville they get into a high speed shitfight in Chet's mom's car instead.  Their next plan to make a dry ice bomb full of the unpredictable substance "shitwater" also blows up in their face (literally) thus ending their revenge plans against Shadyville on a brown note.
Sunday, November 5th
You'd think after all us guys geting shitblasted twice in the same week last week, we'd want to take it easy over the weekend.  And thats how things was going to be at first, but by the time the start of last night was at the end, we was all in a lot more trouble than we was at the beginning.
See, we was all going to just hang out at the river and drink some honey browns that Dane's older brother got us.  And it was a good ol time like always aside from the two things that was not such a good time which was my girlfreind Margo tagging along and killing my buzz as usual and all of us freezeing our balls off since we couldn't get those logs we pulled out of the river to catch fire.
Still, we all had enough honey browns to keep the cold away, and even Margo was starting to losen up, and we all started talking about how sweet our spot out at the river was.  I mean, the sandbar along the bank didn't have so much catshit in it ever since old man Conner got that rehabitated pitbull for his farm that ended up eating all that crazy cat ladys cats from across the street.  Course everyone says he's blind as a cat too on account of drinking that homemade wine so he hardly ever comes out here and yells his crazy old man jibberish at us any more.
All in all, we got a pretty sweet spot out here at "The Crossing", hell Benny even said he banged Stacy Summerfield out here, after that one party at Eddies house where Eddies mom tried to get on Dane.  Course Bennys also a lyeing motherfucker (though not literarily a mother fucker like Dane was about to be at that party!) so I don't know if thats true or not.  Margo never seemed up on the idea, on account of because of all the broken glass in the sand from our empties.
So after talking about how sweet everything was out here, and how we needed to make sure this place was real nice so when we was all hanging out here, in like twenty years, it would still be a bad ass hangout spot.
That's when Dane said the thing that was the thing that got us into the trouble that is the trouble I am writing about now.  He said that what we needed was a big ass tree, so's when we we was back here down the road it would be the same tree but only bigger and with more leaves and stuff.
Sounds pretty good don't it?  But see, after we all blew that $80 for the two cases of Honey Brown and the bottle of boons farm for Margo and the so-co for Eddie, none of us could afford a tree, and figured we may as well write that idea off with that catapult we was always talking about making.  At least that's what we thought until Ethan said he knew where we could get a tree for free.
See, our school just got a memorium tree to celebrate the anniversary of Iraq blowing up the empire state buildings.  But see, there's a lot of pussies in our school that wouldn't know how to shoot a camel jock from a towel head and we started to think that our school didn't deserve a tree that we needed at "The Crossing".
And, well, the more we all talked about it, and the more we all drank our honey browns, the more all of us agreed that that tree would do a lot more good down here at the river, since we all agreed that we wished we could have gone to the war after them buildings got blowed up ourselves, but couldnt on account of being too young.  Even Margo said she would have gone over to Iraq to be a secretary to a soldeir or something–she can be pretty cool for a girl sometimes.
Anyway's, this is the way that we found ourselfs jumping the fence at Center Valley high at 3:00 AM in the morning last night.
Well, we all got to the tree ok but when we got to the tree we realized that none of us has a shovel.  But then Dane said that he worked for a landscaping place last summer, and he learned that those trees roots grow real slow and this tree was just planted a few months ago, sos we should be able to pull it out of the ground ourselfs.
Well those roots must have grown super fast cause we couldnt budge it, and Margo was saying that we was tearing off too many branchs trying to get it out.  But Dane said that he also learned that a tree can loose 60% of it's branches and still grow them back so we wasn't too worried.  At least we wasn't till Benny suggested we rock it out of the ground, but after all of us pushing back, and forth a few times we suddenly heard a big snap that made my heart fall into my nuts.
All of us just stood there starring at that tree we broke in half, and knew the shitwater was about to hit the fan yet again for the second time this week.
Now we all knew we fucked up but I figured that there was no use crying over a trashed memorium tree since it wasn't our fault was was too strong for the trunk, and said that we just needed to make the best of it.  We all agreed that so long as we'd fucked up the tree on accident we may as well make the best of a shitty situation, and drive through our vice principal's yard, and throw it onto his porch, since we couldn't put it back like it was.
Pretty soon we was all riding in the back of Ethan's truck hooting and hollering (except Margo who was being a major bitch about the whole thing, and sat in the front with Ethan) and talking about how badass it was that we was strong enough to break a fucking tree in half.
Well we got to ol Uncle Ron's (our vice principle, he isn't really an uncle we just call him that on account of because he is really a douch, and his name is Ron) house and Benny spun a doughnut in his yard while we threw the tree onto his front porch.  We was long gone as usual by the time the lights came on inside so no one knows it is us, but we still have a problem.
The problem that we have is that we was just having fun, but we're starting to wonder if no one at our school will not realize that there was nothing we couldn't have done to not end up breaking that stupid tree.  Margo is especially worried, and said she didn't know if she'd be able to get to sleep.  But when I said that maybe we just needed to do it before she went to bed to help her sleep, she just yelled at me like I actually meant to break that tree on purpose or something.
So yeah, no tree for the crossing, and no stink for me last night.  Hopefuly no one will notice it is gone on Monday, and we can find some other place to steal a tree, and Margo will start giving it up again.  Because the way things are right now, I don't think things can get any worse than the way things are right now.
11:43 AM
Monday, November 6th
Well today just went to show me how wrong you can be when I think my school is not going to be a bunch of pussies.  Bottom line they most definitely noticed the tree was gone.
As soon as I get to school they was police everywhere, and they were fingerprinting the stump, and had the hole area taped off with that police tape.  Dane and Eddie saw me and we got in an arguement about weather or not you could get fingerprints off a stump.  Eddie said you could because he saw an episode of Law and Order where they caught some dude cause he jizzed on a pillow, so he figured they could definitely get fingerprints off a stump if they could do that.  But Dane said fingerprints was harder to get then jizz, and since luckily we didn't jizz on the stump, they probably couldn't know it was us.
But that was only the beginning, school got out early on account of because the assistant principle raised our terorist alert threat level to "Midnight" which we thought was pretty sweet but then we realized that everyone was saying terrorists had fucked up our memorium tree, and since we was the ones who had fucked up the tree, they was saying we was the terorist!  There would have been a lot of asses kicked for saying that about me, if I didn't have to pretend it wasn't me who had broke that tree.  It just goes to show you that you try to do nice patrotic thing like stealing a tree, and everyone twists it into being something not patrotic.
The only good thing that came out of the whole mess was that Youth Alive is going to hold a candlelight vigil for the tree this Friday, and some of the guys are going to go along to pick up crying chicks, cause everyone knows chicks are all horny when they are crying.
3:51 PM
Thursday, November 7th
This fucking week.  I mean, it's cool, and all that everyone is all pissed about terorists and everything, and normally I would love to go kick some terorist ass too, I just kinda wish that the terorists wasn't us.
But the thing that is the thing that is really pissing me off is my old lady Margo.  She's been all wierd and like, I don't know how long periods are, but its like shes been on a period for a hole week.  She keeps saying that we done a bad thing, and how shes not sure how I got her to do such a bad thing, and that we need to make up for our sin, and that I dont seem repenting enough about it.  She even wanted me to go to church with her last night, and she knows Wednesday nights is when me and the guys go shoot cats out at the dump.
She's being such a pain that I almost want to dump her, and I would if it wasn't for the fall formal this saturday.  The fall formal is pretty much boring, but only a pussy doesn't show up with a girl and all us guys are going except for Ethan because no one wants to date his homo ass and Dane on account of because his woman dumped him for a guy on the basketball team last month, and Danes too much of a pussy to kick the dudes ass and take his woman back.
Anyways, I don't know what's up with her, but I figure I'll go to that stupid candlelight vigil tomorrow since at least all the guys will be there, even if I can't go after any youth alive stink on account of because of Margo being there.
7:30 PM
Friday, November 10th
I literarily have no words for what just happened.  To make a long story, Margo dumped me like a 12 inch turd tonight.  I don't even know where to begin.
I guess I'll start with the beginning when me and the guys decided to have a preparty before we went to the candlelight party.  And maybe we drank a little too much, and were pretty trashed by the time we got there, but the way some of those youth alive chicks was acting with all thier crying and stuff, they wasn't all there either.
Of course that's not the way Margo was seeing it, and said we was being disrespectful, and when Eddie started pissing next to the stump they all, freaked out and started yelling and throwing shit, and not in a good way.  We was running back to the car to get out of that bad scene when Margo caught me, and said that we couldn't date any more on account of because her youth pastor told her that I was probably a Satan worshiper just like my faggy brother, and that after what we did Saturday she wasn't so sure that I wasn't trying to take her down with me!
Well then she didn't like me making a joke about "taking her down with me", and stormed off before I really knew what had just happened.  It still doesn't make any sense, I mean no offense to Satan, but everyone knows I was baptised and I'll be drinking honey browns with Jesus in heaven like the rest of the guys.  I guess I'll just sleep on it, and call her in the morning about when I should pick her up for the Fall Formal since she didn't seem to be in the mood to discus it tonight.
11:07 PM
Saturday, November 11th
I'm done with women.  I mean, I'll still bang lots of girls like usual, but as far as respecting them for thier hot bodies, and cooking, and stuff, those salad days are over.  It turns out Margo was serious about dumping me and is actually going to the fall formal without me, and said that I couldnt come with her even just for the formal.
Well I've never been so pissed off.  It's one thing to ruin our relationship, but to ruin fall formal for me just makes me want to fuck someone up.  Well luckily Dane called me before I did something stupid, because he said he had something awesome we could do if I still didn't have a date for the formal like him.
See, Danes mom has like 5 cats and Dane always has to change all thier literboxes.  But Dane is a smart dude, so he's been saving all the catshit in buckets behind the shed in his back yard.  But not only that he also has been dumping jugs of milk into a bucket when it gets full of catshit, and has just been leting them sit in the sun like that the last few months.  I told you Dane was smart, he's real good with chemistry stuff like that.
I was a little worried at first, on account of because it sounded like the shitwater that caused us so many problems last week, but Dane said that catshit and rotten milk was entirely different from shit and water and that while this was sceince too it wouldn't "blow up in our face" this time.  Anyways, he said he needed to do something with them before it froze outside and that I could help him trash the formal with them tonight if I wanted.  So we spent the rest of the morning bringing all the buckets out next to the stage door behind the gym, we'll figure out what do do with them tonight at the dance!
Well, if Margo wants to ruin my Fall Formal, I'm more than happy to ruin hers.  The Fall Formal will learn that there is a price to pay for making me look like a no date having homo, and that price will be payed in shit.
4:45 PM
That's it for now folks! Chet's story will return for its exciting conclusion in my 100th Blog Post Giant Sized Goth/Jock/Snob Blog Crossover Special Part 2! But first tune in next week to see just what everyone's favorite snobby english teacher has been up to this whole time in Snob Blog 3!