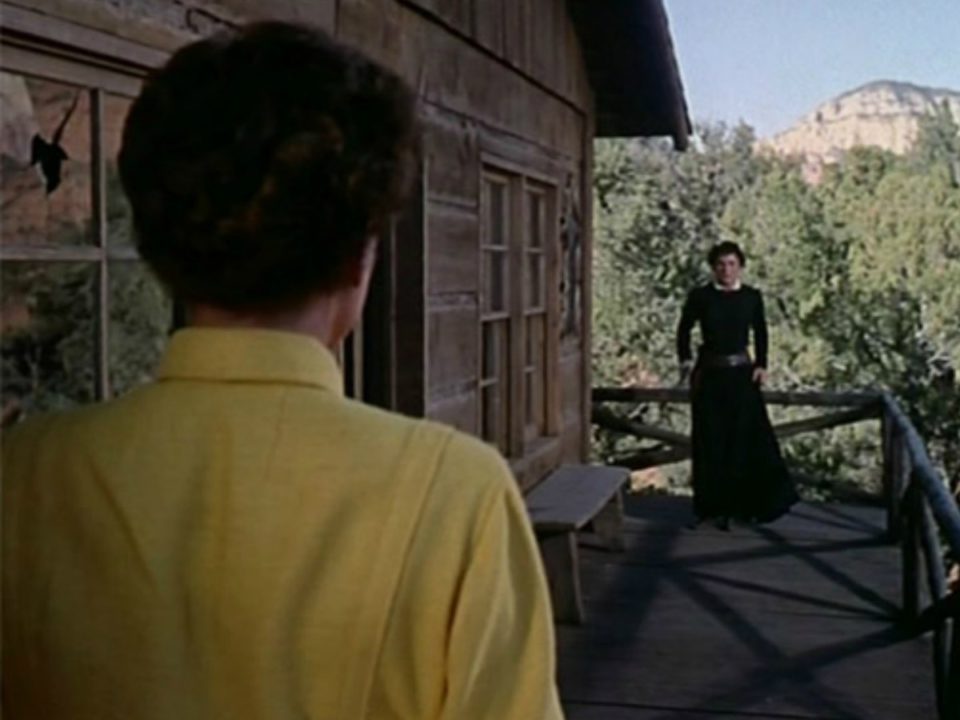 Johnny Guitar is like no other movie you've ever seen.  Yes, it is a melodrama, but its overblown dialog ends up making All That Heaven Allows sound like My Night at Maudes.  Yes, it is a western, but its overblown colors end up making The Searchers look like McCabe and Mrs. Miller.  There is a scene in Ghostbusters (a movie chock full of useful quotes) where they are talking about that crazy building and Peter is like "Guess they don't make em like they used to, huh?" and Ray is like "No! Nobody ever made them like this! I mean, the architect was either a certified genius or an authentic wacko!"  Well that's a pretty apt description for Nicholas Ray's Johnny Guitar, and I'm here to say he was more of a genius than a wacko.
On the surface Johnny Guitar is that classic western story of a dispute over land that has become valuable with the coming of the railroad to the west.  The always brilliant Sterling Hayden plays the title character, while the always bizarrely intense Joan Crawford is Vienna, the woman he once loved.  Mercedes McCambridge has never been better as Crawford's nemesis, the repressed ball of spitting hate that means to see her dead.  All of these characters (and many more) are slowly introduced in the absolutely brilliant 40 minute opening scene.  Ray effortlessly builds the scene, adding layer after layer of bizarre dialog laden melodrama and new characters until one begins to wonder how the script held it all within its pages.  I was reminded of the long scenes in Tarantino's Inglourious Basterds and how shallow they look in comparison.  Tarantino talks to hear himself talk.  Ray's characters, on the other hand, actually have something to say.  In fact, they have more to say than anyone could say with mere words, thus the necessity of the almost abstract dialog.
This is not to say that Johnny Guitar is an entirely academic exercise in film making.  Provided you can get past the instinct to write it off as "mere camp," there are scenes of stunning honesty in a film that at first glance seems so unlike anything in the real world.  To name just one example, the night scene where Hayden declares his love for Crawford is a masterpiece.  It is a scene that is immediately striking with its brutal honesty, and yet, when it is over, the stylized delivery makes it seem as if it were all a half remembered dream:
httpv://www.youtube.com/watch?v=xDO9Ey1HPZQ
I can understand the impulse to laugh at the absurdity of scenes like that, of which the film is full of.  But the more you think about it, the more you realize just how effective Ray's style (and his choice of the western genre) is in delivering the daring subject matter of Johnny Guitar.  Not to mention the importance of the film having one of the best soundtracks ever.
And honestly, how refreshing is it to have a love story in a western that does not hinge upon the characters falling in love within the first 10 minutes of their meeting?  Or to have the showdown between Johnny Guitar and the Dancing Kid involve, not guns but rather guitar playing and dancing? Or to have a western where the hero is a woman who wears a gun and men's clothes?  Many have claimed to find various homosexual readings of the film, but I think that is unnecessarily pigeonholing the film; Johnny Guitar is about far more than mere human sexuality.  Crawford might wear men's clothes and have a short haircut, but just because she gets the big final shootout in the end against another woman instead of a man does not seem to comment on her sexual orientation as much as liberation.  It does, however, lead me to wonder how they hell a movie like this got made in the 1950s.  The script, by blacklisted screenwriter Ben Maddow, comes dangerously close to McCarthy allegory, but thankfully it ends up being a much more complex examination of emotion rather than "mere politics."
Again, many simply read Johnny Guitar as camp.  However,  many critics have kept the film's reputation alive.  R. W. Fassbinder named it the 9th best film of all time (though he was also the guy who named Zeppo Marx as the best actor of all time, so take that information as you will) and the French New Wave adored it.  In Trufaut's film Mississippi Mermaid Jean Paul Belmondo's character says about Johnny Guitar: "It's not about horses and guns. It's about people and emotions."  Of course these people and their bundles of emotions happen to ride horses and guns, thus insuring you'll never see "westerns" in quite the same way after watching Johnny Guitar.