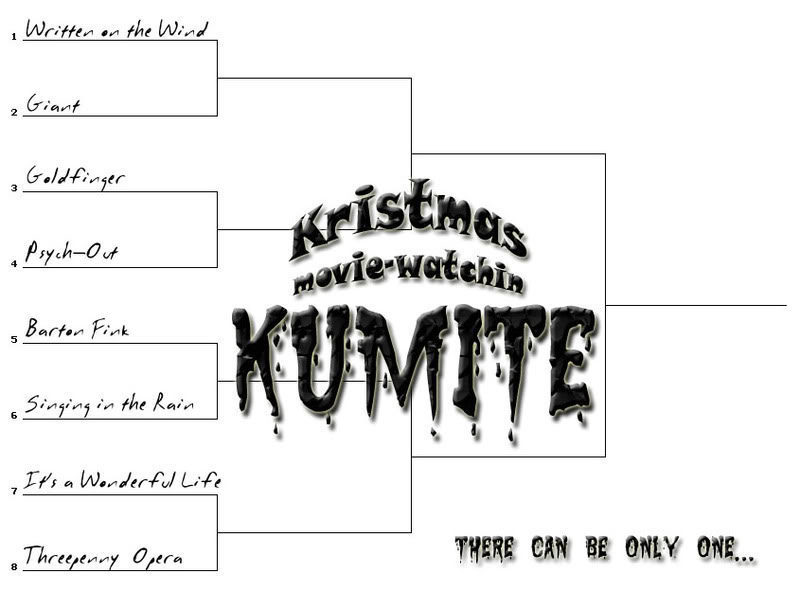 So, I watched the usual random assortment of movies over my Christmas break. Looking back, I realized that 8 of them naturally fell into pairs, both thematically and in that one was an old standard and the other a movie I'd never seen. Now I know all of you are saying "but Isley, what was the BEST movie you saw over the Christmas break??"
Well, picking one movie as the best ended up being no easy task, so I thought I'd take each pair of movies and let the winner determine itself.
Thus I have organized a good-old-fashioned, frontier-style, no-holds-barred KUMITE. Each movie would battle it out in a single elimination tournament to determine once and for all what the best movie I saw over the Christmas break was!
I organized the films into the following four matches for the initial rounds of the "tournament" (the second movie in each match up was one I had never seen before):
Match 1: Written on the Wind VS Giant (Two 1956 Texas oil love triangle melodramas starring Rock Hudson go head to head)
Match 2: Goldfinger VS Psych-Out (Two 1960's time capsules duel to the death)
Match 3: Barton Fink VS Singin' in the Rain (Two portraits of early Hollywood battle for domination)
Match 4: It's a Wonderful Life VS Threepenny Opera(Two indictments of capitalism face off for supremacy)
Anyway, that is the setup, and now, here is what happened:
QUARTERFINALS: MATCH 1
Written on the Wind VS Giant
The Kristmas Kumite stadium was filled to capacity for the evening's fights, and when the first two contestants came out a great cheer went up! Written on the Wind, fighting out of the Criterion Collection Team (a stable of fighters that are quickly growing in reputation) under Grandmaster Sirk was the underdog against Master Steven's Giant, an old workhorse whose main claim to fame was its strong performance in the 1956 Oscar tournament (no small achievement despite the rumors of worked fights that have plagued that tournament). Suffering a 2:1 length disadvantage and lacking a spectacular James Dean performance, things did not look good for the pretentious film cock darling Written on the Wind.
The two films entered the ring and the audience gasped! They looked exactly the same! Written on the Wind was only distinguished from its counterpart by a thin mustache and Goatee. The two films appeared to be fighting to a stalemate until, with a cry of: "Enough! You may have great scenes, but there is no substance holding them together!" Written on the Wind executed a flawless burning-knife-hand-pressure-point-crane-strike upon the unsuspecting Giant. Unable to withstand the blow, Giant Crumbled revealing itself to be a hollow (albeit quite engrossing) shell with nothing on the inside.
Written on the Wind wins by superior-substance-strike! Giant fought a good fight, but trading shots with Written on the Wind was obviously not a good game plan without the emotional depth to back it up.
QUARTERFINALS: MATCH 2
Goldfinger VS Psych-Out
The outcome of the next round appeared to be a given as fan favorite Bond film Goldfinger took on a film that was new to me and many in attendance in the counter-culture freak-fest Psych-Out. Many were wondering how Psych-Out could possibly beat a film that featured a laser to the gonads.
Well the newcomer definitely showed a lot of spunk as it came roaring out of its corner blaring psychedelic music, screaming "make love not war" and attempting to disorient the Bond film with spectacular Laslo Kovacs photography (the real secret weapon of the American New Wave film team). It soon became apparent that Goldfinger was not to be phased by such grandstanding. In a matter of seconds Goldfinger had painted Psych-Out gold, decapitated it with a hat and then said "try not to lose your head old chap".
Goldfinger wins by flawless victory, proving that sometimes silly is awesome, and sometimes silly is just plain silly. Rumor has it that Psych-Out's brother Hell's Angels on Wheels is already training hard to avenge Psych-Out at next year's Kumite.
QUARTERFINALS: MATCH 3
Barton Fink VS Singin' in the Rain
The next match was another fight that appeared lopsided on paper. But I had been following the young and hungry Barton Fink for a while, and while none of the bookies were giving it very good odds against the goliath Singin' in the Rain (a film I had yet to see fight, despite its fearsome reputation), I knew the viciousness Barton Fink was capable of.
The fight started with Singin' in the Rain dancing around Barton Fink attempting to rope-a-dope the underdog. Suddenly Barton Fink dropped to its knees and began sobbing uncontrollably. Singin' in the Rain stopped the fancy footwork and turned to the referee in confusion. Of course, you never want to turn your back on Barton Fink, a fact made all too clear when Barton Fink pulled a steel folding chair out of god knows where and knocked Singin' in the Rain senseless.
Barton Fink wins amid a chorus of boos from the crowd. One thing seems certain; Singin' in the Rain will not fall for that dirty trick if they meet again.
QUARTERFINALS: MATCH 4
It's a Wonderful Life VS Threepenny Opera
The final match of the first round pitted that perennial powerhouse, grandmaster Capra's It's a Wonderful Life against that film snob favorite, grandmaster Pabst's Threepenny Opera. Grandmaster Capra's school had trained some real champions back in the day, and It's a Wonderful Life is up there with the best of them. Year after year I've watched it demolish the competition as I slowly began to admit to myself that this was not a film to be trifled with. But Threepenny Opera was a wildcard, fighting out of the Criterion stable, I knew that grandmaster Pabst would have trained it well.
Both fighters appeared game from the opening bell (though It's a Wonderful Life had to pause to give a shoutout to the angel who just got his wings), with Threepenny Opera matching It's a Wonderful Life's heartwarming sentimentalism and masterly direction with cold German cynicism and flawless camerawork. Suddenly Threepenny Opera dropped its left allowing It's a Wonderful Life to slip a hard right in. Threepenny Opera went down and refused to get back up! As It's a Wonderful Life took a victory lap around the ring, Threepenny Opera accepted an enevelope full of cash from a man who was overheard saying "HEE HAW!"
It's a Wonderful Life wins a dubious victory. In response to the boos of "WORK!" from the crowd, It's a Wonderful Life retorted "no movie is a failure that has friends willing to pay your opponent to take a fall".
SEMIFINALS: MATCH 1
Written on the Wind VS Goldfinger
In prefight interviews, Goldfinger had predicted its ultimate victory because it was the most entertaining movie in the field. Written on the Wind was unavailable for comment due to its pre fight meditation and enlightenment ritual.
As the fight started, both fighters seemed very popular with the crowd. Goldfinger's imaginative plot developments, solid action direction and double entendre's matched up well with Written on the Wind's torrid romances, surreal colors and melodramatic earnestness. Then, Written on the wind shouted, "I'll never be beaten by just an action movie!" and unleashed its secret weapon, grandmaster Sirk's five-point-dragon-fist-keeper-of-the-pretentious-film-cock's-respect-strike. Goldfinger went down croaking "but I'm a good action movie!"
Written on the Wind advances to the finals via "creating-a-hierarchy-strike"! The postfight interview was brief with Written on the Wind only saying "I am more than just melodrama, Goldfinger underestimated me in this respect."
SEMIFINALS: MATCH 2
Barton Fink VS It's a Wonderful Life
The final fight of the semifinals opened amid a torrent of boo's from the crowd. Neither film was popular after their unscrupulous wins in the first round, and the spectators were letting them know it.
Barton Fink seemed to be letting the crowd get in its head as its technique began to get sloppy. It's a Wonderful Life on the other hand seemed oblivious to the crowd. Suddenly a hush fell over the audience as It's a Wonderful Life's head began spinning around while stygian clouds of darkness issued from its mouth! The black mist glowed red and then descended upon Barton Fink leaving the cocky upstart a soulless husk upon the floor.
It's a Wonderful Life advances to the finals by brutal soul-reaping! In the post fight interview, It's a Wonderful Life spoke as one possessed: "The Christmas card morality days of Meet John Doe are gone. Beneath my sentimental exterior lies a hidden heart of darkness, I have only this to say to Written on the Wind: I will eat your soul."
FINALS: CHAMPIONSHIP MATCH
Written on the Wind VS It's a Wonderful Life
There was much excitement in the air as the final match began. The DJ was mixing "It's the Final Countdown" with "Eye of the Tiger" so needless to say, everyone was very pumped. Written on the Wind had proven to be a formidable opponent, but many wondered if it could stand up to It's a Wonderful Life's forbidden use of the dark arts.
The match started with Written on the Wind drawing all of its inner critic-chi reserves into a glowing energy ball. With a cry of "your grandmaster Capra is out of fashion, Grandmaster Sirk is the new 'in director'!" Written on the Wind unleashed its energy blast. Amazingly the energy ball had no effect on It's a Wonderful Life! Laughing at the stunned Written on the Wind, It's a Wonderful Life said "I am beyond criticism, beyond your criterion collection status and beyond mortal judgment! You think you can beat me? When was the last time you were played on a yearly basis on network TV?" Its confidence shattered, Written on the Wind was unable to resist It's a Wonderful Life's demonic soul sucking mist.
It's a Wonderful Life wins the Kristmas Movie Watchin' Kumite via a second brutal soul-reaping!!! Can anyone stop this holiday classic? We'll have to see next year at the Kristmas Kumite!