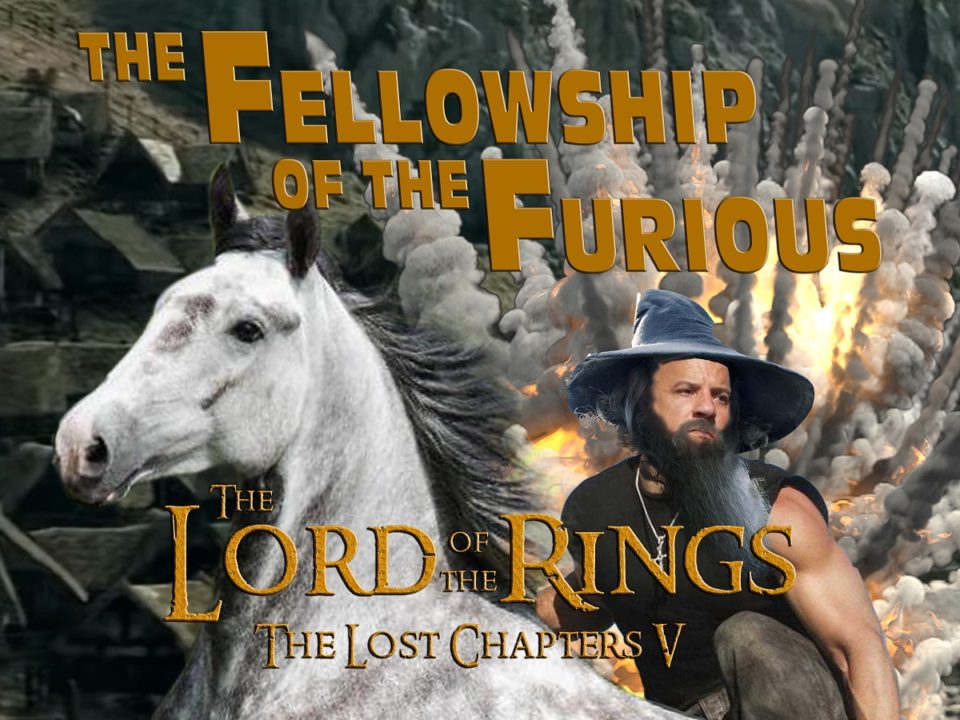 The fantasy fiction community was once again rocked when more previously unreleased sections of The Lord of the Rings were discovered over the holiday weekend. This "grail" of a literary find amounted to a new lost segment cut out of the original manuscript by an overzealous editor. Years of suppression by the Tolkien estate followed, but the wait for this new lost section is finally over! For those of you that want to print this out and staple it into your copies of the book, this new section takes place between the chapters "Three is Company" and "Shortcut to Mushrooms" in The Fellowship of the Ring, and it goes into further detail as to how Gandalf actually acquired Shadowfax from King Théoden in the aftermath of his escape from imprisonment at Orthanc.
I have started this monumental find with a section from the book as published (in bold) for context. Enjoy!
'I hope so. But that is another thing that makes me anxious. I have been expecting Gandalf for many days. He was to have come to Hobbiton at the latest two nights ago; but he has never appeared. Now I am wondering what can have happened. Should I wait for him?' Gildor was silent for a moment. 'I do not like this news,' he said at last. 'That Gandalf should be late, does not bode well. But it is said: Do not meddle in the affairs of Wizards, for they are subtle and quick to anger. The choice is yours: to go or wait.'
…Frodo felt sleep coming upon him, even as Gildor finished speaking. 'I will sleep now,' he said; and the Elf led him to a bower beside Pippin, and he threw himself upon a bed and fell at once into a dreamless slumber.
Chapter 3.5 – Fellowship of the Furious
The gloaming shadows swallowed Meduseld's Great Hall into the encroaching darkness behind him as Gandalf made his way down to the famed stables of Edoras. While the city of the Horse-lords prepared to slumber, sounds of revelry and merriment yet came from the stables. However, the carousing did little to lift Gandalf's dark spirits, for his heart was troubled at what he had seen in the Great Hall. Théoden had seemed not himself, grown prideful and full of wrath. 'Wormtongue has a hand in this, and evil business it is,' thought Gandalf as he quickened his pace towards the stables. But, the Enemy's shadow creeping to the very heart of Rohan itself was a problem that would have to be dealt with another day–for now a greater urgency hastened Gandalf's steps.
Casting open the great stable doors revealed a sight unique on Middle-earth: the Edoran stables after dark.  Rohirrim from all stations of life filled the building, each proudly grooming a steed more magnificent than the last.  Shieldmaidens, hair down and ankles on full display, milled about, while a clamor of horn blowers and drums upon a dais brayed out a music that was loud, and vain, and endlessly repeated; and it had little harmony, but rather a clamorous unison as of many trumpets braying upon a few notes.  In this midst of this, a horse and rider thundered past the stable doors, two paces from Gandalf's face.  To Gandalf's eyes, this horse's stride was the most queer sight of all, as it drifted past at a perilous angle, not at a gallop, but rather at a sort of sliding shuffle, as an Autumn breeze blowing sideways through shutters thought fastened securely.
Gandalf's reverie was broken by Éomer, Third Marshal of the Mark, only recently returned from his patrols on the Eastmark. 'What think you Gandalf of the Edoran stable? In my eyes such revelry is ill-suited to times such as these, but perhaps some brief respite from the darkness is welcomed to those burdened with heavy thoughts.'
'I see the same such thoughts in your countenance my friend–surely Wormtongue's influence on your uncle is the cause of such a dark visage.'
'The most important thing in life will always be the people in this room. Right here, right now. And my uncle resides here in my heart if not in person,' replied Éomer, and his face bespoke his sorrow.
'You don't turn your back on family, even when they do." murmured Gandalf.
At this moment, Éomer's cousin Théodred approached, saying "The elves have a word for the cause of Éomer and I's grief, and it is: 'NOS."
'Family…' intoned Gandalf and Éomer with great solemnity.
'And the elves have a word for you, too, Théodred, son of Théoden: 'Han,' for truly you are a brother to me, in spirit if not by birth.'
Gandalf cut short the brothers' impending arm clasping: 'Would that I could stay and do what I can to end the fell influence of Wormtongue upon your father, but I am afraid NOS pushes me to the north with a haste most urgent. Little folk, dear to me as my own kin, are in great danger and I must away with haste lest the peril overtake them.'
'You shall go no further than the walls of this city, Stormcrow!' came the hissing voice of Wormtongue, who had drifted in behind Gandalf at the stable entrance.
'You exceed yourself snake! The king you have corrupted has himself given me my choice of horse!' replied Gandalf.
'You are mistaken' replied Wormtongue, 'and I do not see Théoden here to explain himself–guards, seize him!'
However, the guards stayed rooted to the spot while Gandalf turned to Éomer and Théodred, 'I do not feel seized.' Turning his wizard's gaze full upon Wormtongue, he said, 'your mistake was thinking you were in here still sneaking around Saruman's robe hem in Orthanc.' He took a step towards Wormtongue and he seemed to grow tall and menacing; his shadow filled the stables while his raised his arms wide: 'THIS. IS. EDORAS. You want to deny me a horse? Very well, but you must race ME to do so!'
Wormtongue's face took on an even more pallid hue as his guards fled the stables. And yet, his thin lips soon regained their composure, twisting into a wicked grimace of a smile. 'Race you, Stormcrow? Very well, but you have no horse and thus must take one of my choosing, it is the Rohirim way!'
Murmurs of 'A.S.S. A.S.S.!' sprang up from the crowd of Rohirrim at the stables, for Wormtongue was known to their lot as Ara-saer-sûl: King of the Bitter Wind; called as such due to his manner of sliding his horse through the streets of Edoras like a chill wind drifting through a hastily fastened cod-piece.
Gandalf turned to look at the horse Wormtongue was now pointing to: a bony, underfed, and dispirited animal; but it did not look like dying just yet. Shrugging his shoulders, Gandalf said, "very well Wormtongue, I had thought you would have known that it doesn't matter what's under the saddle…the only thing that matters is who's behind the reins. I accept!'
As the crowd spilled out into the streets, Gandalf assessed his mount. Turning to Éomer he said, 'pull the saddle, the reins, the shoes…if it's not the horse, take it off!'
'Gandalf, Wormtongue is the A.S.S., how do you hope to beat him with this sorry mount that seems more fit for a backwoods Breelander than a Rohirrim horse-lord?' exclaimed Éomer with dismay.
'Fear not dear Éomer, I live my life 2 furlongs at a time. Nothing else matters. Not this half-starved horse, not the A.S.S. Not my vision-impairing eyebrows. For those twenty-one seconds or less, I'm free. And, for this ride, I will have NOS to hasten me to victory!'
Reassured, Éomer set to work. Han, however, having been told that the Dunlanders were doing some foolish things in the Gap of Rohan, was compelled to depart with haste, leaving one last bit of mysterious parting advice to his brother and the wizard: 'you make choices and you don't look back.'
With those words still ringing in his ears, Gandalf led his horse to the starting line, the roar of the Rohirrim crowd strengthening his resolve. The curiously familiar shield maiden Dernhelmina raised her shield from the middle of the street as both riders mounted and attempted to quell their champing steeds. With a crash, she slammed the shield to the ground, and they were off, the streets of Edoras turning into an indistinct blur in their haste.
Gandalf surged to the lead, his NOS fueling his every stride, however, from behind him, he heard the cackle of Wormtongue as too-late he realized the narrow street was turning far too sharply for his great speed. As his horse skidded and nearly upended the both horse and rider like rain on a mountain, Wormtongue shifted his weight to one side and drifted at an unnatural angle: his horse skidding on two hooves, around the bend and into the lead! Realizing his error, Gandalf shouted 'NOS!' and surged forward, managing to slowly pull ahead of Wormtongue on strength of spirit alone.
As the riders rounded to the final stretch, Gandalf saw that his horse was already tiring! Meanwhile, Wormtongue's mount only seemed to grow stronger as the A.S.S. bore down directly behind him, shouting out 'Too soon old man!'
Frantically searching for a way to maintain the lead, Gandalf shouted back, 'You cannot pass!' However, his horse's rapidly flagging strength, made the ending of the race all but inevitable.
Muttering to himself, 'I have something for your A.S.S.!' Gandalf pulled up and to the side with the reins, while goading his all-but-spent mount to first stop, and then back up, slowly at first, and then with greater and greater swiftness, until he was face to face with Wormtongue in an all-out reverse gallop, seconds from the finish line. `I am a servant of the Secret Fire, wielder of the flame of Anor. You cannot pass. The drifting gallop will not avail you, snake of Edoras. Go back to Orthanc! YOU CAN NOT PASS!' And with those words, Gandalf smote his staff upon the cobblestones, blasting the street and surrounding buildings with a mighty thundering explosion, raining debris down upon a dumbstruck Wormtongue as Gandalf's horse crossed the finish line.
Shrieking in anger, Wormtongue stumbled out of the cloud of dust and masonry, 'Wizard! I almost had you!'
'You almost had me?' Gandalf replied. 'You never had me, you never had your horse. You're lucky the NOS fueling my ride didn't blow the shoes on your steed clean off!'
'But, I…I almost had you!" sputtered Wormtongue weakly.
"Ask any wizard. Any REAL Maia. It doesn't matter if you win by a ranga or a league. Winning's winning, and we do it precisely when we want to.' And with those words Gandalf dropped his reins and headed back to the stables to claim his prize—if only it could bear him to the hobbits in time!