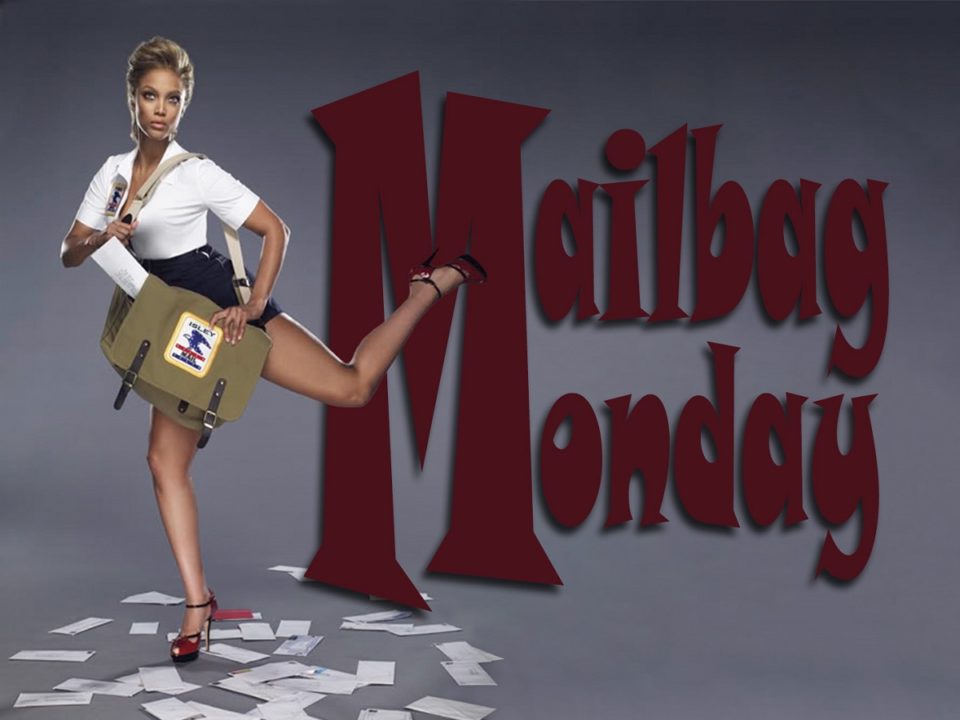 Hello dear readers, it's MAILBAG MONDAY again!  On this special day I will search through my mountain of reader mail and answer the five most pressing questions!
What's that you say?  Do I really get that much mail?  Well, I'll admit…the contact section of this website doesn't get used that often, but, one of the perks of wordpress stats is that I can see the google search terms that people use to find my site.  And I'm going to go ahead and pretend that these search terms will count as reader mail, since they are often entered in the form of a question.  So as you read these, remember that each "question" was something that someone actually typed into google that brought up my site as a hit which they then clicked on thus letting wordpress stats report to me the search they used to find my site.  I could make up the questions myself, but it turns out the actual google searches are far better than anything I could come up with!
This time I answer the questions:
Lotr orc movie concept art?
Czechoslovakia ww2 fun facts?
"this is too silly to be black metal"

Top ten metal things to do?
Hand gesture: number two?
So, without further ado, it is time to dig into the old Mailbag to see what kind of things have been on my reader's minds in the last month!
Lotr orc movie concept art?
It's funny you would ask this, because I happened to have very recently gotten my hands on a leaked version of some of the original orc concept art Lord of the Rings films.  Rumor has it that this concept art was drawn by Peter Jackson's 13 year old son.  Sadly, the studio apparently decided to go with a different artistic vision; I would have really liked to have seen this version in the final cut of the movie:
Czechoslovakia ww2 fun facts?
Czechoslovakia was one of the countries that Germany "peacefully" conquered in World War 2.  After annexing the Sudetenland in 1938,  Germany went on to divide the country into the protectorate of Bohemia and Moravia in the west while creating the "independent" puppet state of Slovakia in the East.  As for "fun facts" I was able to dig up some numbers on Slovakian vehicles and ordnance that are sure to be a lot of fun for the Tread-Heads and Howitzer-Hearts out there:
After the division of Czechoslovakia, the new Slovakian Army was organized similarly to the former army with the exception of a newly formed "Pilfousek Fast Brigade"  (later "Slovakian Fast Division") which consisted of most of the Slovakian armor.  It was created in order to keep up with the quickly advancing German army.
The LT vz 34 tank was developed privately by the Ceskomoravsk Kolben Danek factory between 1932-1934.  Though modern at the time, by 1939 it was rather outdated with weak armor and a noisy unreliable engine.  Nonetheless, 27 formed a company of the Armored Regiment during the Barbarossa invasion.
Twenty one LT vz 40 (t) tanks were built in Czechoslovia on orders from Latvia, but ended up going to the newly formed Slovakian Army WITHOUT the 20mm Oerlikon gun that was to have been its main armament.  The tanks were forced to make do with their two turret mounted ZBvz 37 machine guns until late 1941 when they were upgunned with a 3.7cm Skoda A7 gun (replacing one of the machine guns).
In 1939, the Slovakian Army had over 500 pieces of ordnance.
Though the Czechoslovakian army did not accept the early 1930s Skoda Model 33 (K1) for regular use, they were impressed enough to continue developement until the Skoda M37 (K4) was produced in 1937.  The M37 (K4) even saw some use in the German army as the 15cm sFH 37(t)
The 47mm Kanon PUV vz. 36 was the primary anti-tank gun for the Czechoslovakian army and it remained so for the Slovakian army.  However, while it conveniently used the same ammunition as the very reliable Skoda 47L40(t) Anti Aircraft gun, there were only limited amounts of Armor Piercing Composite Rigid rounds available for the 47mm Kanon PUV vz. 36 until around 1941.
The 75mm Skoda PL vz. 37(t) was known as the Cannone da 75/49 in Italy.
I don't know about the rest of you, but I'd say those are some pretty FUN facts!  And yes Ian, this time your history lesson actually was brought to you entirely by the ASL rulebook!
"this is too silly to be black metal"
I know Black Metal is supposed to be all KULT and EVIL, but really, it's pretty goddamn SILLY too.  So silly, in fact, that I really don't think you can ever use the phrase "this is too silly to be black metal".  To illustrate my point I have uploaded two clips of Black Metal songs.  Guess which one is the original song and guess which one I altered:
Clip 1:
Clip 2:
Can't tell which one is the fake clip?  I rest my case.
Top 10 metal things to do?
I can think of all kinds of metal things to do, like, not wearing shirts ever, or being a disaffected white teenager, but to really answer this question I figured I would let the music itself sound off.  Thus, I've selected a few choice lyrics from a few choice metal bands that I think make a pretty good list of "metal things to do":
10.) Loving hard and getting high, Hell's the place I'm gonna die.
Lyrics to Live Like and Angel (Die Like a Devil) from Venom's 1981 album Welcome to Hell

Venom works hard, plays hard, but most importantly, they love hard.  They also smoke a lot of pot.  Doing drugs is pretty metal I guess, so they make the cut.
9.) I will lick you of the feets 'till the head making you feel torrential orgasms.
Lyrics to Ready to Fuck, from Sarcofago's 1987 album I.N.R.I.
Sarcofago's broken English can even make a song like The Black Vomit sound cute, thus this little ode to foot fetishes is positively adorable.  Though, in the grand scheme of things, not necessarily all that metal of a thing to do…
8.) Fists are in the air, banging everywhere, thrashing to the sound, faces melting down, it's time to fight for metal tonight.
Lyrics to Metal Command, from Exodus' 1985 album Bonded by Blood
I really can't argue with this, there really aren't many more metal things to do than to melt some faces like that Nazi dude at the end of Raiders of the Lost Ark–whether you are fighting for metal tonight at the same time as it is happening or not.
7.) When the day is over I like to ease my mind by jucin' up my system with the beat of a heavy kind.
Lyrics to Rock Forever, from Judas Priest's 1978 album Hell Bent for Leather

That phrase "ease your mind" that you use…I do not think it means what you think it means.  Though acting dumb is a metal thing to do I guess.
6.) Sodomize the dead.
Lyrics to Sodomize the Dead, from Pile Driver's 1985 album Metal Inquisition
I guess this is a pretty metal thing to do?  It really just sounds kind of gross… Oh well, as is the case with any list that references Piledriver's classic Metal Inquisition…extra points for that album cover at least–which most definitely depicts a metal thing to do (whatever it is that they are doing there).
5.) Raise the fist of the metal child.
Lyrics to Power of the Night, from Savatage's 1985 album Power of the Night
As it happens, I have photographic evidence of my brother actually doing this, thus I can assure you it was a very metal thing to do.
4.) The horny and the horned eternal lord; for your praise I raise my fucked-up sword!
Lyrics to The Horny and the Horned, from Impaled Nazarene's 1993 album Ugra Karma

Raising the Horns = A very metal thing to do.  Raising a sword = An even more metal thing to do.  Raising a "fucked-up" sword?  Probably somewhere in between.
3.) Ride the tiger.
Lyrics to Holy Diver from Dio's 1983 album Holy Diver
I have no idea what the fuck Dio is singing about in this song, but I think we can all agree that riding a goddamn tiger is a pretty metal thing to do.
2.) True metal people wanna rock not pose, wearin' jeans and leather–not cracker jack clothes.
Lyrics to Kings of Metal, from Manowar's 1988 album Kings of Metal
I could have easily made an entire list of "metal things to do" by pulling quotes from any single Manowar song from any of their albums.  But I decided to challenge myself and only use one lyric per band for this list.  Also, the one time I saw Manowar, they were so disappointed with the low turnout that they refused to put their leather on and played in jeans instead (but, thankfully, no cracker jack clothes).
1.) Bang your head against the stage like you never did before; make it ring, make it bleed, make it really sore.
Lyrics to Whiplash, from Metallica's 1983 album Kill 'em All
I don't know that this is the funniest or most ridiculous lyric on this list, but, based on the fact that almost every other band on this list has a song about banging their heads on the stage, it is apparently the most metal thing to do ever.
Hand gesture: number two?
I'm not sure what everyone else uses, but this is what I always use, I call it "the turtle's head":
Make sure the finger goes from the inside out.  Outside in is a very different hand gesture.