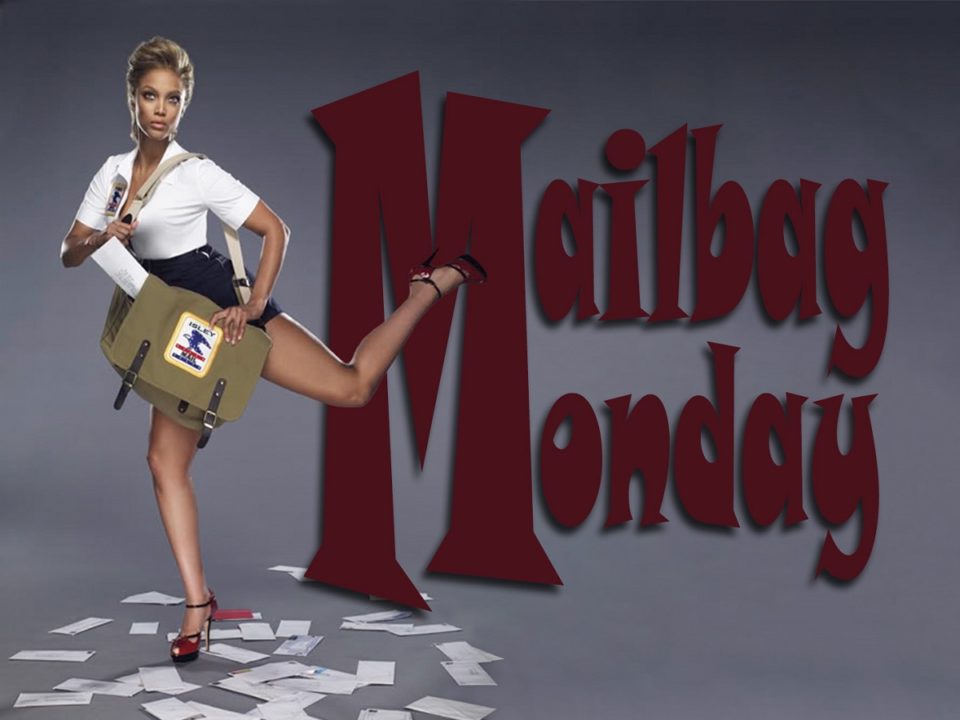 Hello dear readers, it's MAILBAG MONDAY again!  On this special day I will search through my mountain of reader mail and answer the five most pressing questions!
What's that you say?  Do I really get that much mail?  Well, I'll admit…the contact sectionof this website doesn't get used that often, but, one of the perks of wordpress stats is that I can see the google search terms that people use to find my site.  And I'm going to go ahead and pretend that these search terms will count as reader mail, since they are often entered in the form of a question.  So as you read these, remember that each "question" was something that someone actually typed into google that brought up my site as a hit which they then clicked on thus letting wordpress stats report to me the search they used to find my site.  I could make up the questions myself, but it turns out the actual google searches are far better than anything I could come up with!
This time I answer the questions:
Bathroom gothic humor?
Normal names of black metalers?
Cheating ok feminism?
Food fight at the ok corral?
Teddy roosevelt hulk photoshop?
So, without further ado, it is time to dig into the old Mailbag to see what kind of things have been on my reader's minds in the last month!
Bathroom gothic humor?
I actually don't have many goth jokes, let along goth poo jokes.  Still, I'll take a shot at this one.  So, let's see, how about:
A guy walks out of a bar bathroom stall, bar janitor looks in and says: "you been drinking Guinness, or has the Dark Lord and Master Sathanas befouled the contents of your intestines as much as He has sullied your withered black heart?"
No?  Ok, how about this old standby:
Goth – Did you hear about the Vampire that got his ass stuck in a window just before dawn?

Uptight Goth – Please! It's "Rectum".

Goth – Rectum? Nearly daystar-disintegrated'm!
Still no? Ok, fine…I'll stop.  Let's move on…
Normal names of black metalers?
Everyone loves a good ridiculous black metal nom de guerre like "Necrobutcher" or "Hank Amarillo", but it seems like we always forget their equally awesome real names.  So I've gone ahead and put together a quick "Top 5" of my favorite normal names of black metallers!
5. Grutle (Grutle)
It turns out that the real name of Grutle from Enslaved is actually Grutle.  So yeah, I know this list is going for real names that are kind of sissy when compared to the pseudonyms, but I had to add Grutle…because, well, how awesome is the name Grutle??
4. Jan (Hellhammer)
I always thought Mayhem's Hellhammer had about the best name for a drummer ever.  So you can imagine my disappointment when I discovered that he has a girl's name.  Of course, my parents were apparently going to name their firstborn "Isley" whether it was a boy or a girl, so maybe I shouldn't make fun of him.
3. Jan (Hat)
Gorgoroth's Hat beats "The Jan-hammer" primarily because his "black metal name" ended up being only marginally more fearsome than his real name.  I don't care what it means in Norwegian, half their lyrics were in English and he still decided to go with "Hat".
2. Harald (Demonaz Doom Occulta)
Nothing wrong with Harald.  Just not what I expected from half of the feared "Doom Occulta" brothers.  I was also surprised to find out that, based on their real family names, the Doom Occultas weren't even brothers!
1. Kristian (Varg "Count Grishnackh" Vikernes)
Oh come on…just look at that name…giggle.  You have to assume that everyone's favorite murdering church arsonist got constantly made fun of by all the other black metalers for his unfortunate real name!
Cheating ok feminism?
Feminism is about a lot more than just gender equality, it is also (among other things) concerned with issues of gender perception and ending the idea of the necessity of a man to complete a female's life.  Because, really, Snow White doesn't always have to go live in Prince Charming's castle, she can just live in her own damn castle by herself.  And, if she feels like it, she can date all the princes she wants!  Cheating is a purely moral issue; in terms of feminism, it's high time cheating became as socially acceptable for women as it has always been for men!
That's right, you can quit that Hardee's boycott; this piece of shit is just trying to show you feminists how it is done:
food fight at the ok corral?
The "gun fight at the OK Corral" had many possible causes, but in my mind the previous day's "food fight at the OK Corral" was probably the single biggest factor leading up to the most famous shootout in the old West.  Thus, it has always bothered me that there seems to be so little reliable information about the food fight.  Thus, I've done some extensive research and come up with as detailed an account as anyone is likely to get about this famous food fight.
First, contrary to what is commonly believed, the food fight did not take place at the OK Corral, but rather 6 doors up the street at the newly built Blind Possum's Mess Hall, Bait Shoppe and Grocery.  The three Earps (Wyatt, Morgan and Virgil) were enjoying a meal with Doc Holliday when the McLaury brothers (Frank and Tom) along with Ike Clanton and his son Billy walked in.  Everyone knew that Ike was feuding with Doc because Doc had been going around telling people that Ike threw food like a girl.
Billy Claiborne, who sided with the Laury's and the Clantons was in the mess hall and had already been stirring up trouble due to, as he put it "aw come on, we ain't havin' beans again are we Cookie??" [sic], so tensions were high enough that the piano player stopped playing his light dinner music as soon as the Laury's and Clantons walked in.
Billy Clanton and Tom Laury, knowing what was coming, immediately reached for trays of food.  Ike, perhaps out of fear of being exposed as someone who really did throw food like a girl, pleaded that he was without a tray of food himself.  Wyatt replied "Any man don't want to get food thrown at them…better clear on out the back"–and Ike did just that.  His son Billy however, remembering his pappy's wisdom of "when you reach for a tray of food in a food fight, use it", upended a whole plate of food at Wyatt.  Wyatt was ready, and sidestepped the hail of beans while throwing his own tray's contents at Frank Laury.
At this point all hell broke loose with great volleys of beans being exchanged by both sides.  Doc and Morgan finished off Frank with their trays of beans while Billy Claiborne and Tom Laury made for the door.  Only able to stop one of them, Doc upending the giant cooking pot of beans over Tom Laury's head.
When all was said and done, Billy Clanton and the two Laurys lay in great piles of beans while Ike and Billy Claiborne had escaped.  The Earps and Doc Holliday managed to walk out of the mess hall only slightly the worse for wear.  However, a much more serious conflict was brewing as a result of their victory–a conflict that would come to overshadow the great deeds and bravery of that day's food fight.
Teddy roosevelt hulk photoshop?
I've told this story before, but while working on my "Extreme Editz" post I was trying to think of badass things to include.  So I imed my friend Chris and was like "What is the most badass thing you can think of aside from Red Hulk?"
His answer, without missing a beat: "Teddy Roosevelt?"
Anyway, I couldn't find any photoshops of Teddy "Wish a motherfucker would!" Roosevelt and Hulk, but I did find this old picture of TR with his shirt off in front of his Rough Riders.  Hope it is close enough…dude must have worked out:
Also, after looking at that picture, I'd say Chris was probably right.