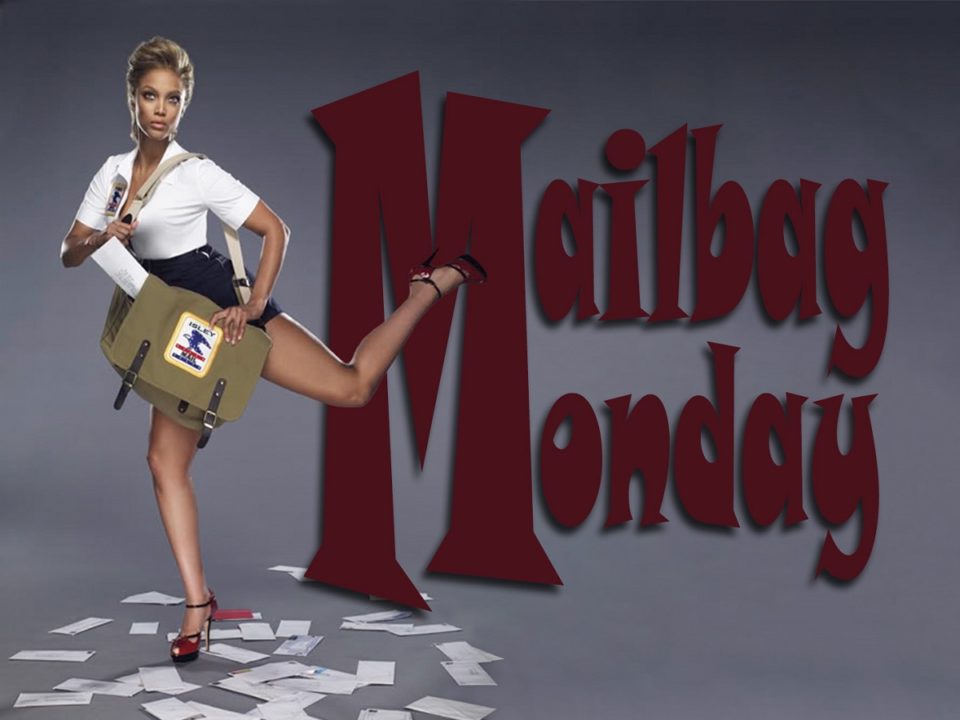 Hello dear readers, it's MAILBAG MONDAY again!  On this special day I will search through my mountain of reader mail and answer the five most pressing questions!
What's that you say?  Do I really get that much mail?  Well, I'll admit…the contact sectionof this website doesn't get used that often, but, one of the perks of wordpress stats is that I can see the google search terms that people use to find my site.  And I'm going to go ahead and pretend that these search terms will count as reader mail, since they are often entered in the form of a question.  So as you read these, remember that each "question" was something that someone actually typed into google that brought up my site as a hit which they then clicked on thus letting wordpress stats report to me the search they used to find my site.  I could make up the questions myself, but it turns out the actual google searches are far better than anything I could come up with!
This time I answer the questions:
Jesus music?
Mclintock lipstick on collar why?
How to make 15 pancakes from scratch/How to make burritos for 15 people?
My chair smells like fart?
Black sabbath triton?
So, without further ado, it is time to dig into the old Mailbag to see what kind of things have been on my readers' minds in the last month!
Jesus music?
Ok, first I should probably rethink my choices for Minor Key Monday (which I realize is currently 30% Jesus music) if my website is actually getting hits for "Jesus music".  But, baroque music and sad cowboys aside, I assume you are asking about real "Jesus music", that is, less-than-holy genre music that has been underwhelmingly co-opted for The Lord.  This may shock a lot of my long time readers, but I have a dark secret about that specific kind of "real" Jesus music.  See, once, long ago…wow, this is hard…I bought a Christian black metal CD.
I suppose I better explain myself.  See, I was perusing the rock section for underground metal gems at a used cd store back in that quaint time when people still had to buy CDs to listen to music.  And I came across the following album:
It's a little hard to read, but it says "From Kaamos…to Midnight Sun: Finnish Metal Compilation".  Now, I knew that Finland wasn't really known for their black metal but they had a pretty sweet death metal scene.  Besides, the cover was all frost and Old English Font MT, so I might have stumbled across something pretty sweet!  I checked out the track listing to see what I was getting into.  I hadn't heard of any of the bands before, but the band names sounded promising:
Immortal Souls – I figured they were probably obsessed with vampires or something…kind of lame, but evil enough.
Manifestium – Wasn't sure, but it was probably Latin for showing demonic attributes.
Deuteronomium– I knew I'd heard this word somewhere before, I made a mental note to check my other black metal CDs and figure out where when I got home.
Mordecai– I figured "mord" meant like "death" or "sodomy" or something awesome like that in Latin…that or it was a clever play on decaying Mordor–either way I was hyped to hear what they sounded like!
Scream – Eh pretty bland, but I didn't want to judge a band by their title.
Hallowed – Yes, I knew what hallowed meant, but I was so hyped by that Mordecai band I just read it as "Halloween" and went on.
Cruciferae – Now we were talking!  Nothing says evil like nailing The Savior to a cross right?
Anyway, I bought the album despite a small part of my lizard brain flashing a giant warning sign.  I got home and popped it into the CD player and was disappointed with an ironically soulless performance from Immortal Souls.  My disappointment only grew as the tracks all ended up being the lamest, most manufactured black metal I'd heard in a long time.  I stared at the cover in confusion trying to figure out how my instincts could have been so wrong.  Then it hit me…midnight sun…light where it is normally dark!  At that point I remembered where I had seen that "Deuter" word before.
Mclintock lipstick on collar why?
Mclintock is a John Wayne film (that is far more enjoyable than it probably should be) where John Wayne gets kicked out of his house for having lipstick on his collar by his wife, and after years of estrangement he finally gets pissed that she is thinking about kissing the governor and chases her around town in her underwear until he catches her and publicly spanks her with a coal shovel.  Then they go off and do it while he shouts "oh happy day".  The lipstick on the collar is never explained in the film, but I hope you don't think anything untoward happened to cause it to get there, I can think of a few other reasons it might have appeared there:
It was another woman's lipstick, but he was attacked against his will.  Mclintock was just too virile for his own good.
I'm sure Mclintock loved chicken wings like any red blooded American, perhaps it was just wing sauce?
Maybe he was attacked by a tarted up vampire?
He might have inadvertently washed his usual red long underwear with his white shirts?
It was his own lipstick and he hastily tried to wipe it off when his wife got home.
It could have been any of those really, I mean, it just doesn't seem plausible that he cheated and then held his wife to a double standard about it with no attempt to apologize for his misdeed.
How to make 15 pancakes from scratch/How to make burritos for 15 people?
At first I found it odd that I got these two quite specific searches within days of eachother.  Was it for a pancake and burrito dinner party for someone and 14 of their closest friends?  But then I realized that the number 15 was just throwing me off, it was most likely not the same person.  After all, 15 pancakes is pancakes for 2 people, while you would need 75 burritos to feed 15 people.
As for an answer to the questions, just make a single pancake or burrito and then do that 15 and 75 times (respectively).
Also, if it really is a burrito dinner/slumber party followed by a pancake breakfast party…well…you might want to rethink that order…which brings me to my next letter:
My chair smells like fart?
I hate to break this to you, but the "smell" of any fart is merely the suspended poop particles that have been released in airborn form.  When a fart goes away it is just those once airborne poop particles slowly covering your room in a fine film of shit.  Of course it is an almost undetectable amount, so no worries.
Things don't look so good for your chair however.  Depending on how long you have had it, years of farting at close range in almost exactly the same spot has most likely brought the concentration of poop particles to unacceptable levels.  Thus, you have essentially shat your chair: it doesn't smell like fart, it smells like poop.
Black Sabbath triton?
I'm not sure how you got this insider information, but yes, at one point Ozzy Osborne was signed to do the voice work for King Triton in The Little Mermaid.  However, upon seeing his purposed concept artwork, Disney rethought their decision:
We've seen what he can do to a dove…I'd be worried too if I was Flounder.