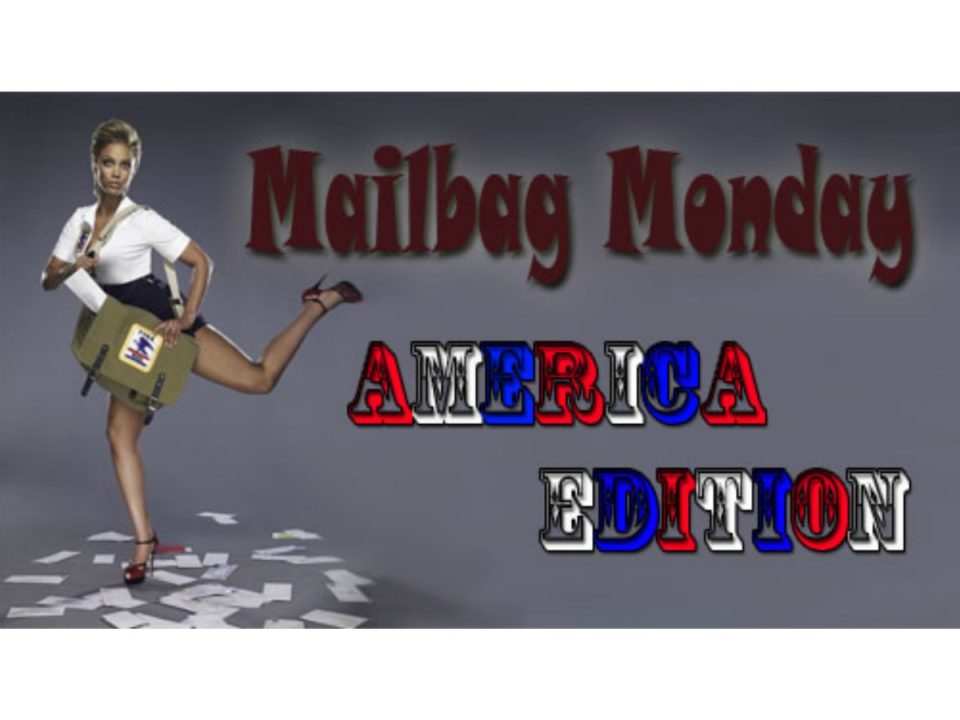 Hello dear readers, it's MAILBAG MONDAY again!  On this special day I will search through my mountain of reader mail and answer the five most pressing questions!
What's that you say?  Do I really get that much mail?  Well, I'll admit…the contact sectionof this website doesn't get used that often, but, one of the perks of wordpress stats is that I can see the google search terms that people use to find my site.  And I'm going to go ahead and pretend that these search terms will count as reader mail, since they are often entered in the form of a question.  So as you read these, remember that each "question" was something that someone actually typed into google that brought up my site as a hit which they then clicked on thus letting wordpress stats report to me the search they used to find my site.  I could make up the questions myself, but it turns out the actual google searches are far better than anything I could come up with!
This month, in honor of the Fourth of July I answer the following AMERICA themed questions:
Washington monument trousers?
Myths in american society?
How do you say fart in native american?
United states coat of arms of world war 2?
Things john wayne said?
So, without further ado, it is time to dig into the old Mailbag to see what kind of things have been on my readers' minds in the last month!
Washington monument trousers?
Nothing says Independence Day like George Washington with a boner.  So let's start things off right shall we?  Ask and you shall receive:
And now I can cross "photoshop a happy trail on George Washington" off my bucket list.  Also, you can see that George is employing his tried and true "waistbanding" technique to hide that shit.
Myths in american society?
My favorite American myth is the story about that white male in the sky who created the earth and everything on it as his own personal vanity project.  Nothing says America like "love me or I'll put a boot in your ass" (which, I believe, is more or less a direct quote from any number of Toby Keith songs).
How do you say fart in native american?
I am fairly limited in my knowledge of other languages, so I don't actually know how to speak languages like Native American, African, or Antarctican.  However, thanks to some high school Spanish and a lifetime spent studying Tolkien's legendarium, I do know how to say fart in 3 languages at least.
Spanish– "soltar un pedo"
Elvish – "aut súl" (to pass wind)
Orcish– "baj marr-ora hom dush" (to make a smelly ass sorcery)
You see, elven farts smell like a cool Coirë wind with a faint hint of gladden in the air.  Orc farts smell like poop.  And orcs are simple minded enough that they assume it must be the sorcerous work of their dark lord upon his dark "throne" rather than their own dark lower intestine.
United states coat of arms of world war 2?
I've tried to make World War 2 funny before, believe me I've tried.  Even photoshopping my sister's daughter:
…into a picture with Hitler and Mussolini:
…seemed to fall flat.  Though, come on, even the hair was perfect (though, I'll admit I added the blueberry Hitler mustache)!
Anyway, I'm afraid I couldn't figure out how to make this question as funny as an orcish smelly ass sorcery.  I guess it's just still too soon for WWII jokes.  Maybe next year!
Until then, here's my "united states coat of arms" pictorial history lesson about the aftermath of World War 2:
You can see that as the only major nation NOT totally fucked up by the war we found out that money really did start growing on trees for us.  Consequently, our stock market did a bit better than the previous decade.  And looming over everything is the atomic bomb…which may or may not have been necessary to end the war but definitely continued to loom over things from then on.  Finally, front and center, is a picture of America's most famous World War 2 soldier.
Of course, speaking of John Wayne…
Things john wayne said?
Let's end this post with a game about the most American man that ever lived! I will give you five quotes, with no googling, see if you can spot the one fake John Wayne quote!
1: "If you've got them by the balls their hearts and minds will follow."
2: "If everything isn't black and white, I say, 'Why the hell not?"
3: "I have busted more hippies' noses than all the narcs in the free world."
4: "God-damn, I'm the stuff men are made of!"
5: "I think any man who makes an X-rated picture ought to be made to take his own daughter to see it."
Answer:

Spoiler
Quotes 1, 2, 4, 5: John Wayne.  Quote 3: Ted Nugent.
[collapse]