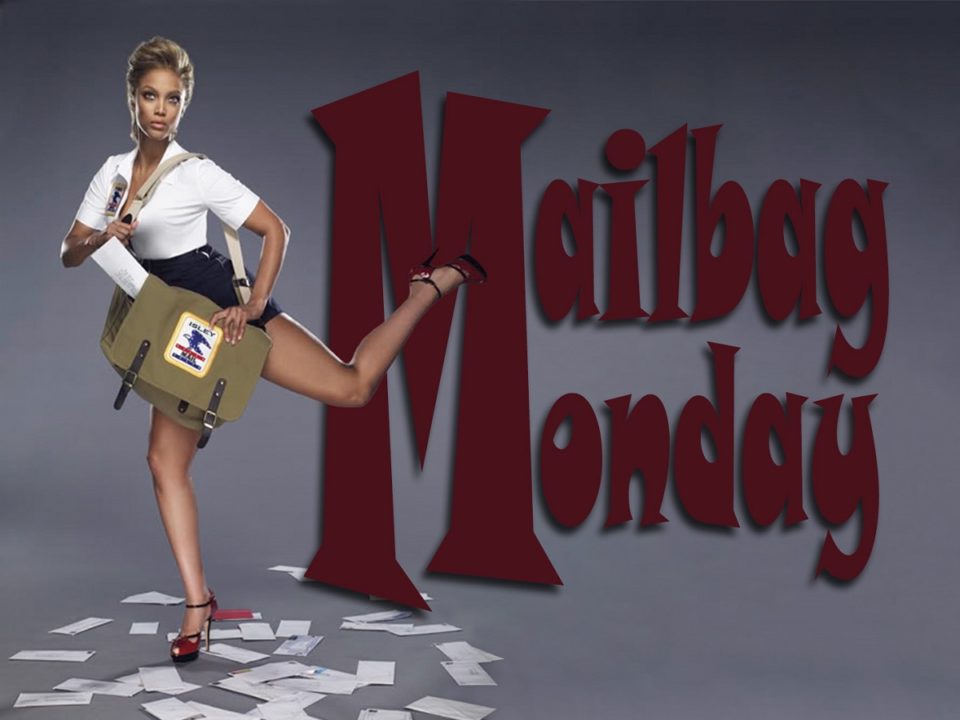 Hello dear readers, it's MAILBAG MONDAY again!  On this special day I will search through my mountain of reader mail and answer the five most pressing questions!
What's that you say?  Do I really get that much mail?  Well, I'll admit…the contact sectionof this website doesn't get used that often, but, one of the perks of wordpress stats is that I can see the google search terms that people use to find my site.  And I'm going to go ahead and pretend that these search terms will count as reader mail, since they are often entered in the form of a question.  So as you read these, remember that each "question" was something that someone actually typed into google that brought up my site as a hit which they then clicked on thus letting wordpress stats report to me the search they used to find my site.  I could make up the questions myself, but it turns out the actual google searches are far better than anything I could come up with!
This month I answer the following questions:
What does a diminished fifth look like?
I wish a motherfucker would?
Hitler mordor?
Vercors ss atrocities?
Photocopied pussy pics?
So, without further ado, it is time to dig into the old Mailbag to see what kind of things have been on my readers' minds in the last month!
What does a diminished fifth look like?
The diminished fifth, as discussed before, is the most evil interval in all of music.  Every discordant vibration is a belly hair jiggling in the fiendish laughter of Lord and Master Sathanas.  So it is an excellent question to want to know what the sound wave looks like!  I ran the chord through my sophisticated audio processing program and came up with some fascinating results.  Below you will see the sound wave for a perfect fifth.  Mouse over the image (IF YOU DARE) to see what the sound wave for the diminished fifth looks like:
If you think that is badass, you should see what a minor third looks like!
I wish a motherfucker would?
I first heard this phrase while watching The Original Kings of Comedy over a decade ago.  While it was the standard black people vs. white people bit (white people hope, black people wish, ie, a white person hopes no one steals their seat while they are gone, a black person wishes a mother fucker WOULD steal their seat while they are gone) I would like to think that the phrase can transcend racial barriers.  At the very least my white friends and I have been doing our best at using the phrase every chance we get.  In fact, (aside from an impressive variation on the phrase in R. Kelly's monumental Real Talk") my personal vote for the best use of the phrase in the last decade was from my sister when she took her math graduate student friends to a rough bar and then got into a knife fight after some redneck tried to attack her after she accused him of playing dirty pool.  While her fellow graduate students huddled behind her vowing never to let her pick the bar again, she calmly informed her attacker that "I wish a motherfucker WOULD try to take my knife away from me!"  Realizing (as I did long ago) that my sister does not back down, he took off out the back door.  Then my sister got kicked out for pulling the knife, ending the night with no arrests or stabbings.
So there you have it, a rousing tale from Isley's sister's spirited past!  Her rousing tales are a bit more badassly hardcore than my own playfully anarchic tales, but I think we can all agree they are no less rousing!
Hitler mordor?
Ah, the old Hitler vs. Sauron question.  I had an entire post worth of reasons why the superior axis technology would make short work of any primitive orc army until I realized I was forgetting a key point.  That is, of course, that:
Not that I wouldn't love to see a Nazgul vs. King Tiger battle of course!
Vercors ss atrocities?
As we all know, the plateau of Vercors was the site of one of the largest partisan uprisings of WWII's western front.  On July 14th the allies had air dropped a thousand loads of weapons and ammunition to the several thousand resistance fighters at the plateau of Vercors. In response the Germans isolated the plateau, landed SS troupes by glider and subjected every resistance fighter found there to some of the most brutal atrocities of the war.
Reports of wet willies, wedgies, swirlies, redbellies, purple nurples and one-eyed cherokees inflicted by the SS shocked the allied command posts throughout the area.
An entire garrison was taken out with a dry ice bomb full of shitwater while countless individual soldiers came face to face with the business end of a German sit-up.
Finally, in one particularly heinous act, Oberstleutnant der Polizei Hubert Koelbinger, of the SS-Polizei Regiment 19, reverse-alphabetized the entire record collection of the partisan commander.
Photocopied pussy pics?
It's amazing how many searches I get for this topic.  I really don't understand why people want to see this so badly, but, sure, why not.  I don't have a photocopier, but I do have two cats and a scanner.  I could have taken them to the library and used that photocopier, but since cats like car rides about as much as they like showing unconditional love, I figured I'd make do with my scanner.  Anyway, here are some photocopied pussies for your viewing pleasure!
This is Frankie:
For being a skittish cat, she really didn't mind sitting on the scanner.  Though, considering that is an 8.5 X 11 picture you are looking at, I'm starting to realize the name "fat Frankie" is becoming increasingly accurate.
Joey on the other hand was having none of it:
I kept telling her to hold still, but she preferred to swat at the scanner as it passed below her.  It totally ruined the picture.  Anyway, despite Joey ruining her pictures, I hope that Frankie's "BBC" scanned pussy pics got the job done for you!