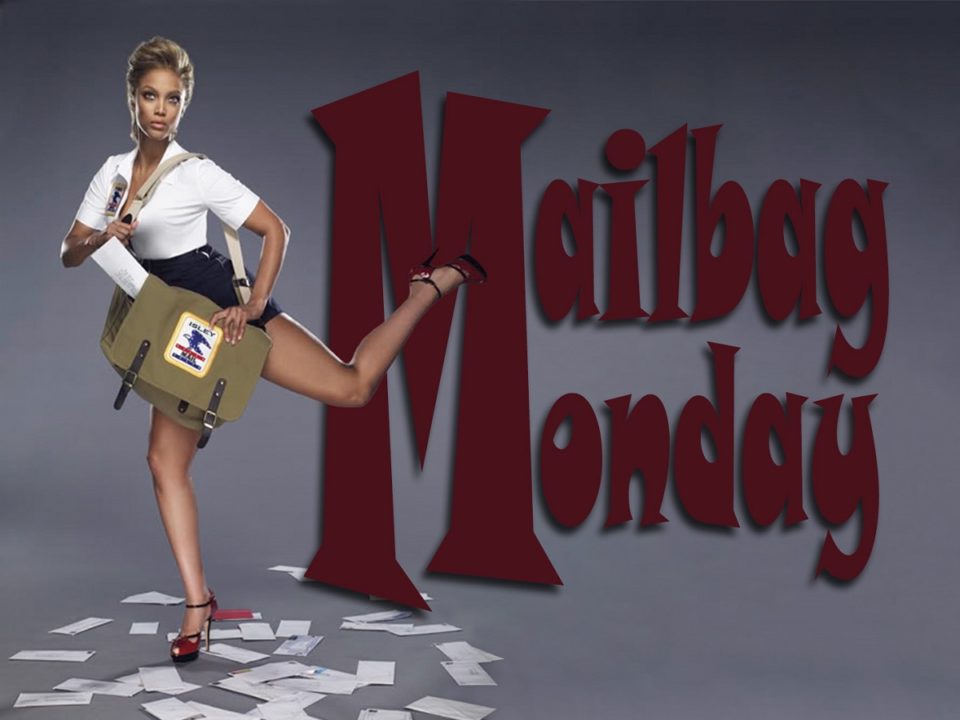 Hello dear readers, it's MAILBAG MONDAY again!  On this special day I will search through my mountain of reader mail and answer the five most pressing questions!
What's that you say?  Do I really get that much mail?  Well, I'll admit…the contact sectionof this website doesn't get used that often, but, one of the perks of wordpress stats is that I can see the google search terms that people use to find my site.  And I'm going to go ahead and pretend that these search terms will count as reader mail, since they are often entered in the form of a question.  So as you read these, remember that each "question" was something that someone actually typed into google that brought up my site as a hit which they then clicked on thus letting wordpress stats report to me the search they used to find my site.  I could make up the questions myself, but it turns out the actual google searches are far better than anything I could come up with!
This month I answer the following questions:
Werner herzog yodeling?
"The office" that's what she said confetti?
Reverse corpse paint?
Abbath from immortal without makeup?
Gandalf and gimli slash?
So, without further ado, it is time to dig into the old Mailbag to see what kind of things have been on my readers' minds in the last month!
Werner herzog yodeling?
First, obviously Werner Herzog has yodeled in his life…I mean, he'd have to have right?  But I seem to remember his commentary from Heart of Glass specifically mentioning him "yodeling and singing Bavarian folk songs for a week up on a mountain top with his crew."  It took some searching, but I finally found the clip–if you've never heard a Werner Herzog audio commentary before, you are in for a treat:
Sadly he only says that they were singing, not necessarily yodeling.
Also, you know, that clip is kind of boring.  I mean, there is nothing wrong with it, he says "electronical" and "a river flowing like a river"–not to mention talking about singing on top of a mountain for 11 days while making his movie.  But there are better Herzog clips out there.  Like, for example, this one from later in the commentary where they discuss a scene where one of his actors wrestles an invisible bear:
Now do you see why Herzog's DVD commentaries are the only commentaries (well, aside from Arnold's commentary on the Conan DVD) I listen to?
"The office" that's what she said confetti?
That's what she said confetti is a great idea!  I don't specifically remember any Office episode that featured a jizzing dick (maybe the obscene watermark one), but that's the route I decided to take (obv) when I created this "twss" confetti for you:
Just click to get the 8.5 X 11 version to print off.  I suggest printing an entire ream of paper and then using an industrial paper-cutter to create this confetti.  I'm just sorry I didn't have this dick confetti ready in time for New Year's Eve!
Reverse corpse paint?
For those of you not in the know, corpse paint is what black metal bands put on their face to make themselves look like corpses (it is NOT AT ALL RELATED to wanting to look like Kiss).  Here is Fenriz of Darkthrone showing you how to properly model your corpse paint:
But what about reverse corpse paint?  Well that one had me stumped until I realize I could just take that picture of Fenriz and pop it into photoshop, invert the colors and I would have a good approximation of what reverse corpse paint would look like:
Oh. Crap.  So yeah, it turns out reverse corpse paint is just "black-face."  And everyone says all those black metal bands are racist…turns out they are the opposite of racists!
Speaking of corpse paint…
Abbath from immortal without makeup?
Abbath from Immortal's corpse paint is a decidedly un-corpse-like two triangles.  It's such an extreme look that it is tough to really know what he would look like without his makeup on.  However, I managed to come across a rare photo of Abbath without his makeup in a temporary folder on the official Immortal website.  I have posted it next to a photo of Abbath in full corpse paint for comparison:
Granted, my "Abbath totally looks like The Dude" picture is not nearly as awesome as the one made by the person who noticed that Abbath totally looks like a Boston Terrier.
Gandalf and gimli slash?
Gandalf and Gimli Slash?  Say no more, I'm happy to help you out here:
What?  What did you think I was going to do for this question?  Oh wait…"slash."  Just in case you meant you wanted some hot Gimli on Gandalf action I went ahead and made a quick addition to the above picture…mouseover to see it!
Oh don't give me that NSFW complaining.  If you kept going after the wall of jizzing dicks above you have only yourself to blame.