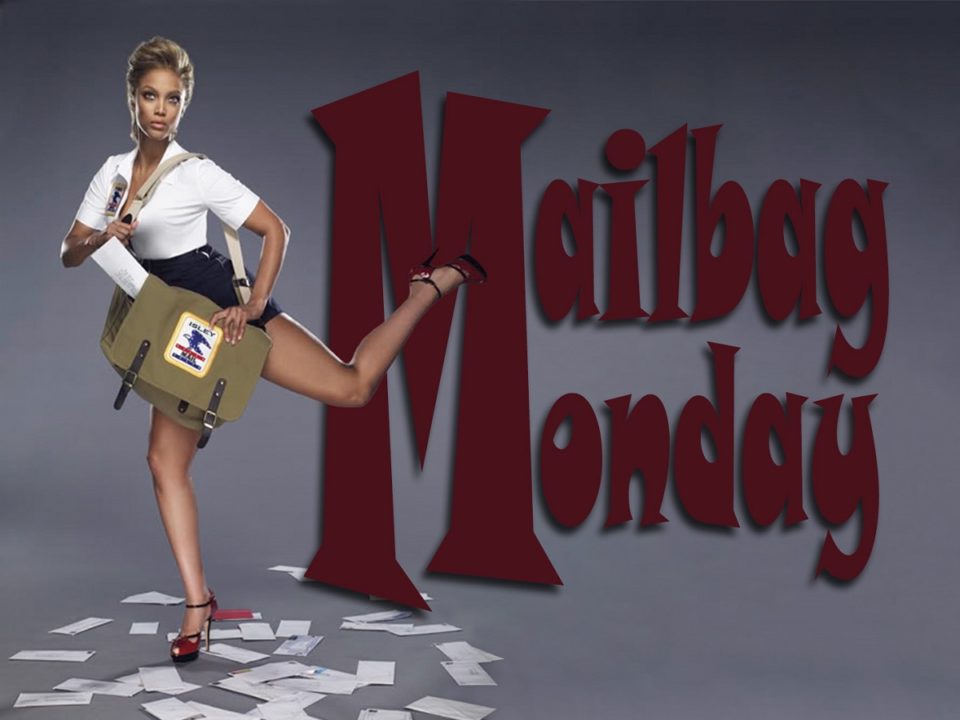 Hello dear readers, it's MAILBAG MONDAY again!  On this special day I will search through my mountain of reader mail and answer the five most pressing questions!
What's that you say?  Do I really get that much mail?  Well, I'll admit…the contact sectionof this website doesn't get used that often, but, one of the perks of wordpress stats is that I can see the google search terms that people use to find my site.  And I'm going to go ahead and pretend that these search terms will count as reader mail, since they are often entered in the form of a question.  So as you read these, remember that each "question" was something that someone actually typed into google that brought up my site as a hit which they then clicked on thus letting wordpress stats report to me the search they used to find my site.  I could make up the questions myself, but it turns out the actual google searches are far better than anything I could come up with!
This month I answer the following questions:
How to stop scoffing?
Excalibur cheesy dialog?
R Kelly meme?
What is a rohmer?
Most brutal black metal videos ever?
So, without further ado, it is time to dig into the old Mailbag to see what kind of things have been on my readers' minds in the last month!
How to stop scoffing?
Once started, a serious scoffing habit can be hard to break.  If you are a hardcore snob like myself, you will find many things in life that are scoffworthy (animated movies, lipstick, non-Greek black metal, pronouncing Bach with anything other than a hard C, Slayer's post 1986 work, Madonna's pre 2005 work, etc, etc).
Lately, due to the usual March basketball mania that sweeps KU, I've found myself scoffing at sports.  Excited for the big game? Well, I'M NOT BECAUSE I DON'T LIKE BASKETBALL!  You hope "we" win? ARE YOU ON THE TEAM AS WELL??  And you know, as clever as you might think saying things like that sounds, I've recently come to realize that in reality it just makes you sound like kind of a douche.  Thanks to facebook, I was able to witness the other side of statements like that as various people would update their statuses with things like "what is all that noise…did a sporting event just finish?"  It was kind of a watershed moment for me as I realized how douchey it is to pull the "I don't watch the game and I don't care who knows it as long as "who" is "everybody" card".  It's like those assholes who are a little too eager to let you know that they don't own a TV.
Thus, due to a strong desire not to seem like a douche, I've resolved to quit scoffing at sports.
We'll just overlook yesterday's April Fool's post where the entire point was that I was too good to actually follow sports.  Or the fact that I'm currently writing this post during the big game (not that I would know when the game starts…basketball is lame after all!)
Excalibur cheesy dialog?
Excalibur is one of my all time favorite movies.  But I'm not above admitting that the dialog, when taken out of context, might just possibly sound a tiny bit cheesy (in a way, sort of).  But, as it so happens, lines like "now, once more, I must ride with my knights to defend what was, and the dream of what could be" only sound cheesy when you read them–the conviction and nuance the actors bring to the dialog really makes it shine.  For instance, just listen to the response of Morgana when Merlin asks her if she is worthy (sampled on the opening track of The Soil Bleed's Black's classic bit of medieval neofolk March of the Infidels):
You can't call that cheesy can you (also, who guessed exactly what that song would sound like after the intro)?  I mean, after all, I thought it was badass enough to be my answering machine's message for a number of years back in the early 2000's…
R Kelly meme?
I got a fair amount of criticism last month for not doing more with my R Kelly "real talk" meme pics beyond just using the actual song lyrics.  And, you know what, I'm sorry, I thought that the song was plenty hilarious on its own.  Also, I was really rushed and took the easy way out.  Thankfully Jessica over at www.blogisatreat.com took the liberty of coming up with a few for me HERE.  Even Shena pitched in and ran a few ideas by me–one of which I took the liberty of making for her since she couldn't be troubled to do it herself:
So there you have it, I finally did the R Kelly meme justice!
What's that?  I didn't actually do any of those?  Well, fine, I'll do one:
But that is it for today…I'm in a rush after all…maybe next month!
What is a rohmer?
I'm sure you are not asking "who is Rohmer" as I would imagine everyone knows the name of the greatest film director of all time.  As for "a rohmer," I would guess you are referring to the sex act?  You know, like all those things you find on urban dictionary like Dirty Sanchez, Hot Carl, Cleveland Steamer, Chili Dog, Alaskan Pipeline, Dogs in the Bathtub, Doomers and Wooden Indians.
Basically, a rohmer is when you bring a girl back to your place, and then use Pascal's wager to get her to let you take a shit on her chest.
Most brutal black metal video ever immortal?
When I first covered Immortal's wow-riffic Diabolical Fullmoon Mysticism for Mid-month Metal Masterpiece, I claimed that the video for their song "Call of the Wintermoon" was the most brutal black metal video of all time.  However, recent youtube discoveries have led me to believe that I may have been mistaken.
First, there is this bit of wonderfulness from the Czech Republic's resident black metal geniuses Maniac Butcher:
But, you know, as much as I'd like to pretend that both Immortal and Maniac Butcher were playing it entirely straight, part of me deep down suspects that they were aware of just how fucking silly their videos were.
Thus, I turned to live performances and came up with this gem from Japanese madmen Sabbat:
Though does showing some pubes and having the most ridiculous mullet ever really make your video the "MOST BRUTAL OF ALL TIME"?  I didn't think so either.  So I went back to the drawing board until I came up with this video from Russian folk-worshipers Temnozor, which, I think we can all agree, is the obvious winner:
We've got a long hair Vladimir Putin on vocals, that be-mulletted Russian pitcher from Eastbound and Down on flute and outfits that mostly consist of tunics and animal carcasses.  Not to mention the wonderful sight of Russian metalheads desperately trying to headbang along with a fucking flute.  Most brutal black metal video ever y/y?