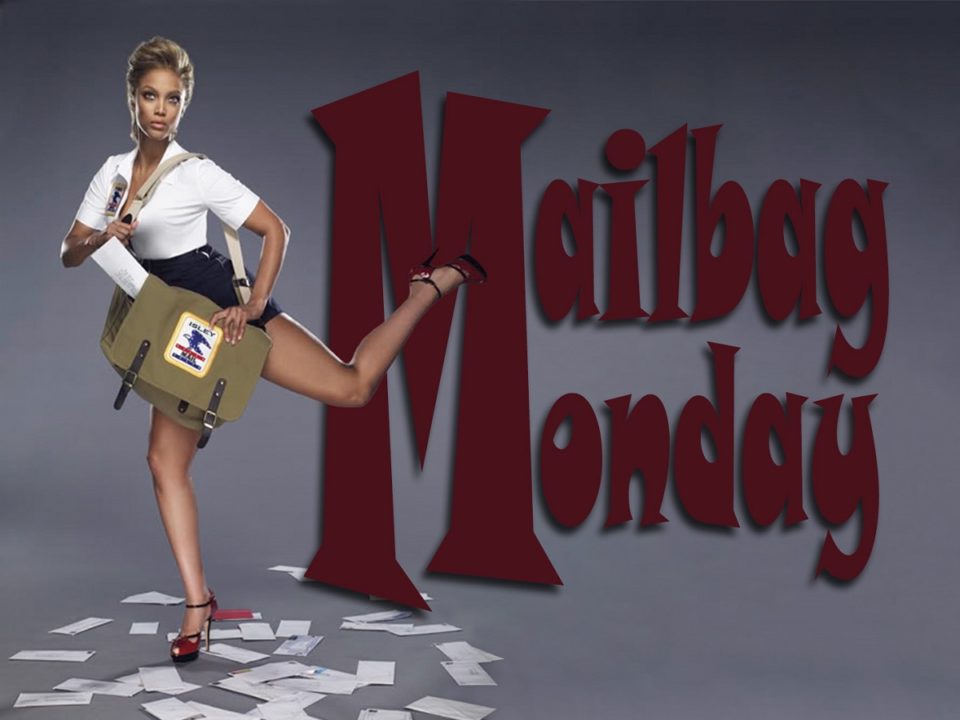 Hello dear readers, it's MAILBAG MONDAY again!  On this special day I will search through my mountain of reader mail and answer the five most pressing questions!
What's that you say?  Do I really get that much mail?  Well, I'll admit…the contact sectionof this website doesn't get used that often, but, one of the perks of wordpress stats is that I can see the google search terms that people use to find my site.  And I'm going to go ahead and pretend that these search terms will count as reader mail, since they are often entered in the form of a question.  So as you read these, remember that each "question" was something that someone actually typed into google that brought up my site as a hit which they then clicked on thus letting wordpress stats report to me the search they used to find my site.  I could make up the questions myself, but it turns out the actual google searches are far better than anything I could come up with!
This month I answer the following questions:
List all the best parts of dazed and confused?
How to be the best in life?
Is none so vile the best metal album of all time?
Black metal love song?
Pussypics?
So, without further ado, it is time to dig into the old Mailbag to see what kind of things have been on my readers' minds in the last month!
List all the best parts of dazed and confused?
It has come to my attention that there are people in my life who still have not seen Dazed and Confused.  Thus, in an effort to get them to hurry up and watch one of the greatest movies of all time with me, I've gone ahead and made a quick list of the top ten best parts of Dazed and Confused:
10. Ben Affleck turning in the best performance of his career.
9. Being able to see Simone's ass hanging out of her shorts in the unmatted full-screen version.
8. Everything Mathew Mcconaughey says as Wooderson.
7. The way Slater steps on Pink's mom's plants.
6. Melvin overplaying being drunk in the background during the party at the Moontower.
5. The mutual finger sniffing handshake between Wooderson and Don.
4. My surrogate Tony's awkward attempt to make his move on the freshman: "Nothing like piling on old pancakes and syrup after a night of beer drinking."
3. The final scene of the Wooderson's Chevelle, driving up the hill that rises up before them into the morning sun, the gang on their third wind, the world on the other side of the hill symbolizing limitless possibility.
2. Slater's proclamation that: ""Man, I ain't believin' that shit about Bonham's one-hour drum solo, man. I mean, one hour on drums? You couldn't handle that shit on strong acid, man."
1. Wooderson's slow motion entrance into the Emporium to Bob Dylan's "Hurricane."
How to be the best in life?
First, I'd like to clarify that the boardgame The Game of Life is a piece of roll (spin) and move shit.  So there is no reliable way to be the best at it since the entire game is pretty much just random chance.  Though, if you really must be the best in The Game of Life, you could always resort to cheating.  My personal favorite method is to put a piece of metal inside the spinner and then use a magnet under the table to stop it on the number you want.  Then it's just a matter of making sure you rig it so that you land on the following three spaces:
Before I figured out this cheating method, I can't count the number of times I accidentally landed on that accursed "A Fleet Horse, go bankrupt" space.
Is none so vile the best metal album of all time?
Cryptopsy's None So Vile does feature this:
Which, I think we can all agree, is pretty goddamn metal.
However, it doesn't have this:
So, no, it is not the best metal album of all time.
Black metal love song?
Singing about being in love isn't exactly a common theme in black metal, but I figured there had to be a handful of songs out there from respected bands that dealt with love.  However, to my dismay, after searching far and wide I somehow only found one black metal love song! [editor's note, as Brian pointed out, there are two, also Darkthrone's "Natassja In Eternal Sleep"…this is what happens when you never know what the bands are singing about!]  That would be, of course, the song "Dreaming of Love" from the infamous Absurd's album Facta Luquuntur:
Here are the lyrics:
Your soul is calling me,
I see the fullmoon high above!
I am closing my eyes and I'm dreaming of your love!
You're so far away from me,
I am pain and agony,
And you think that between us stands my belief,
You're right with this, we're both alone, tell me – what shall I do!
Forever I am Satan's son, forever I love you.
I love you, I look up, see you in heaven high above,
It hurts, It hurts, I close my eyes… I'm dreaming of your love!
Take me as I am as I will take you as you are,
Sign of your love, infinity, wazing up in dark.
My trial has been without success, forever Satans son,
And you, daughter of God – in my dreams we live as one.
Dreaming, dreaming, dreaming of your love!
I love you! I am dreaming, dreaming of your love!
Dreaming, dreaming, dreaming of your love! I love you! I am dreaming! Dreaming!
Which, coming from a bunch of murdering racists, this is really a rather sweet tale of star-crossed lovers who unfortunately worship opposing forces within the same pantheon.  And really, I think we've all been there amirite?
Pussypics?
Man, I try not to do this, I'd hate to start my slow descent into being a crazy cat lady any sooner than I need to, but sure, why not, I'll post some pictures of my cats.
Here they are being nice to each other (though mostly because it was cold in my house).  You've got Frankie (the fat one) on the left and Joey (the skinny one) on the right (they are both girls):
Here is a video of Joey chasing her tail:
Here is Joey hanging out in a dripping sink:
Here is Frankie wearing an origami tiger mask:
Here is Joey attempting to fit into a box that is far too small for her:
And, finally, here is Joey sitting on my shoulder while I take a crap (with John Wayne looking on from the background):