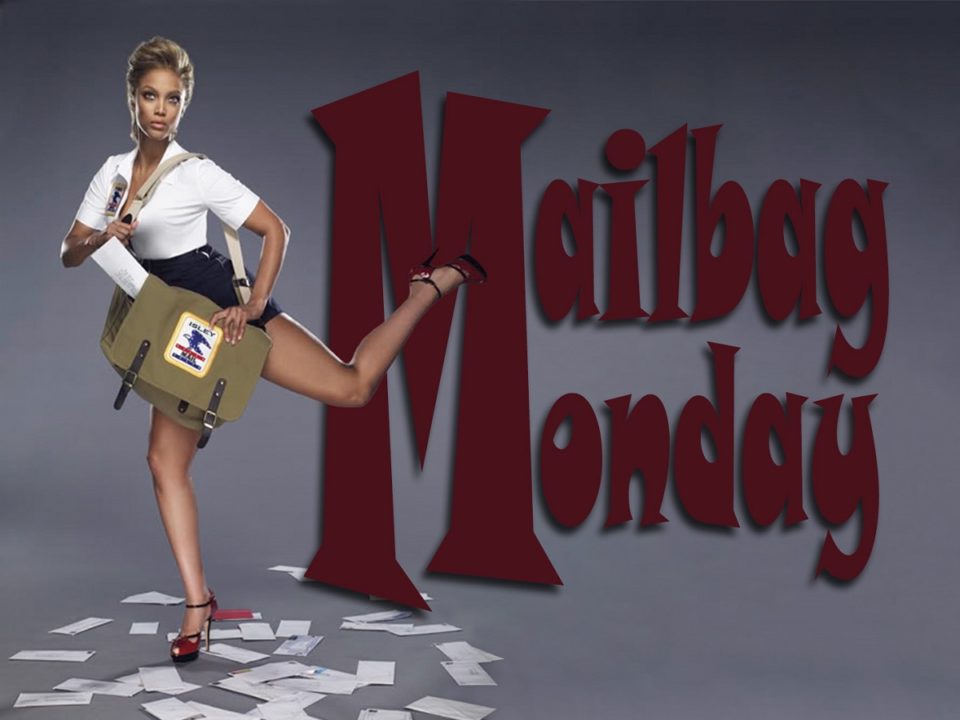 Hello dear readers, it's MAILBAG MONDAY again!  On this special day I will search through my mountain of reader mail and answer the five most pressing questions!
What's that you say?  Do I really get that much mail?  Well, I'll admit…the contact sectionof this website doesn't get used that often, but, one of the perks of wordpress stats is that I can see the google search terms that people use to find my site.  And I'm going to go ahead and pretend that these search terms will count as reader mail, since they are often entered in the form of a question.  So as you read these, remember that each "question" was something that someone actually typed into google that brought up my site as a hit which they then clicked on thus letting wordpress stats report to me the search they used to find my site.  I could make up the questions myself, but it turns out the actual google searches are far better than anything I could come up with!
This month I answer the following questions:
Life of black metal?
Polish stereotypes?
Unruh meaning?
Unruh's in germany, non milatirist?
Butt drag gay wrestling stories?
So, without further ado, it is time to dig into the old Mailbag to see what kind of things have been on my readers' minds in the last month!
Life of black metal?
I've, of course, never been to any of the big black metal parties over in Norway, but from what I've heard, those "Doom Occulta" brothers Abbath and Demonaz from Immortal are always the life of the party.  And I think this picture proves it:
Abbath pretty much invented the whole "lampshade on the head" gag.
Polish stereotypes?
You know, I've heard a lot of people who say that they don't subscribe to polish stereotypes go on to claim that black wax-based polish is naturally better than creams or the new "shine-gels" when it comes to polishing shoes.  And I'm here to put this myth to rest right now.  Anyone who has seen the movie Goop Dreams will know all too well how hard it is for a polish that is born black and wax-based in America to do anything other than shine shoes.  But in reality, it is just as good as any other non wax-based other polish at doing any number of other activities, be it making Groucho faces, putting on a minstrel show or making Rambo look badass.
Unruh meaning?
I'm going to let my dad handle this one, as he gave a brief overview of the meaning of my family name in the comment section of the release post for our black metal album Grim Midwinter Necrohymns:
Actually the family name has been traced (through a genealogy) to a 12th century warlord named "Von Unruh" (meaning "king of the un-rules").  The von was dropped when the family embraced christianity meaning all Unruhs who don't use the prefix Von with their surnames embrace christianity as well…Isley, embrace your heritage –you are heir to the throne–Isley Demetrius VON Unruh, King of the UNRULY!!!!
So there you have it, straight from papa von Unruh himself.  Which, I'm sure none of this will surprise Sweet Johnny B considering he figured out a while ago that "Isley Unruh" is a secret anagram for "He is unruly."
Unruh's in germany, non milatirist?
First of all, everyone knows that there are no non-militarist Germans amirite?  I kid, I kid!
Anyway, as my dad made abundantly clear, the non-militarist German Unruhs all lack the signature "von" title in front of their names.  In addition to being non-militarist, they are also known for enjoying major key music, getting up early on Sundays, "listening to some dipshit who doesn't know what the hell he's talking about anyway," loving that "Raindrops Keep Fallin' On My Head" scene from Butch Cassidy, and claiming The Lord of the Rings is christian allegory.
We try to avoid them at family gatherings.
Butt drag gay wrestling stories?
I know I used to wrestle, and at times claim to be a jock, but Mailbag Monday is a serious operation, so I figured I'd bust out the big guns to answer this last question.  By "big guns," I am of course referring to my buddy Danny, a man whose jock and wrestling knowledge puts my own to shame.  He also happens to be a bit of a self taught "butt drag" expert.  What's that you say? Surely there isn't a "real" move called the "butt drag"?  Read on as Danny gives you a peek into the dark undercrotch of the high school wrestling world in this little mini-feature called "Danny SEZ":
A butt drag is a wrestling move that is executed when one wrestler is on bottom in referee's position and is being difficult; the other wrestler uses his middle and ring fingers to engage the opponent's tailbone by "gripping and ripping."  "Gripping and ripping" is a sudden thrust intended to mobilize or humiliate the opponent by throwing.  The move is effective as the tailbone is rigid and the opponent usually doesn't expect the maneuver.  Many times a finger may accidentally slip into the anus, at which time the move becomes "checking oil."

During a wrestling camp, the USA Army wrestling coach asked for a pupil to practice a new move on.  I decided to volunteer; I believed that learning a new move was beneficial.  The coach was 5'0″ and 180 lbs of muscle.  I engaged the coach in neutral position, he swiftly "shucked" my torso towards the floor and promptly executed a butt drag.  He thrust me at least three feet by "gripping and ripping" my tailbone.  At that time, the coach stood up and proclaimed that the butt drag was the most effective move in referee's position.  I was in total disbelief that the butt drag was this effective.

After learning of the effectiveness of the butt drag, I practiced the move on obviously weak opponents.  Sometimes the opponent did not have a protruding tailbone and I would grab in the wrong spot.  I made sure to wash may hands after every match.  After about 5 practiced butt drags (in a match), I decided that the butt drag was a move I could implement when in a pinch.  One opponent from WaKeeney was the returning 3-2-1A state champ; I had beaten him on many occasions and I hated him because he had such an easy state bracket.  This man was a full foot shorter than me and fond of stalling.  During the biggest regular season tournament, the Hays Prairie Senior Classic, I met him in the 189lb championship match.  We went into double overtime (sudden death), a coin was flipped and the wrestler who won the coin flip chose top or bottom position.  I lost the flip and my opponent chose bottom (an advantageous position, all he had to do was escape in the 30 second time limit), I am terrible in the top position.  This was clearly an ideal situation for the butt drag, the whistle blew and he stood up.  I tried to chop his legs and immobilize him, he was flexible and simply planted his arms on the floor with straight legs.  In front of over 300 spectators, I executed a flawless butt drag.  I jumped on him when he landed belly first on the mat, there were 10 seconds left in the match, he was furious.