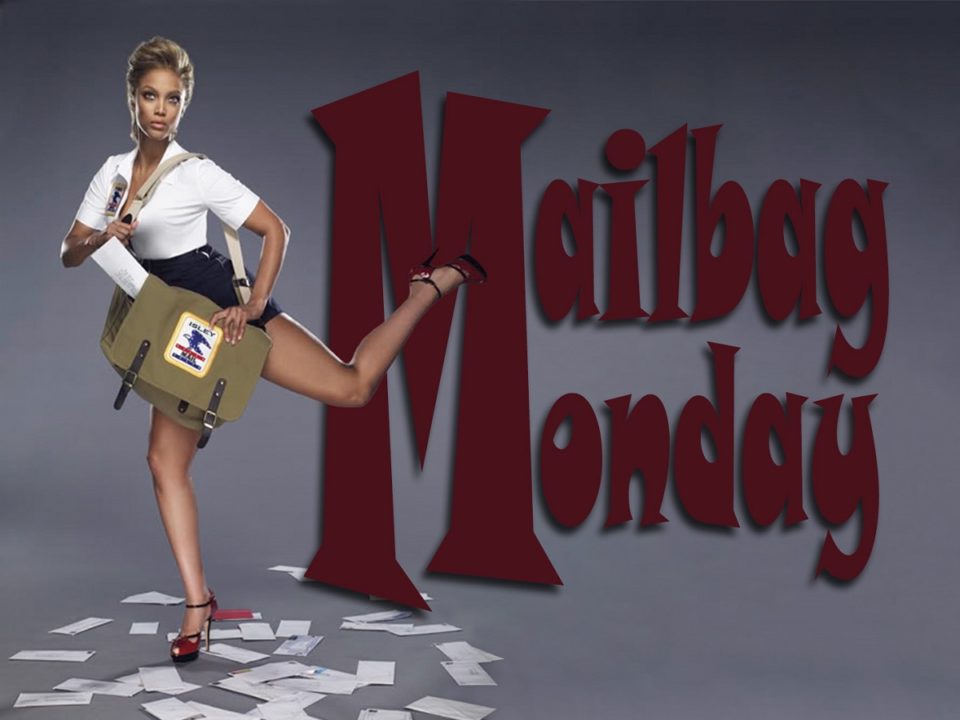 Hello dear readers, it's MAILBAG MONDAY again!  On this special day I will search through my mountain of reader mail and answer the five most pressing questions!
What's that you say?  Do I really get that much mail?  Well, I'll admit…the contact section of this website doesn't get used that often, but, one of the perks of wordpress stats is that I can see the google search terms that people use to find my site.  And I'm going to go ahead and pretend that these search terms will count as reader mail, since they are often entered in the form of a question.  So as you read these, remember that each "question" was something that someone actually typed into google that brought up my site as a hit which they then clicked on thus letting wordpress stats report to me the search they used to find my site.  I could make up the questions myself, but it turns out the actual google searches are far better than anything I could come up with!
This month I answer the following questions:
Odd shaped dicks?
Excalibur dialog?
Quit making those memes!
After fingering fingers smell like doritos?
Describe angelina jolie in hackers?
So, without further ado, it is time to dig into the old Mailbag to see what kind of things have been on my readers' minds in the last month!
Odd shaped dicks?
In doing the research for this question, I quickly realized that the internet is full of lists of odd shaped dicks, especially weird ass animal dicks.  Hell, about half the lists on Cracked feature some discussion of the Argonaut Octopus and its detachable penis that it loads up with sperm and then shoots at potential mates.  But, I'm not above culling the most oddly shaped dicks from the various odd shaped dick pages around the internet and posting them here.  After all, I learned some crazy shit doing the research for this one, it would be a shame not to share it in the form of a Top Five Most Oddly Shaped Dicks list!
5. Spiny anteater

Ok, not only is a video of some scientist giving an anteater a bareback handjob hilariously disgusting, but if you take a close look, that motherfucker has 4 dickheads!  Apparently it uses them in rotation, shooting  a load out of first one side, then the other, but either way, I think 4 dick heads counts as oddly shaped.
4. Python
Of course, having multiple dick heads is one thing, having multiple dicks is a whole new level of oddly shaped.  Pythons aren't the only ones with two dicks (kangaroos do too, hell, female kangaroos even have and extra vag!) but this picture was horrifying enough I figured they had to make the post.
3. Duck

So apparently most birds don't actually have dicks, they just have two openings that they kind of scissor with.  Not the case with ducks though.  Not only do certain species of ducks have a massive dong that is actually longer than their body (apparently an evolutionary response to female ducks running from sex), but, as the video makes horrifyingly clear, it erupts into its full corkscrew, sperm spraying glory with shocking explosiveness.  I guess they really are growers rather than showers.  Also, I looked it up, swans have dicks too, so that Zeus and Leda story still works.
2. Leopard Slug

First of all, slugs are hermaphroditic, but even with that in mind, I was totally unprepared for the freaky freaky shit that apparently goes down when slugs fuck.  First of all they get some big slimy strand of mucous or something and drip it off a tree branch.  Then they slide down it, wrap around each other while they both hang in midair from the snot tendril.  Then shit starts to get kinky.  First, both the slugs dicks shoot our of their heads, elongating until they are longer than the actual body of the slug.  Then the dicks wrap around each other  until they form some kind of Voltron super dick, with bell end and everything.  Then the two dicks spray sperm everywhere, retract into their bodies again thus impregnating the slugs.  Horrifying…and more than a little erotic, amirite?
1. Bean Weevil

Sure, the first four were pretty oddly shaped, but none of them were nearly as oddly shaped as the bean weevil dick.  Yes, sex among bean weevils is not half as slimy and erotic as sex among leopard slugs.  In fact, it usually only happens once since the bean weevil dick, as you might guess, basically destroys the reproductive tract of the female.  Horrifying yes, but at least that dick is only barely a millimeter long.
Excalibur dialog?
It's no secret, in addition to being one of my favorite movies, Excalibur also basically has the best dialog ever written.  I was going to say that you don't need to take my word for it, I figured I'd just let the movie speak for itself on this one.  But then I thought that, instead, maybe I'd try a little game just for everyone to test how big of an Excalibur fan they really are.  Sure, maybe you can recite the Charm of Making word for word, but can you tell me which of the following five quote are actually from Excalibur, and which are from other sources?
Forth, and fear no darkness! Arise! Spears shall be shaken, shields shall be splintered! A sword day, a red day, ere the sun rises! Ride now!  Ride! Ride to ruin and the world's ending!
Hereafter, so that we remember our bonds we shall always come together in a circle to hear and tell of deeds good and brave. I will build a round table where this fellowship shall meet. And a hall about the table. And a castle about the hall.
Now, once more, I must ride with my knights to defend what was, and the dream of what could be.
My blood flows forth, feeding the battlefield like rain upon thirsty crops.  All things must pass into the serpent's breath which birthed the world, and so, I too have come to reach the end at last.
Behold! The Sword of Power! Excalibur! Forged when the world was young, and bird and beast and flower were one with man, and death was but a dream!
And here are the answers:
Spoiler
1. J.R.R. Tolkien, excerpt from Return of the King, 2. Excalibur, 3. Excalibur, 4. Isley Unruh, excerpt from my unpublished manuscript Epic Deeds of Extraordinary Heroism and Valor: Part IV, 5. Excalibur
[collapse]
Quit making those memes!
I made this for you:
Trolololo…
After fingering fingers smell like doritos?
First of all, I'm glad to see that Jock Blog continues to keep the MBM hits rolling in. Anyway, I figured I'd see if I could get to the bottom of your question since that does seem kind of odd.  The way I see it, we just need to look at the ingredients of a typical vagina, then compare it to the ingredients of your typical bag of nacho cheese doritos, and we'll be able to figure this out!
So, in vaginal fluid, you will find the following ingredients in various quantities depending on the woman and where she is at in her menstrual cycle:
Water, pyridine, squalene, urea, acetic acid, lactic acid, propionic acid, isovaleric acid, isobutyric acid, butanoic acid, complex alcohols and glycols, ketones, aldehydes, sweat, sebum, secretions from Bartholin's and Skene's glands at the vulva, endometrial and oviductal fluids, cervical mucus, exfoliated cells, Lactobacilli, Streptococci, and Staphylococci bacteria.
In Dorito dust, you will find the following ingredients in order of predominance:
Vegetable oil (corn, soybean, and/or sunflower oil), salt, cheddar cheese (milk, cheese cultures, salt, enzymes), maltodextrin, wheat flour, whey, monosodium glutamate, buttermilk solids, romano cheese (part skim cow's milk, cheese cultures, salt, enzymes),whey protein concentrate, onion powder, partially hydrogenated soybean and cottonseed oil, corn flour, disodium phosphate, lactose, natural and artificial flavor, dextrose, tomato powder, spices, lactic acid, artificial color (including Yellow 6, Yellow 5, Red 40), citric acid, sugar, garlic powder, red and green bell pepper powder, sodium caseinate, disodium inosinate, disodium guanylate, nonfat milk solids, whey protein isolate and corn syrup solids.
Therefore, I'd say it's pretty obvious that the Doritos smell you are getting must be from lactic acid, the only ingredient the two share. Science!
That, or you inadvertently fingered someone while already having Dorito fingers, which, come on dude, that can't be sanitary!
Describe angelina jolie in hackers?
Ok, so imagine someone with the beauty of Joan Cusack, the personality of Julia Stiles, the fashion sense of Molly Ringwald, the feyness of Winona Ryder and the lips of Mick Jagger.  That is the best way I can think of to describe the goddess that plays Acid Burn in Hackers.  But don't take my word for it:
(That may be the only frame in the movie where she looks like anything less than an 11 on the scale of 1 to Joan Cusack)