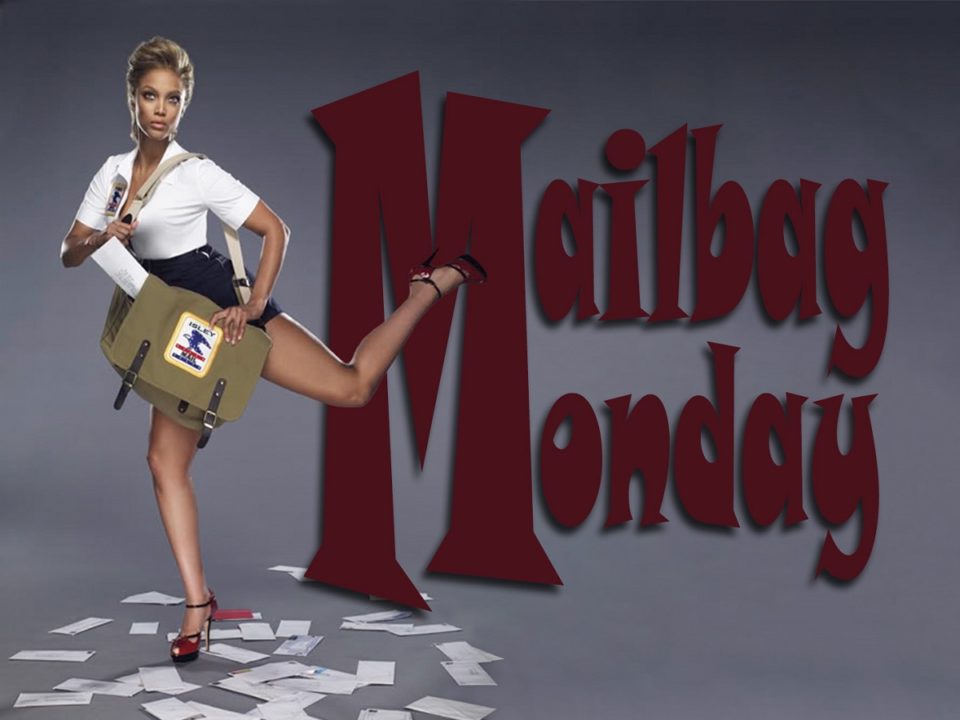 Hello dear readers, it's MAILBAG MONDAY again!  On this special day I will search through my mountain of reader mail and answer the five most pressing questions!
What's that you say?  Do I really get that much mail?  Well, I'll admit…the contact section of this website doesn't get used that often, but, one of the perks of wordpress stats is that I can see the google search terms that people use to find my site.  And I'm going to go ahead and pretend that these search terms will count as reader mail, since they are often entered in the form of a question.  So as you read these, remember that each "question" was something that someone actually typed into google that brought up my site as a hit which they then clicked on thus letting wordpress stats report to me the search they used to find my site.  I could make up the questions myself, but it turns out the actual google searches are far better than anything I could come up with!
This month I answer the following questions:
Isley unruh hobbit review?
Weightlifter rips his ass?
Satanic corporate logo?
Wargame that is better than ASL?
Lord of the rings origami?
So, without further ado, it is time to dig into the old Mailbag to see what kind of things have been on my readers' minds in the last month!
Isley unruh hobbit review?
Considering all the fanfare with which the internet greeted my much anticipated lukewarm Hobbit movie review last month, I"ll assume that you are asking about my still silent opinion on the book version of The Hobbit. I thought I'd let 11 year old Isley give you his opinion on the novel, because, I'll be honest, he really isn't much different than 32 year old Isley:
Also,after 21 years, I'm happy to report that my spelling has marginally improved!
Weightlifter rips his ass?
Oh god, I know exactly which video you are talking about.  I really can't bear to bring myself to watch it again, but since you asked, I'll go ahead and post it here.  But fair warning, this is INCREDIBLY GRAPHIC–those with weak stomachs or hearts should probably avoid it at all costs.
The internet can be a bad place sometimes.  Actually, a lot of the time.
Satanic corporate logo
I went through tons of corporate logos to try to find the most Satanic one.  And, after much searching, I've decided that the Toyota logo is by far the most evil. Yes, there are, of course, the obvious devil horns (mouse-over to see):


But I'm always shocked no one ever points out the even more obvious Satanic imagery (mouse-over to see):

I'd like to shake the hand of the graphic designer that snuck that one through!
Wargame that is better than asl?
Is there a wargame better than Advanced Squad Leader, the premier WW2 tactical hex and counter combat simulation?  The so called "game to end all games"?  Of course not, that's like asking if there is a world cuisine better than Thai food,  if there is a scotch whisky producing region better than Islay, or if there is a movie better than Dazed and Confused.  So such thing for any of those examples!
On the other hand, if you were wanting to know if there is a wargame better than attempting initiate cybersex by asking for someones age/sex/location, well, in that case opinions differ.
Lord of the rings origami?
Just like with The Lord of the Rings, the release of The Hobbit has been followed by a landslide of toy and game tie-ins.  Well, the super-complex origami world is no different, and there have been a number of Hobbit movie tie-in diagrams released in the last month.  I've collected a few for you here today.
First, we have an origami Gandalf:
And here is an origami Smaug:
Here is an origami version of King Thranduil's totally bitchin' moose-mount:
And finally, in the lower left hand corner, you can see an origami version of one of Radagast the Brown's famous "Rhosgobel Rabbits" (of course, in order to pull a land sled through a forest, the rabbit would have to be at least 3 times as big as the one pictured here: