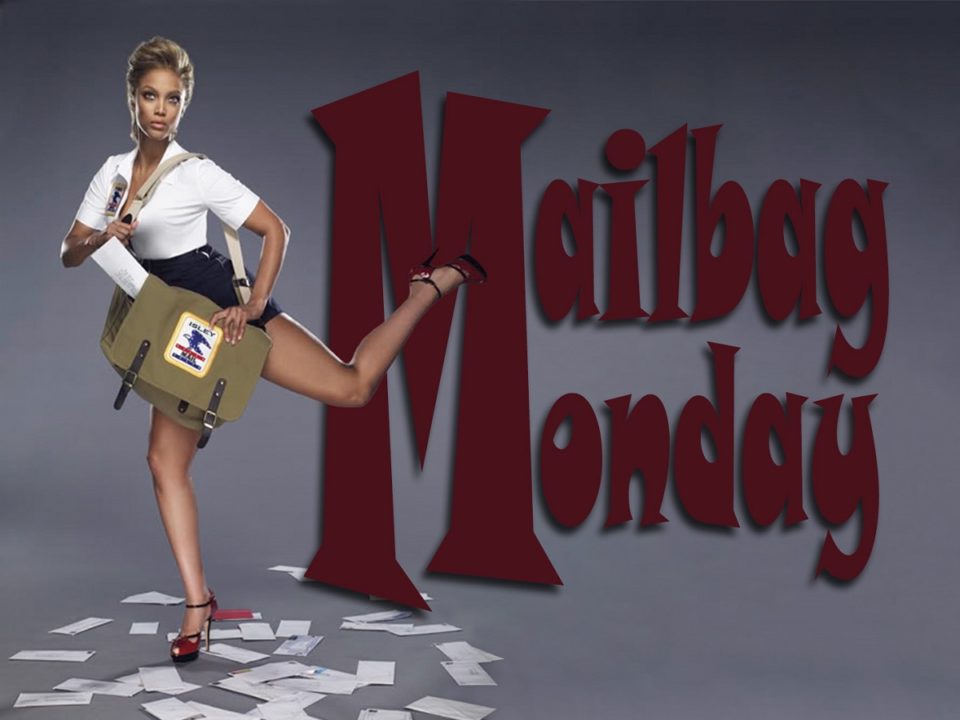 Hello dear readers, it's MAILBAG MONDAY again!  On this special day I will search through my mountain of reader mail and answer the five most pressing questions!
What's that you say?  Do I really get that much mail?  Well, I'll admit…the contact sectionof this website doesn't get used that often, but, one of the perks of wordpress stats is that I can see the google search terms that people use to find my site.  And I'm going to go ahead and pretend that these search terms will count as reader mail, since they are often entered in the form of a question.  So as you read these, remember that each "question" was something that someone actually typed into google that brought up my site as a hit which they then clicked on thus letting wordpress stats report to me the search they used to find my site.  I could make up the questions myself, but it turns out the actual google searches are far better than anything I could come up with!
This month I answer the following questions:
Toyota logo spells toyota?
10. lord of the rings?
Udder man?
Mercyful fate don't break the nath?
Christian patches for patch jackets?
So, without further ado, it is time to dig into the old Mailbag to see what kind of things have been on my readers' minds in the last month!
Toyota logo spells toyota?
I'd never heard this one before, but it seemed plausible.  After turning letter detection skills (finely honed after years of deciphering metal logos) on the toyota logo it looks like, yes, it does indeed spell Toyota:
At least it seems to.  On the other hand, that's just a bunch of circles and crossed lines…I could probably make it spell about anything I wanted. Hell, I even made it spell 666 a while ago, so really I think all this proves is that making a metal band logo is actually super easy.
10. lord of the rings?
All I have to say to this is that "lord of the rings" isn't 10 on any list unless it is a list of The top 10 best ways to properly capitalize "The Lord of the Rings."  But even on that list "lord of the rings" in all lower case would fare better than "TeH LoRd Of TeH RiNgZ."
Udder man?
I don't know that I really self-identify as an udder man, but if you are looking for some hot udder shots, I think I've got you covered.  Here are a few choice shots from my own personal collection of bovine porn.  I've got a little something for ever taste, whether you are into implants:
Or you prefer an unshaven look:
Or maybe groups are what really float your boat:
Or perhaps you would rather see some fetish action:
Or, finally, if hentai is more your style:
Actually, I think we've all seen enough cow hentai to know where this is going if I post any more pictures.
Mercyful fate dont break the nath?
It is a little known fact that King Diamond, frontman for the brilliant metal band Mercyful Fate, in addition to having the voice of a shrill angel, is also an accomplished yogi and devout Hindu.  His devotion to the Nath heterodox siddha tradition can be seen through his original title of "Don't Break the Nath" for Mercyful Fate's classic album "Don't Break the Oath."
However, he ended up switching to usual devil horns and anti christian themes because, as the record label put it, "that's what the kids are buying these days."
Speaking of christianity and Mercyful Fate…
Christian patches for patch jackets?
If you know anything about me, you'll know that, while I have made a heavy metal patch jacket or two (or five+) in my time, I'll have no truck with any christian themed patches anywhere near my vests thank you very much.  Or at least I would have thought so.  Unfortunately, it appears a christian metal band has managed to sneak past my exhaustive vetting process to make it on to my "Heavy metal from 1980-1985 with a focus on NWOBHM and proto-power metal bands" patch vest.  I'm talking about my custom designed Warlord patch that you can see across the shoulders:
I've always known that Warlord had some problematic lyrical content what with songs like "Deliver us from evil," but most of their songs were just about aliens and being lonely and stuff.  However, with their newest album, The Holy Empire (out this year), I'm afraid I can't overlook lyrics like this any longer:
Father, if all I can be is a man
And all I can ask of you Father, my Father
How can I be of your plan?
That's right, I guess I listen to christian metal now.  Actually, not just christian metal, right-wing warmongering christian metal at that:
The final assault on Fallujah
A mission to search and destroy
The foreign jihad has come here to fight
For Allah and Prophet they'll die
For Allah and Prophet they'll die
Oh well…I'm always going on and on about how the ideology of an artist should have no effect on one's appreciation of their output, so I guess it's time to put up or shut up.  And, to be fair, that new Warlord album?  It's pretty great!