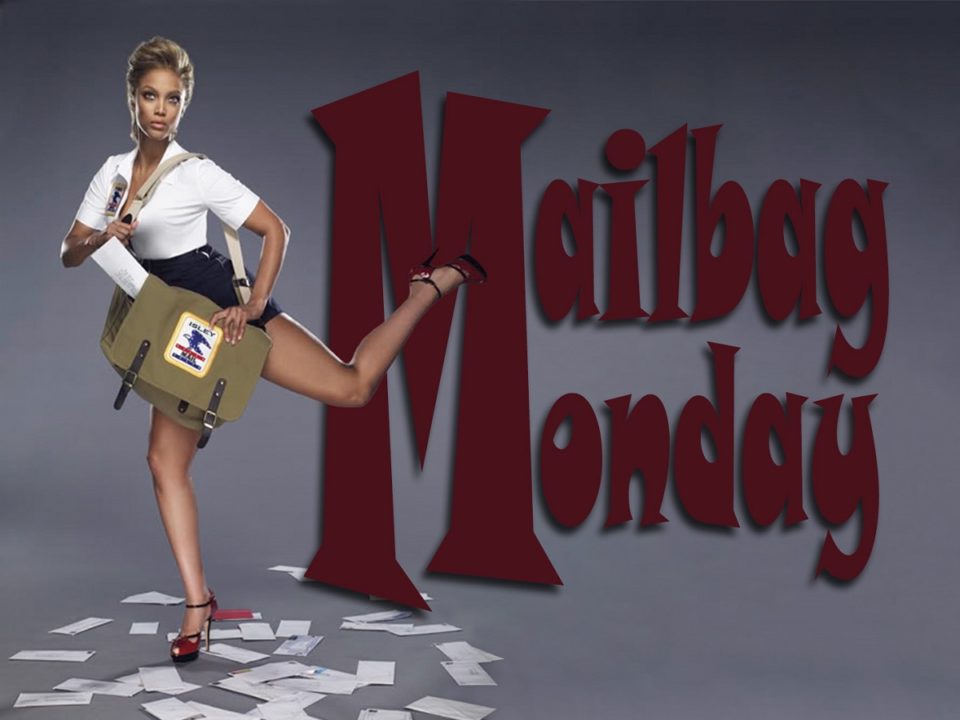 Hello dear readers, it's MAILBAG MONDAY again!  On this special day I will search through my mountain of reader mail and answer the five most pressing questions! What's that you say?  Do I really get that much mail?  Well, I'll admit…the contact sectionof this website doesn't get used that often, but, one of the perks of wordpress stats is that I can see the google search terms that people use to find my site.  And I'm going to go ahead and pretend that these search terms will count as reader mail, since they are often entered in the form of a question.  So as you read these, remember that each "question" was something that someone actually typed into google that brought up my site as a hit which they then clicked on thus letting wordpress stats report to me the search they used to find my site.  I could make up the questions myself, but it turns out the actual google searches are far better than anything I could come up with! This month I answer the following questions:
Making black metal pentagram?
Nahverteidigungswaffe asl?
Harold and kumar go to white castle is my favorite movie?
Keep thor in thursday bumper sticker?
Wooderson im here jpeg?
So, without further ado, it is time to dig into the old Mailbag to see what kind of things have been on my readers' minds in the last month!
Making black metal pentagram?
I'll be honest, drawing a black metal pentagram isn't easy.  The online webcomic xkcd illustrated the pitfalls of drawing a black metal pentagram very nicely here:
Sure, sure, you laugh now, but it's not easy! We've all been drawing stars "point up" for years.  To suddenly switch that shit upside down can really fry your brain without putting in the practice beforehand!  So, if I were you, I'd spend some time drawing black metal pentagrams everywhere you can think of until you perfect the art.  School desks, bathroom walls, hotel bibles, you get the idea.  Don't let this be you:
"Satan Natan's" friends are still laughing at him for that one.
Nahverteidigungswaffe asl?
Ah, the Nahverteidigungswaffe, or, the "German close defense anti-personnel projector" as you may know it.  Starting in July, 1944, certain German AFVs were equipped with Nahverteidigungswaffe in their turret roof.  Basically, if the tank was attacked in Close Combat, the Nahverteidigungswaffe would spray out grenades all around the tank, blowing the shit out of any infantry in the area.
Anyway enough of me telling you stuff you already know, yes,  the Nahverteidigungswaffe is modeled in the premiere game of tactical WWII hex and counter combat, Advanced Squad Leader.
Any AFV counter that has an sN on the back of it will have a Nahverteidigungswaffe for you to use.  Here's an example from the (relatively) uncluttered back of a Panzer VIE (L) Tiger I tank counter:
I won't go into the very detailed rules of usage, that's a joke I've probably mined enough, but short answer is, yes, of course ASL has Nahverteidigungswaffes.
Unless you wanted to know how to say Nahverteidigungswaffe in American Sign Language.  As for that, I don't know that there's an actual hand symbol for something that sprays out grenades from the top of a tank, so you'll probably just need to spell it out.  This chart will help:
Harold and kumar go to white castle is my favorite movie?
There was a time where I would have mocked, scorned and felt sorry for someone who would make a claim like this about that movie.  But, apparently that time was before I wrote a post about it with "my favorite movies" in the title.  Still, I've got no regrets:
Keep thor in thursday bumper sticker?
Man, I'm sorry, but I looked all over that word, and I don't see a "thor" anywhere, so your bumper sticker idea might not work.  I do see an "ashy turd," but that really doesn't have the same ring to it does it?
Wooderson im here jpeg?
Mathew Mcconaughey's character Wooderson from Dazed and Confused gets a lot of attention for his big "I get older, they stay the same age" speech about high school girls, but I think my actual favorite line from him in that movie is when, in response to being asked if he wants to go drive around and smoke some pot with the guys, he casually (yet imperiously) raises his hand and simply says "I'm here."
It's about the coolest thing I've ever seen anyone do, so, while I'm not sure what you will do with this picture, I'm sure you can find some use for it: