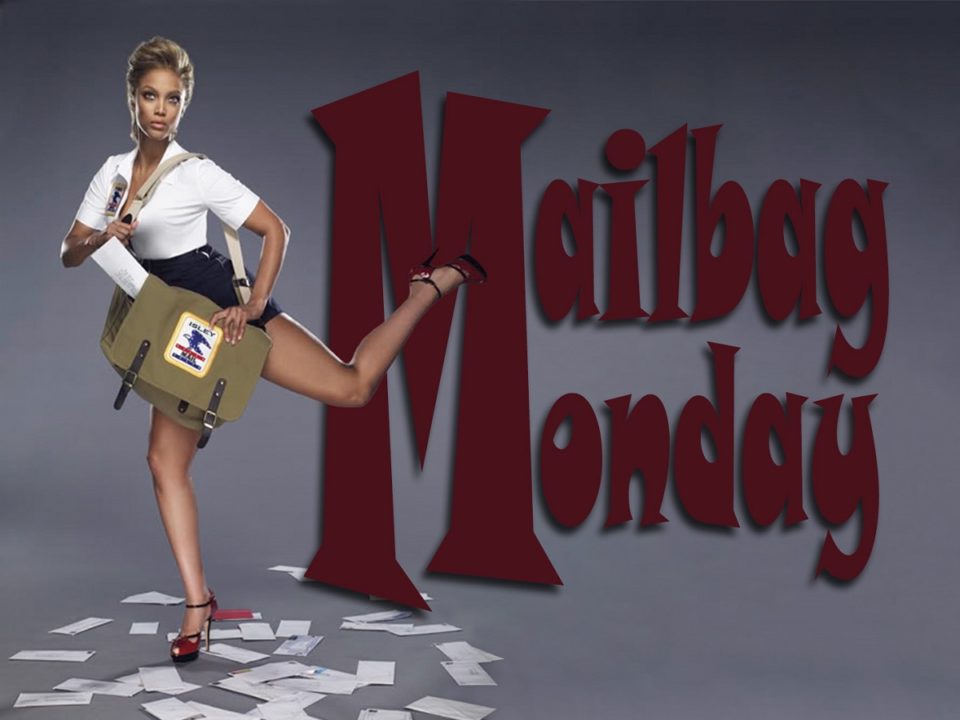 Hello dear readers, it's MAILBAG MONDAY again!  On this special day I will search through my mountain of reader mail and answer the five most pressing questions! What's that you say?  Do I really get that much mail?  Well, I'll admit…the contact sectionof this website doesn't get used that often, but, one of the perks of wordpress stats is that I can see the google search terms that people use to find my site.  And I'm going to go ahead and pretend that these search terms will count as reader mail, since they are often entered in the form of a question.  So as you read these, remember that each "question" was something that someone actually typed into google that brought up my site as a hit which they then clicked on thus letting wordpress stats report to me the search they used to find my site.  I could make up the questions myself, but it turns out the actual google searches are far better than anything I could come up with! This month I answer the following questions:
D&D meme?
Ridiculous black metal cover?
Death in june rainbow skull?
Gay pride patch?
Gayshitonmycock?
So, without further ado, it is time to dig into the old Mailbag to see what kind of things have been on my readers' minds in the last month!
D&D meme?
Maybe the "hey, this has tentacles, I'll do 'I've seen enough hentai' for this meme" is a cop out, but here you go anyway:
Besides, considering your typical D&D nerd and considering the typical amount of hentai they have seen, I'd wager at least 50% of all castings of Evard's Black Tentacles end up going to a pretty dark place.
Ridiculous black metal cover?
I'm going to assume you mean a "ridiculous cover song," not a ridiculous cover like this:
Anyway, as for cover songs, the most ridiculous thing I've heard in recent memory is the cover of racist band Temnozer's "Werewolf" by racist EDM black metal band (yes, that is apparently a thing) Vapor Heimis.  In fact, it was so ridiculous, I was inspired to troll both bands by making a music video for their song that was cut to the giant mixed race dance party from the third Matrix film:
I would imagine no one in either Vapor Heimis or Temnozor would be much of a fan of that video.
Speaking of fascists….
Death in june rainbow skull?
I'm afraid that skull that foundational neofolk band Death in June uses on all their stuff isn't just a skull, it's actually a "death's head," the symbol most commonly associated with the Nazi SS troops:
Of course, Douglas P. is an out of the closet gay man, and considering what the Nazis thought of gays, his choice to put out a patch with a rainbow colored SS Totenkopf was, if nothing else, delightfully confusing:
Speaking of patches…
Gay pride patch?
You might want to read the previous question before you make a decision as to whether or not you really want to consider that Death in June patch a gay pride patch, or, even if you do, you might at least want to ask yourself if that's really something you want to wear out in public.
Instead, as far as sweet gay pride patches go, I'd recommend this one:
Speaking of gay stuff…
Gayshitonmycock?
Boy, the searches that lead to this blog.  Still, never let it be said that I shied away from a challenging MBM question.  So, as requested, here is a bunch of gay shit on my cock:
On top that's one of the elf counters from the board game Small World.  While some claim boardgames are gay in the pejorative sense, the elves in Small World appear to be gay in the stereotypical sense:
Under that is a copy of Fassbinder's Fox and His Friends on DVD.  It's not quite Fassbinder's gayest movie, but I don't own a copy of Querelle, so I had to substitute Fox and His Friends.  And it's definitely full of gay dongs at least.
Next we've got a lovely piece of Manowar lyrics cross-stitch made by ABiaT's own Jessica.  Manowar, some claim, are gay in both the pejorative sense and the gay sense.  I'm here to say Manowar rules, but they are still pretty gay in the gay sense:
Finally, on the very bottom, nestled right on top of the old fruit basket itself, is the gayest thing I own.  The thing that even made my 8th grade self stop reading and say "um, wow, that was pretty gay."  I'm speaking, of course, of my copy of Moby Dick, opened up to Chapter 94: A Squeeze of the Hand.  But don't take my word for it:
Squeeze! squeeze! squeeze! all the morning long; I squeezed that sperm till I myself almost melted into it; I squeezed that sperm till a strange sort of insanity came over me; and I found myself unwittingly squeezing my co-laborer's hands in it, mistaking their hands for the gentle globules. Such an abounding, affectionate, friendly, loving feeling did this avocation beget; that at last I was continually squeezing their hands, and looking up into their eyes sentimentally; as much as to say, –Oh! my dear fellow beings, why should we longer cherish any social acerbities, or know the slightest ill-humor or envy! Come; let us squeeze hands all round; nay, let us all squeeze ourselves into each other; let us squeeze ourselves universally into the very milk and sperm of kindness.
That passage might actually be the gayest thing printed on this site since that nerd open letter from April.