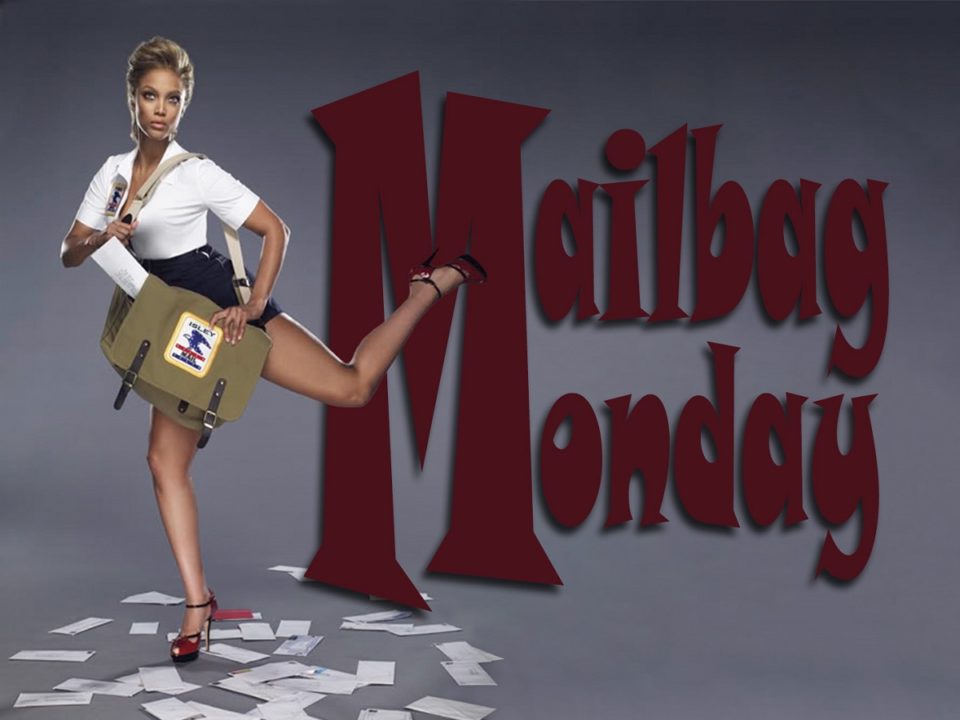 Want to have your pressing questions answered by Isley Unruh himself? Send all queries HERE, and I will get to them as soon as I can on a future Mailbag Monday!
Welcome back to Mailbag Monday!  On the first Monday of every month, I take the time from my busy blogging schedule to answer all of my reader's most pressing questions! Sure, I might have begged, bribed and cajoled my readers into sending me these questions in the first place, but, that still totally counts as reader mail!
This month I answer the following questions:
"How can someone determine if Isley has had too much to drink?"
-Rebecca
"How's your game life going?"
-Pandora
So, without further ado, it is time to dig into the old Mailbag to see what kind of things have been on my readers' minds in the last month!
"How can someone determine if Isley has had too much to drink?"
-Rebecca
I know it's hard to imagine someone with my tolerance "overdoing it" with the drinking, but, I'm sad to admit…I have, on occasion, overindulged. The signs don't always have to be as obvious as "he has thrown up on both sides of a mattress," or "he has used his urethra for launching explosives."  Sometimes the signs are a lot more subtle and can include the following:
Accidentally spelling "drunk" as "drumek" in texts/emails.
Shenanigans.
He doesn't insist on drinking out of a glass and starts drinking his beer straight from the bottle like a barbarian.
And, most importantly, he completely forgets how to spell "eleven."  Also, "Shuttle."
At least I nailed the "memo" section.
"How's your game life going?"
-Pandora
My game life continues to be going really well.  I don't need to remind you how much fun we had playing The Adventurers, or screaming our way through a few games of One Night Werewolf last weekend.  Still, since you asked, here's a  quick reckoning of my game life for the last week since I returned to Lawrence.
On Wednesday, I played with my usual weekly game group.  Five of us played that classic game Puerto Rico.  It held up pretty well even though it was the first game I bought back when I first started gaming!  It's a little problematic though in one aspect:
See, Puerto Rico is a game about people growing sugar and tobacco and stuff on plantations.  And way back in the day, the rich people that owned the plantations forced slaves to work in the fields for no pay and under horrible conditions.  Puerto Rico pretends they are "colonists" and even renames the slave ships that they used to arrive in "colonist ships."  I don't know, I guess no one wants to play a game where you buy people from a slave ship, but it still seems kind of wrong to pretend that the slaves weren't really slaves too don't you think?
Anyway, I know that's heavy stuff for a seven year old, but you're never too young to try to really think hard about the stuff you are into (I know some people could claim that even Uncle Isley could maybe benefit from thinking a little harder about some of the music to which he listens).
Back to my game life.  On Thursday, I played in my weekly D&D group.  We had 8 people over…I even had to get out the extra folding chair to fit everyone around the table!  I decided a while ago I don't like D&D anymore, but I guess the new edition is alright. I mean, it even brought back my favorite spell, Grease!
Grease basically does what that picture I found online shows…it covers everything in super slippery grease.  You can do lots of fun stuff with that spell.  Though, usually I just use it to make bad guys fall down before I set them on fire.  That's what I did on Thursday when we got in a fight with some local ruffians.  Unfortunately, since it was D&D with 8 people…that fight was ALL we got done on Thursday.  Fortunately, the 8 people were cool, so we had a good time quoting our favorite movies and telling non game related stories anyway.
Up next, I played a game of ASL with a friend from the weight room.  ASL (Advanced Squad Leader) is pretty much the most complicated game ever made.  It's so complicated, half the time when I play it I get the distinct feeling that I've wasted a good part of my life while reading the rules.  The other half of the time, I realize it is the BEST GAME EVER.  I'll teach you how to play someday, maybe you'll like it!
Our game was pretty fun…we played with the biggest gun ever in ASL, the ridiculous Sturmtiger…just look at how big that 15 inch gun is…the shells alone weighed almost 800 pounds:
Anyway, those Sturmtigers were really putting a beating on my Canadian troops…it was really hard for them to hit me, but when they did, they pretty much blew everything up!  We played for 3 hours and got through 4 turns, so really the game was moving pretty fast!
Finally, I ended this week in my gaming life by playing a few games of Aquanemo with my girlfriend and her son:
It was a pretty good game, even if the rules did not adequately address what happens when your magnetic fishing lures get stuck onto another player's.
And, I guess, speaking of that Aquanemo game, I might as well just go ahead and answer your original question–which I was initially too shy to answer:
"How is your relationship with your new girlfriend going?"
…it is going absolutely great!
And I don't imagine that changing any time in the foreseeable future…or, at least not until I talk her into giving ASL a try…
Finally, because I still have hundreds of old saved search terms to wade through, the rest of this space is devoted to quick replies to the more ridiculous web searches that lead people to this website:
Snappy Solutions to Silly Searches
Леголас ХХХ?
After looking this up, and finding out that Леголас is apparently Russian for "Legolas," I realized that, not even in Russia can I escape requests for porny LotR fanfiction.  And my answer is still no.  Or, for serious requests only, I guess you can email the above link, and I'll hook you up with the good stuff.
Eric rohmer film with most nudity?
A Winter's Tale.  I mean, Rohmer was no stranger to a bit of nudity due to his free thinking French ways, but, yeah, that opening sequence of A Winter's Tale is probably what you want…if I remember correctly, I think you even see some bush.
Why germany gets bad rap for ww2?
Because they fucking started it. Also, the Holocaust.