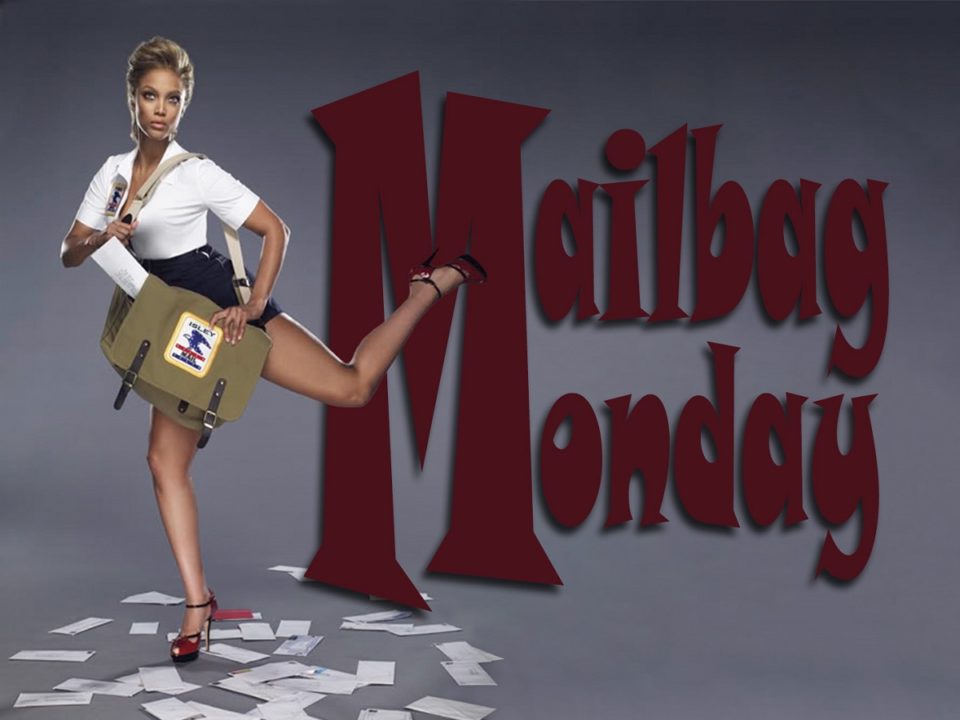 Want to have your pressing questions answered by Isley Unruh himself? Send all queries HERE, and I will get to them as soon as I can on a future Mailbag Monday!
Welcome back to Mailbag Monday!  On the first Monday of every month, I take the time from my busy blogging schedule to answer all of my reader's most pressing questions! Sure, I might have begged, bribed and cajoled my readers into sending me these questions in the first place, but, that still totally counts as reader mail!
This month I answer the following questions:
So, without further ado, it is time to dig into the old Mailbag to see what kind of things have been on my readers' minds in the last month!
-Zachary
I have in fact seen those shirts Zach!  Basically, if it is something remotely metal related on the internet, it has probably been posted on my Facebook wall at some point.  And, while you would think that these shirts would be right down my alley, I've actually been pretty disappointed with their selection.  See, I only appreciate KVLT metal (if you are unsure what KVLT means, it is just a way of saying I treat my metal the way hipsters treat everything), and KVLT filmmakers.  And, while the cinemetal has both, they seem to rarely appear on the same shirt.  They will either have something like this:
Which is a shirt with the greatest director of all time written as the logo of a totally non-KVLT band (see, when you are as KVLT as me, you can no longer appreciate good bands like Metallica).
Or, they will have something like this:
Which is a shirt with a no-talent ass-clown of a director written as the logo of the [second?] greatest metal band of all time (see, when you are as KVLT as me, you can call directors like Jodorowsky no-talent ass-clowns).
Honestly, cinemetal's Iron Maiden/Ingmar Bergman mash-up is the only shirt that much appeals to me from that site.
However, you got me thinking about what it might be like if cinemetal actually made shirts that mashed up equally KVLT directors and bands.  So, I took the logo of the greatest band of all time (better go ahead and knock Judas Priest down to #3):
And mashed it up with the name of the greatest (or, at the very least, second greatest) director to use a "Von" in his name:
Now THAT is a shirt I would wear!
***EDIT***  So, I can't believe I did it, but I missed a totally obvious VON joke.  Better late than never!
Ok, moving on!
"What would Sauron's choice of a smart phone be, and why is it an iPhone?"
-Duncan
You didn't leave me much wiggle room on this one Duncan.  For future reference, *I'll* make the jokes around here, ok?   Still, I'll give this a shot.
This really all comes down to a size issue.  Sauron was one big mother fucker, as Tolkien said, "of more than human stature, but not gigantic."  Of course, Elendil himself was almost 8 feet tall, and many Númenóreans before him may have even been taller, so a height of almost 10 feet would not be out of the question for Sauron's incarnate form.  And, a 10 foot height would put the 5.5″ screen of the new iPhone 6s at about the same proportional size as all the old iPhone 4 and earlier models would have been to a normal human.  Thus, Sauron would use the iPhone 6s, due to its not quite gigantic size.
Why an iPhone? Just look at the One Ring.  Like the Beatles' White Album, there was nothing on that goddamn ring.  Sauron, unlike Celebrimbor, was a sucker for clean design.
Finally, because I still have hundreds of old saved search terms to wade through, the rest of this space is devoted to quick replies to the more ridiculous web searches that lead people to this website:
Snappy Solutions to Silly Searches
Today i will listen to some?
Ok, sure, I like this meme well enough.  Let me tell you a true story that happened to me after I found a Raven LP I'd never heard at the local used record store:


It's amazing, with a cover like that, who could have guessed that the album would have sucked so hard?
Fart poop?
The word you are looking for here is "shart." And, once again, I'm so proud that merely googling "fart poop" is enough to bring one to my little corner of the internet!
Best fun death metal bands?
Death metal isn't really known for being all that fun usually, but there are a few scattered "fun" bands.  I figured I'd just focus on one recent discovery today, a band called Smash Potater.  To be fair, they are technically just thrash, but they are undeniably "fun." Some dude handed me his demo at this show a while back.  I took a look at the cover and the song titles, rolled my eyes, and tossed it into my back seat and forgot about it.  Until recently when I finally decided to listen to it–imagine my surprise to find out it was some pretty goddamn good brutal thrash!  Though it made the cd a hard sell for me initially, the whole "food metal" thing really is kind of fun: