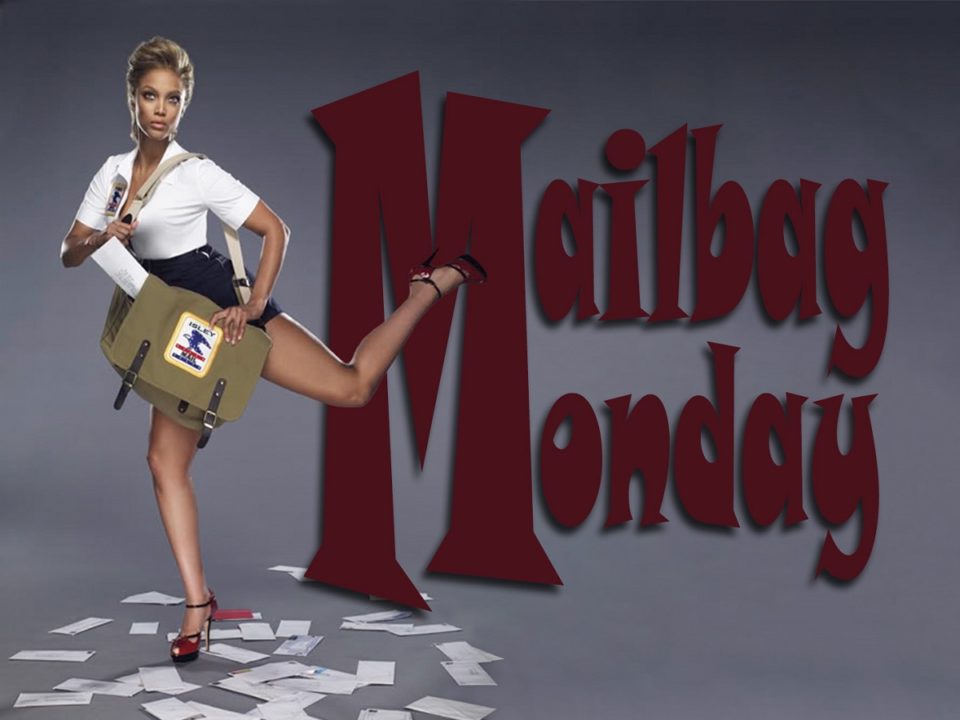 Want to have your pressing questions answered by Isley Unruh himself? Send all queries HERE, and I will get to them as soon as I can on a future Mailbag Monday!
Welcome back to Mailbag Monday!  On the first Monday of every month, I take the time from my busy blogging schedule to answer all of my reader's most pressing questions! Sure, I might have begged, bribed and cajoled my readers into sending me these questions in the first place, but, that still totally counts as reader mail!
This month I answer the following questions:
"So what's this new job you have? I want to know more!"
-Carol
"So what was the deal with that Easter Egg you made? Was that some kind of Satan thing?"
-Jenny
So, without further ado, it is time to dig into the old Mailbag to see what kind of things have been on my readers' minds in the last month!

"So what's this new job you have? I want to know more!"
-Carol
Thanks for asking Carol!  For those who haven't heard, I've ended my ten years at the library and moved on to different pastures.  Specifically, I've moved on to work at a prison! Well, not exactly a regular prison, a prison for CHILDREN!  That's right, just like my teachers always told me would happen, I finally ended up at Juvie.
And, you know what? It's actually pretty sweet.   I don't actually work in the jail part much, I'm in the front offices, basically a secretary.  The work stays pretty interesting as I handle the ever changing "permanent records" of the kids on "double secret probation" (seriously, we have a thing called "Intensive Supervised Probation", which I'm going to pretend is basically the same thing).  More importantly, unlike the library, the people I work with are pretty cool!
I learned pretty early on that libraries are staffed almost entirely of societal outcasts whose sole purpose in life is to make any workplace interaction about as fucking awkward as possible.  I tried one lunch with my coworkers ten years ago in the public lunch room and quickly told myself "never again!"  This new place, on the other hand, every day at noon the rest of the ladies and I turn off the phones, lock the doors and spend the next hour watching Days of Our Lives and playing board games.  And, though the board games were my end of that equation, I can't say I'm not enjoying Days as well.
Actually, board games might be going a little too well, as my office mate has been routinely kicking my ass in that Lord of the Rings trivia game I featured a while back.  I'd say she's just getting easier questions, but we're now three games in and I have yet to see the glimmer of a chance to steal a win from her.
All in all, things are going great, awesome insurance, cool coworkers, and, best of all, I'm the guy that gets to take the boxes full of pee to the mail to send off to the lab for testing…how sweet is that!?
I think I could have posted just that picture and it would have answered your question.
"So what was the deal with that Easter Egg you made? Was that some kind of Satan thing?"
-Jenny
Well, I guess it just wouldn't be a proper Mailbag Monday without someone calling me a Satanist.  And no, despite what my browser history might have revealed on my April Fool's post, I am not a Satanist, and this egg was tooootally not Satanic:
That is not the seal of Satan, but rather the secret occult seal of a specific lesser fallen angel.  You see, as an advanced student in the college of liberal arts and sciences, I worship, not Lucifer, but rather Samigina, DEMONIC MASTER OF THE LIBERAL SCIENCES!  No, really, this isn't a joke, as quoted in the 17th century grimoire Clavicula Salomonis Regis (aka, the Lemegeton):
The Fourth Spirit is Samigina, a Great Marquis. He appeareth in the form of a little Horse or Ass, and then into Human shape doth he change himself at the request of the Master. He speaketh with a hoarse voice. He ruleth over 30 Legions of Inferiors. He teaches all Liberal Sciences.
Not exactly the most fearsome of demons for me to choose, eh? A tiny horse that is fond of puns and also teaches economics on the side.  I think the ancient texts upon which the Lemegeton was based were reaching a bit when they were coming up with cool demon powers and abilities.
Still though, I have to admit that perhaps this was really not the best egg to make for an EASTER celebration.  Because, Samigina has one other power: the ability to "giveth account of Dead Souls that died in sin."
And, if I remember my bible history, Jesus did not exactly die "in" sin, and by Easter he wasn't even dead any more.  So, yes, Jenny, next year I'll have to pick a more appropriate subject for an Easter Egg!
Finally, because I still have hundreds of old saved search terms to wade through, the rest of this space is devoted to quick replies to the more ridiculous web searches that lead people to this website:
Snappy Solutions to Silly Searches
Georgia o'keeffe flowers vagina?
Hmm, let's see:
Boy, I don't know, as Freud said, "sometimes a Georia O'keeffe flower painting is just a flower painting."  Actually, I take it back, no one has ever said that ever, and that's totally a vag.
Dude with two dicks?
Yes, this guy is real, and yes, here is the link to his Reddit "Ask Me Anything":
I am the guy with two penises AMA
Yes, he answers all the questions the internet could think to ask, and yes there are pictures.  You're welcome.
Isley unruh satan more you know?
Dang, good point, go ahead and consider this picture added to the Easter egg post above…I need to remember to make this a recurring feature: