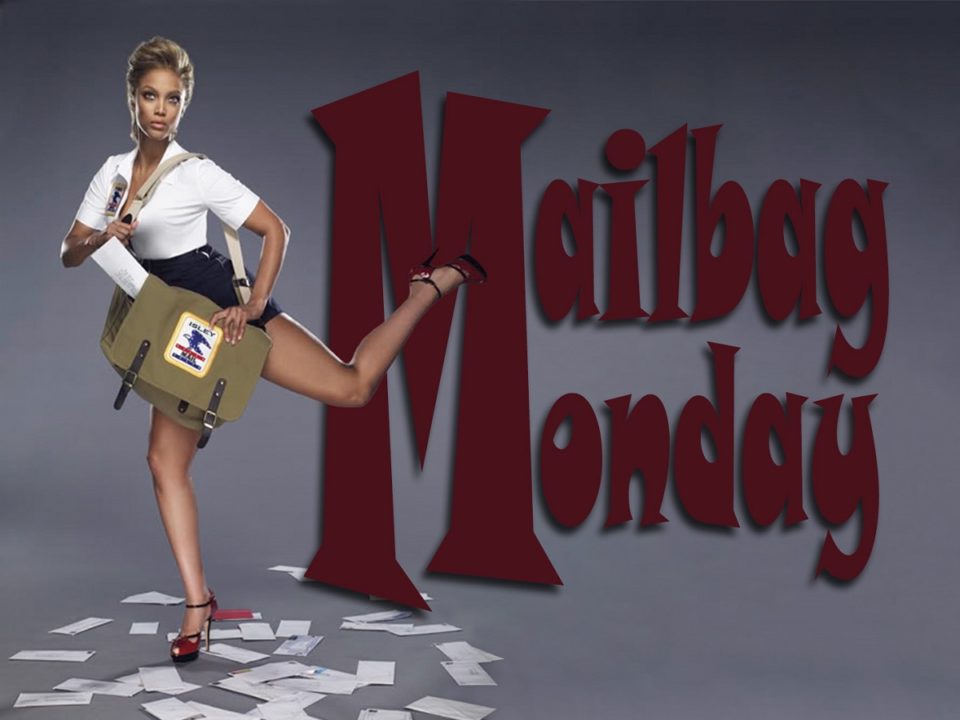 Want to have your pressing questions answered by Isley Unruh himself? Send all queries HERE, and I will get to them as soon as I can on a future Mailbag Monday!
Welcome back to Mailbag Monday!  On the first Monday of every month, I take the time from my busy blogging schedule to answer all of my reader's most pressing questions! Sure, I might have begged, bribed and cajoled my readers into sending me these questions in the first place, but, that still totally counts as reader mail!
This month I answer the following questions:
"So why is there a pic of you on Mass St?"
-Denise
"Jesus man, I had no idea how many records you have.  [pauses for a beat]  Do you have any good ones?"
-Brian
So, without further ado, it is time to dig into the old Mailbag to see what kind of things have been on my readers' minds in the last month!
"So why is there a pic of you on Mass St?"
-Denise
Good question, the giant photograph of my face on the side of the old Round Corner drug store at 8th and Mass has definitely raised a lot of questions.  It's pretty simple really–my friend Rachel has been doing this project where she photographs people from my city and has gotten a grant to get a bunch of her pictures blown up in order to hang around the downtown.  You can check out her website HERE…I hear there is even a book deal!
Unfortunately, some of my more juvenile friends have not shown themselves capable of treating my picture with the respect, dignity, and reverence it deserves.  It hadn't been up for more than a day before I was texted this picture:
Then, after taking to Facebook to politely remind people to please show a little class when they are admiring my picture, I got this picture sent to me:
At this point I'm going to just have to go over there and deface it myself before someone beats me to drawing a cock on my forehead.
"Jesus man, I had no idea how many records you have.  [pauses for a beat]  Do you have any good ones?"
-Brian
HAR HAR.  First, sick ice-burn Brian.  Second, I will have you know, my record collection is ONLY good albums, and consists of a wide variety of LPs from a huge selection of musical genres!  For instance, I have plenty of classic Norwegian second-wave black metal albums like Ildjarn's 70 minute self-titled debut:
Not that I'd ever over-privilege the Norwegian scene.  My collection is full of lost gems like the classic first-wave Peruvian black metal band Hastur's Secta Hereje too:
I mean, sure, I still haven't figured out if that album is supposed to be played on 45 or 33, but, it sounds pretty sweet both ways, so no big deal!
Hell, my collection is so diverse, I've even got a few choice albums from the French Les Legiones Noires Black Metal scene like Vlad Tepes' 14th (and final) album Morte Lune— an album that really shows how far they progressed in their endless quest to achieve the perfect production value:
Do I have any good ones in such a diverse and discriminating collection? I think the answer is pretty clear–so let's try to ease up on the lip shall we?
Oh, and, also, I've got a copy of Simon and Garfunkle's greatest hits.  It's actually pretty ok too I guess.
Finally, because I still have hundreds of old saved search terms to wade through, the rest of this space is devoted to quick replies to the more ridiculous web searches that lead people to this website:
Snappy Solutions to Silly Searches
Mispronouncing biopic?
Ok, fine, I looked it up, apparently it is: "bīō-pik," NOT "bī-äpik."  I guess we can file that one away in the SOLVED file along with Penelope and Mise-en-scene.
Thor metal band?
Jean-Michael Anger Thor is the driving force behind one of the greatest rock bands of all time, Thor.  In addition to being a singer, songwriter, filmmaker, writer, Mr. Canada, and a gentle yet thorough lover, he is also soon to be the star of his very own documentary:
Hopefully this will do what that Anvil documentary did for them and actually bring Thor down to my neck of the woods to sign my vinyl copy of Only the Strong (a very GOOD ALBUM, Brian).
Topsexposition.com?
Ah, yeah, this is one of my favorite writing sites.  It has nothing but the best examples of expository writing on the internet, collected in one convenient place!
Yeah, yeah, that was a shit joke, but, you know, it's late and I'm calling it, this Mailbag Monday is officially done!