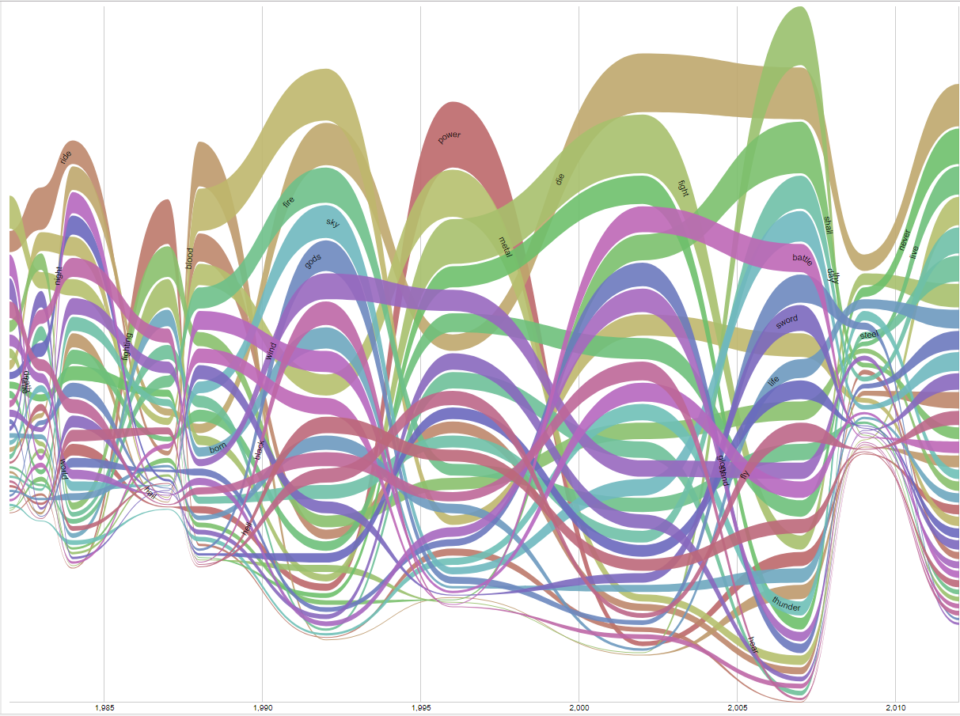 Manowar is like any other metal band…only more so.  From their album covers to the lyrics they sing, Manowar oozes so much metal that SOME have claimed they veer into parodic territory.  Thus, when it comes to lyrics, for those Manowar-curious folk out there thinking of poking their heads into Manowar fandom, you are going to have to have a certain appreciation for a very specific set of vocabulary words.  If stuff like "die for true metal" and "death to false metal" (along with a barbarian host of other assorted low-fantasy references) don't give you half a stock, it's time to "leave the hall" like the "poser" you are.
Over the years I have often wondered just what ARE the most commonly used words in Manowar lyrics?  A few short days of cutting and pasting into a Joey-DeMaio-bass-solo-level-ridiculous excel sheet ended up giving me more information than any semi-sane metalhead ever needed about Manowar's lyrics.  As I worked, I saw all the usual highlights, like:
Their most egregious use of a quadruple negative:
It's my life
I'm living free
Ain't nobody nowhere
Got no chains on me
And their all-time grossest (and metaphorically confusing) lyric:
May your sword stay wet like a young girl in her prime
Also their most Yoda-esque attempt to include all their past album titles in their lyrics:
On hymns of battle we rode to glory
Hail England did we
By the sign of the hammer
We fought the world
Kings of metal to be

Louder than hell
Warriors of the world
Now gods of war
Stand our ground knights immortal
For metal once more
Including the various objects they used for "The power of," their most common 3 word phrase (used 20 times–though over half were from "The Power of Thy Sword" on Triumph of Steel):
my sword
the wheel
thy sword
the man who would be king
the will (the spirit to survive)
the magic
the spell
will (and of fate)
blood
the demon spirits I command
the darkness and light
steel
hell
a thousand men
true metal
But all of this was old hat to any TRUE Manowar fan–we've been grossed out by that "wet young girls" shit for years already, for this project I needed to go DEEPER.
First up, I needed to find out their most commonly used words on my excel sheet.  I started by taking out all but one chorus from each set of lyrics while compiling my word list.  Repeated lines in a chorus were ok, but keeping in repeated choruses while the verses were all different (Manowar rarely repeats verses) would unnecessarily water down my data.  Then, I ran a robust language analysis, filtering out common articles and pronouns to get this for Manowar's top 25 most commonly used words:
Die
Fight
Blood
Metal
Ride
World
Never
Sky
Live
Death
Day
Wind
Fire
Power
Steel
Shall
Battle
Night
Gods
Kill
Hear
Born
Time
Sword
Glory
A few things to note here.  Even though I took out all common words, Manowar's "metal words" beat out a lot of VERY common words:
Manowar use the word "die" more than "by," "be," (the second most commonly used English word of all time after "the"!) "they," "that."
Manowar use the word "fight" more than "are"
Manowar use the words "blood," "metal," and "ride" more than frikkin' "it"!
You can see a few of these concepts illustrated in this Excel graph:
I had to leave off a few outliers like "battle," "sword," "glory," and "gods" which were WAY off the chart.  Even then the vertical slope of our baseline "equally common in Manowar lyrics and English language" line was way too steep.
I took off some more outlier words, but it didn't really help much:
And besides, the outlier words are the most interesting things to look at, if I kept this up I was going to lose ALL of the good "metal" words.  Also, Excel graphs leave a lot to be desired, aesthetically speaking, so I started looking around for other ways to adequately convey the information in a more visually pleasing manner.  My first, "word cloud" idea, however, just didn't seem to fit Manowar:
I needed a more robust graphing program to truly capture the power, majesty and MAGIC of Manowar's lyrics, thus I turned to the great http://app.rawgraphs.io/ site that I used the last time I went down a lyrical rabbit hole to come up with this super cool bump chart showing how the usage of each word in Manowar lyrics has changed over the years:
This had a few problems.  First, there's way too many words here and the whole thing is kind of unreadable.  Second, including Manowar's late period EP Thunder in the Sky produced an unnatural bottleneck on 2009 due to its unusually small total word count.  Thus I created a coefficient based on the ratio of words on an album compared to the average word count of all Manowar albums (1375…of which Warriors of the World comes the closest with an Average Word Coefficient (AWC) of 1.013618), and then applied it to each album to smooth out unnatural bottlenecks.  I also switched to a more readable "Steamgraph" format that worked a bit better for my purposes and still looked really cool:
Flush with 1996-era-Manowar-POWER, I went ahead and made a sunburst weighted-hierarchy graph to show the most common words for each album:
Sure, half the words were unreadable, but at this point, I was riding this crazy torpedo to the end, so I jumped right in and made a Voronoi Tessalation by putting the total number of unique words in the album on the x axis, and the total words in the album on the y axis, and then finding the minimum area around each album's point on the graph:
This one…doesn't actually tell you much ( beyond a basic upper right = lots of words, lots of unique words, lower left = not many words, not many unique words)…but, it sure looks cool, doesn't it!  Either way, I was getting sidetracked, so I didn't bother to even label my axes.
My work was just about done when the following chart came across my feed:
Rappers ranked by unique word count? I was sitting on a treasure trove of data that would tell me EXACTLY where Manowar fit on this chart! I dove right in, only to realize that Manowar, somehow, only had 17,404 words in their oeuvre.  I suspect that the rap chart was not nearly as picky as I was about how they used choruses, but either way, I was determined to at least get an estimate for where Manowar fit on this chart.  I did a quick ratio comparing Manowar's 2111 unique words to their total 17,404 words to see that it would expand out to 4245 words on this chart.  A respectable total, all things being considered.
HOWEVER, I quickly realized that this was NOT an accurate projection for that day when Manowar reaches 35,000 words written.  With each subsequent album, words will get reused more and more, giving rapidly diminishing returns on their total.  Thus, I went full Pepe Sylvia (and returned to Excel) and extrapolated out to 35,000 words for every interval of Manowar's career by applying my initially flawed ratio to every data set I could find over their career and then crunching all the numbers together into a couple of logarithmic graphs, which I then averaged to get a final value:
Long story short, Manowar will pretty reliably have around 2,335 unique words in their oeuvre when then finally hit 35,000 total words.  About half the amount of words LL Cool J has in his oeuvre, and not even on the chart if I tried to add them to that rap chart.  Oh well, nothing to get too upset about, just something to laugh off (or, LIVE off, if Manowar's preference comes into play here):