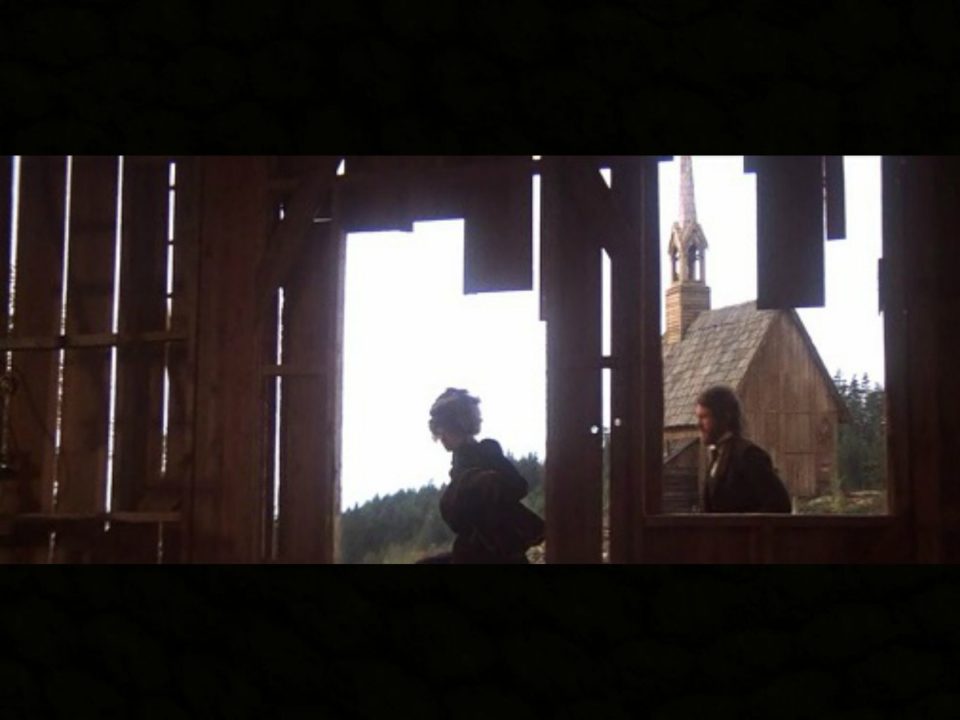 There are few things I think of as fondly as American Westerns, but the movies of Robert Altman sure come close. So when I heard he passed away at the age of 81 on November 20th, I thought it would be a good time to revisit his "Western" McCabe and Mrs. Miller. I use quotes with "Western" because, of course, McCabe and Mrs. Miller is not really a Western in the classic American sense. McCabe is no hero, Mrs. Miller is no lady and no one sits around a cozy fire drinking coffee; it's far too cold wet and dirty for any form of coziness (in fact, sitting in front of a fire in the movie only makes the townsfolk smell a bit more "ripe"). What McCabe and Mrs. Miller is, is quite simply Robert Altman's best movie (though this sentence could just as easily apply to Nashville and The Long Goodbye)
McCabe is a man with plenty of big ideas, but not much to show for them. He drifts from place to place setting up small time card games and impressing the locals with his blustery manner and apparent self confidence. When he finally settles on a startup town and decides to start up his own whorehouse it appears he has finally stumbled onto something good. And when Mrs. Miller crosses his path, things start to look even better. But the film is not interested in the story of a nobody that made good on the American dream. It is instead trying to show a portrait of McCabe, Mrs. Miller, their individual lives and their connection to each other.
The performances are superlative. Warren Beatty and Altman might not have gotten along on set, but his acting is entirely brilliant. McCabe is a real individual with faults, strengths, vices, desires…he stumbles for words just as often as he makes witty remarks…he is completely real. Julie Christy is no less remarkable in her performance as Mrs. Miller, imbuing her character with just as much depth but with half the lines. It is also worth mentioning that the "bad guys" are equally amazing. The "big guy in the fur coat" has to be the best movie bully since Chaplin met Eric Campbell.
Vilmos Zsigmund really earns his reputation with the camerawork as well. Between shots of breathtaking frontier beauty there is an all pervading feeling of cold damp isolation. The colors are a washed out mix of brown and white. When the movie is over you will find yourself subconsciously wanting to turn the heat on and take a shower to wash the winter mud off.
This film was also my first exposure to the music of Leonard Cohen, and though plenty of other films have used his music as well, I can't think of a more perfect fit. The melancholy desolation of the camerawork and performances are perfectly echoed in the soundtrack.
As always with Altman's "ensemble casts" the faces that populate the small town are integral to the movie. Snippets of conversations about how someone should shave his beard or how someone doesn't want to take a bath for the new whorehouse wisp past, lending their voices to the film's reality.
Of course Altman's crisp direction assembles the whole project into living, breathing whole. The pacing does not let up and each scene is necessary without being obvious. When the movie is over you look back on it and think "now that is a movie that did nothing wrong and everything right".
There are, of course, other films full of such extraordinary performances, camerawork, music and direction, why do I label McCabe and Mrs. Miller as Altman's best film and put it in my own top twenty films of all time list?
I have to say it is because of the two central characters. I can think of few characters more tragic in all of film history (and this is not to say that they die or even lose in the end). They do not belong to the world around them, and their ambition is always just out of reach.
At first Mrs. Miller seems to "have it together", but as the film progresses you realize that she is a woman at her limit. She teeters on the edge of giving up, and she has obviously only reached that point after a lifetime of Herculean effort to overcome her obstacles. Her performance is easy to overlook next to Beatty's amazing McCabe, but by the end of the film she is no less of an individual.
This leaves us finally with McCabe himself. A man full of ideas, the charismatic leader of a village of idiots, McCabe for the most part truly believes in himself. But he doesn't know when to push his luck and when to settle for what he has. As the movie progresses you see this more and more until, in what has to be one of the all time great movie monologues, he states it better than I ever could:
"I'll tell ya something, I got poetry in me…I do, I got poetry in me, but…I ain't gonna put it down on paper, I ain't an educated man, I got sense enough not to try it".
We all believe we have poetry in us, and most of us believe we know better than to express it. McCabe's great tragedy is that when he does try to express it, or in the case of the movie, hold out for something more, everything goes wrong. And when he goes back to keeping it in (taking the lawyer's advice) things just get worse. He is the outsider who knows he has what it takes to get to the top, but he can never quite get there. Even the very last scene as he sits outside the building…he is just a few feet from the warmth and companionship of the rest of the town, but still not quite there.
When these two flawed characters meet, the viewer gets a brief glimpse of hope and what could be. But in the end it is more like two ships passing in the night.