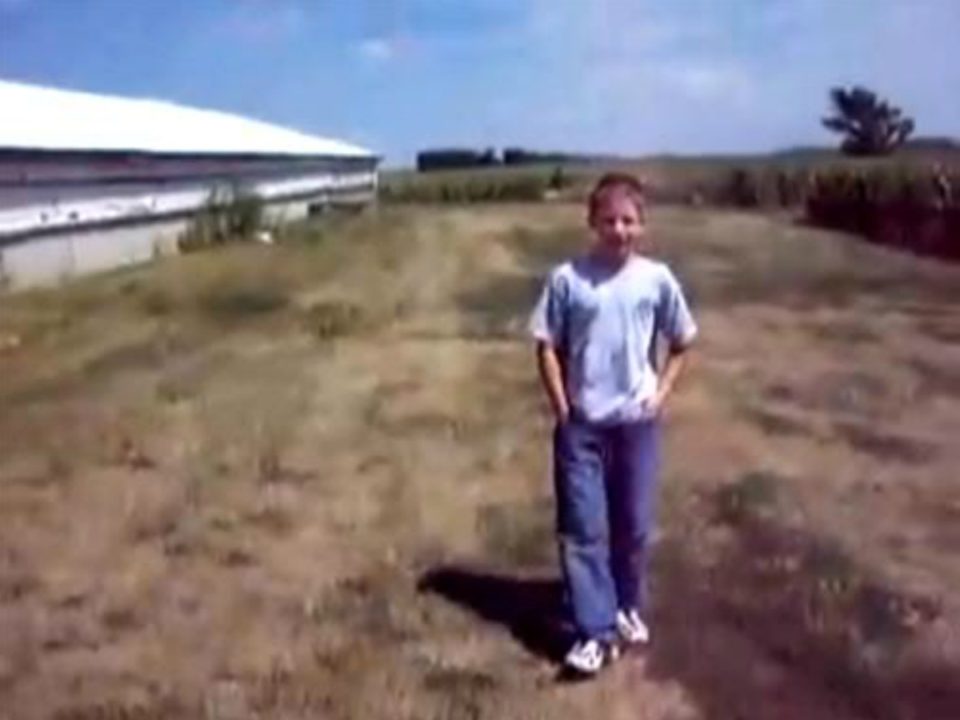 Today I'd like to talk about a certain young film maker who goes by the name of [good ol'] Jack Dickson.  Now, Jack Dickson is largely unknown amongst the elite film circles I run with, so I'd like to go ahead and take credit for discovering this young talent (well, I suppose the internet video guy deserves a bit of credit to as that was where I first discovered Jack's magnum opus that I will be discussing today).
Good ol' Jack Dickson has created a film of shattering honesty infused with a wealth of human insight.  His portrait of rural squalor filtered through the nostalgic lens of childhood innocence has more to say about life, death and what it all means than the complete oeuvre of countless directors many times his age.  But I think this is enough of an introduction, I'll let the video speak for itself.  So, without further ado, I give you the quaintly titled work of brilliant outsider art: "Let's dump water on a dead pig with maggots."
I think I'm going to just start at the beginning and see if I can't try to understand this film's genius a bit better.
From the opening words, "Hi, I'm Jack Dickson and here is my farm…" Jack establishes how integral "his farm" is to his life.  He is proud of it to be sure, and yet he has no choice, the farm is all he knows.  As far as the eye can see in all directions there is only "the farm".  Surrounded by the endless fields, Jack stands upon a swath of dead and dying grass beside a run down chicken coop and affirms the value of his farm .  Jack's world might be a desolate place beneath a punishing sun, but it is his world and he chooses to escape the despair of the void by embracing it anyway.
Jack then moves on to state his purpose as a filmmaker.  Jack merely wants to break the monotony of his existence through an act rooted in absurdity.  While the common man trudges through life following the same path, each day ignoring the rotting pig on the side, Jack chooses to leave that path and "dump a whole bucket of water on maggots…with a pig."
It is here that the grim spectacle of Jack's scientific endeavor is revealed as the camera finally breaks the suspense and pans to show the final destination of his measured yet determined walk.  As Jack tells the simple yet poignant story of the rotten pig carcass we are introduced to the only other sign of life in the film, Jack's dog Leeza who flees from her carrion breakfast at the approach of Jack.  Leeza's disappearance at the arrival of Jack drives home his true isolation in the middle of that blasted landscape. He only has the rotting detritus of the life cycle to keep him company in the end.
And Jack truly is alone, I do not see the eerily silent cameraman as a true companion to Jack, for this is Jack's world and the camera films only with the purpose to show the farm as Jack sees it: full of possibility for all its desolation.  It is as if the camera is an extension of Jack's will rather than its own self-aware entity.  There is no other human within sight or earshot and as the camera zooms in to show the carcass, ruptured in purulence, we see that Jack's real companions for this film are the maggots themselves, a swarming vulgar mass of infected virulency.
Jack does not let such thoughts on the nature of solitude delay him from his goal.  His tools have been set out ahead of time, for Jack has obviously been planning this for a great while.  The bucket of water shimmers under the blistering sun atop a strangely unblemished four wheeler in far better shape than the ancient broken down tractor directly behind it.  There are seemingly no functional farm implements in sight which calls to mind the question of whether Jack's farm is actually functional or is it merely a field-bound prison containing nothing but Jack, Leeza, the merciless sun and the ever present reek of putrefaction.
Ego running wild, Jack declares himself director, actor, filmmaker, and [sic] driver, and stuntman driving home both his isolation by taking on all roles himself, and his grandiose expectations for film.
It is here that the depressing nature of Jack's plan becomes apparent: Jack obviously imagines the results of his experiment will be far more exciting than what will actually happen.  Undoubtedly Jack foresees grand visions of maggots, swollen with water, exploding in rivulets of gore while he roars away from the carnage on his pristine four wheeler.  But as with all the great designs of our youth, the reality will quickly crush even the most indomitable of souls.
Thus the viewer watches with trepidation as Jack, now referring to himself as "Good Ol' Jack Dickson" in a transparent representation of his desire to be thought of as someone special, hoists the bucket of water and upends the entire contents into the excoriating abdominal emanation of the cadaveric incubator of endoparasites.
At this point the viewer's heart begins to sing out to Jack, for indeed, nothing really happens when you dump water on a dead pig with maggots–lending a great deal of irony to the entire premise of Jack's film.  But after getting to know Jack so well we should know better than to think he could be cowed by such a minor setback.  Though we do not know the reason, Jack bursts into some kind of crazed euphoria/dementia as he pours the water into the maggot colony.
"Aw aw aaw aaw aaaw, lookit that, aww aww" he repeats over and over until even the viewer is swept up with him, and any disappointment at the lack of a four wheeler escape is forgotten with Jack's infectious excitement.  No one, including Jack, could tell you exactly what happened, but briefly, the meaninglessness of his existence was surmounted in one glorious moment that can best be summed up in Jack's words of "that, THAT [was] NASTY…holy Jaysus!"
It isn't often a filmmaker can capture the soul of their subject (in Jack's case, himself) in a 90 minute movie, but here Jack does it in 90 seconds.  His intelligence is belied by his thick drawl, but Jack is obviously a capable boy with drive and imagination.  He is able to gaze upon the breadth of his tiny, forlorn domain and give a great life affirming cry of "YES, I will go on".  And for that Jack, wherever you are, I salute you.