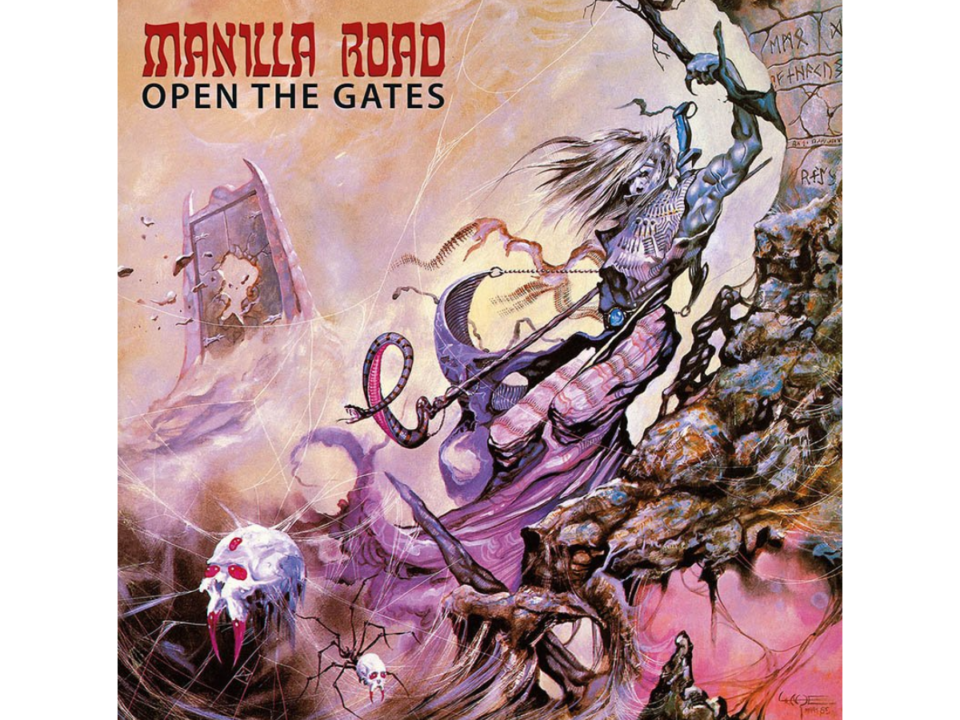 Manilla Road is the single most epic band in all of heavy metal-a quality that earned them an automatic back-patch honor (the greatest of all metal honors) on my classic metal patch vest. Now, I know that "most epic of all" is a bold claim, but it is the truth. Not even Bathory at their most Viking, Manowar at their most oiled-up, and Judas Priest at their most "end of 'The Sentinel'" can touch the pure, unvarnished epicness that has infused every note of Manilla Road's long career. Thus, when Mark "The Shark" Shelton passed away a week ago, he left behind a legacy of unmatched epic music that will carry on all the way to Eschaton. Today, in an attempt to examine just what makes Manilla Road so great, I will take a focused look at my personal favorite album of theirs, Open the Gate.
First off, Manilla Road doesn't have bad albums. Yes, their first two were still struggling to find a sound, and their last couple have been a little uninspired, but their music has remained remarkably strong throughout their career. However, starting with Crystal Logic and carrying on through the end of the 80s, Manilla Road release a string of classic albums rivaled only by Iron Maiden as far as metal winning streaks go.
Open the Gate is Manilla Road's follow-up to their classic breakthrough Crystal Logic, and to my ears it raises the bar even higher with improved songwriting, vocals, and (somehow) an even more epic feel. Additionally, it's heavy as hell–as the opening "Metalstorm" quickly establishes:
"Metalstorm" almost thrashes…except with a melodic backbone to the vocals that give the song a hell of a lot more depth than it would have had if someone like Tom Araya were shouting over it.
Losing no energy, "Metalstorm" is followed by the title track, featuring one of Manilla Road's most chill-inducingly epic verses:
I mean, seriously, if lyrics like:
Before the walls come crumbling
Down around our feet;
Before the empires fall
And Hell enslaves the free;
Before our time runs out
The spells must soon be cast;
We'll raise the banners high
And storm the gates at last.
…don't raise the hairs on the back of your neck, you probably shouldn't be listening to heavy metal.
Up next they slow things down ever so slightly before slamming into some metal of the heavy kind with the classic "Astronomica":
Perhaps Manilla Road's greatest strength is the melodic sensibility with which Mark infuses every riff and vocal line. I really can't think of another metal vocalist whose sung melodies are quite so perfect as the volumes of epic shit that Mark has come up with over the years!
The mid-paced "The Fires of Mars" also showcases this (along with every other song on the album) with Mark's excellently utilized growling vocals that set up yet another fantastic chorus:
Again, technically speaking, Mark has never had the strongest voice. However, his vocal work on Open the Gate, while it stretches his abilities beyond the more comfortable nasally range of Crystal Logic, never takes on more than it can handle and pushes the music to new, ever more epic heights.
Album highlight "The Road of Kings" has one of Manilla Road's all-time great choruses:
What did you see behind the line?
Was it really what you expected to find?
On the road you must learn to take it slow,
A King won't rise before his time.

Conquer for life inside your dreams.
We'll never outlive all the schemes
Of darker spirits in between.
We're on the road, the Road of Kings.
There really is no way to do a Manilla Road post without just quoting every lyric Mark sings, this song being especially poignant after his death.
"The Ninth Wave" is an epic length song built around a truly forlorn guitar line over which Mark sings about shit epic enough to make Manowar run home with their loin cloths between their legs:
Seriously, lyrics like:
Valhallan warriors
Ride by his side
The Dragon mist
Crawls through the night.

Avalon's iron gates
No longer cry
Einherjer
Storm to the fight.

Dragonships
Rise from the sea
Three Queens bring
The new born King
…are so fucking epic I feel like running home to watch Excalibur for the 50th time…but I always keep listening instead to hear more about those Dragonships.
I know there has been a gratuitous overuse of the word epic on this post, but it's hard to state just how in tune Manilla Road is with all the Cirith Ungol album covers that reside in my heart (album covers to which Manilla Road's music is actually capable of doing justice).
I'll stop here and just let the music (continue) to speak for itself with a few more words from "Road of Kings":
Strong we will be
On the Road of Kings
For what glory it brings
I can think of few better glories than to have left behind a legacy as brilliant as Manilla Road, and for that, Mark Shelton can rest easy after having traveled his own long Road of Kings.