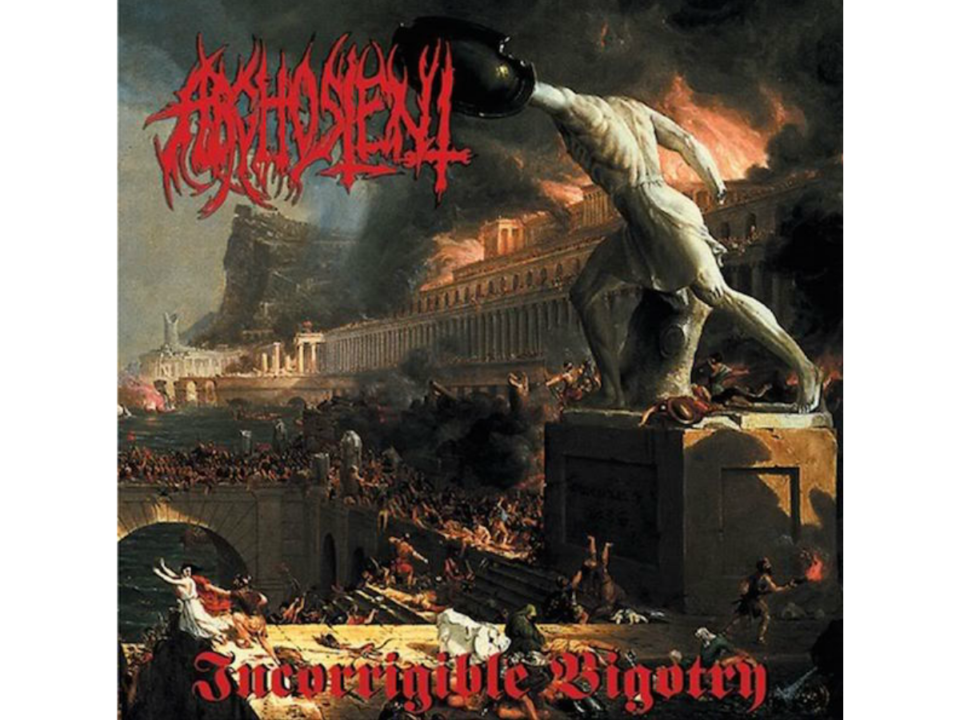 One nice thing about the slowly growing infestation of really racist bands in the extreme music underground is that, by and large, they all pretty much objectively suck.  I mean, even that Peste Noire album I covered last month, when it comes right down to it, really kind of blows.  Thus, Arghoslent is the bane of all metalheads who nobly attempt to only listen to music made by artists with whom they share the same ideological beliefs.  This is because, unfortunately, Arghoslent is kind of really pretty goddamn good–they even know how to play their instruments!
The album opener, "Flogging the Cargo" (I know, I know, I warned you!) sets up what Arghoslent is trying to do on this album very well:
The funny thing is, even though I'm not into melodeath, and really not into tech death, and, hell, I'm not even all that into death metal in the first place, despite all that, I really love Arghoslent's style (of which this album is probably the most focused version).  It's just a nonstop series of really great, and often quite epic riffs.
The style is a mixture of many different elements.  The furious riffing on songs like "Archaic Invincibility" bounces from black metal to heavy metal and hits just about everywhere in between:
There are even breaks for simple, almost psychedelic, solos over almost proggy riffs like in this clip from "Quelling the Simian Surge" (you get the sense that someone got ahold of a thesaurus while writing the song titles on this album):
The riffs often have an almost bouncy feel to them.  Of course, I prefer to describe riffs like this one from "Heirs to Perdition" as "galloping" rather than "bouncy":
As you can tell with all these clips, most of this album bounces/gallops/blasts along like this clip from "Hereditary Taint":
Though there are still plenty of slower and mid-pace sections to vary things up like this clip from the instrumental title track:
Of course, what Arghoslent does best, as in this clip from "Quelling the Simian Surge,"  is to craft some of the most intricately melodic riffs you will find without once sounding like any of those intricately melodic bands that I loathe:
And, the whole time, as in this clip from "In the Purging Fires of War," they never once forget to be fucking epic as shit during all the effortless riffing:
If all this sounds like your thing, I highly recommend all of Arghoslent's albums.  Of course, it will be up to you to figure out how to sleep at night.