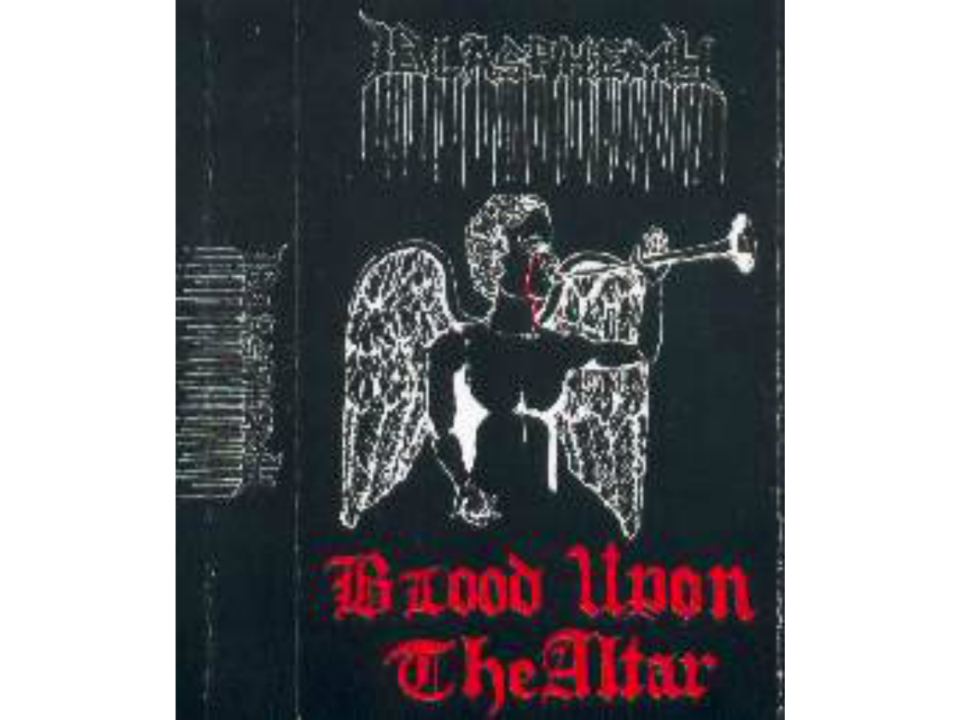 1989 was a pretty brutal year for extreme metal.  Grindcore and death metal had finally used the knowledge culled from a decade of metal malevolence to produce some of the filthiest recordings in the history of music. However, none were quite as filthy, quite as brutal, and quite jaw-droppingly evil as Blasphemy's debut demo Blood upon the Altar.
Yes, Blasphemy's follow-up, Fallen Angel of Doom is a metal classic, and to claim you don't like that album is to be cast out from the halls of metal for all time.  However, as brilliant as that album is, I think I actually prefer Blood upon the Altar.  Partly because it just has a certain primal first album immediacy and charm (think W.A.S.P.'s debut), but mostly because the production is just so much better!  Just check out this immortal riff from the immortal "Demoniac":
Now listen to the same exact riff from the same song on Fallen Angel of Doom:
You almost can barely even hear the best part of that song in the FAoD version!
Still, I'm not here to debate which album is better, ButA or FAoD, I'm here to bring teh evil, and that is exactly what Blasphemy does on songs like "Weltering in Blood":
Now, I'll admit, that that "slow epic simple melody" that Blasphemy loves to riff into the ground between sections of chaos and old school death metal might sound a little familiar over the course of even this short of an album. For example, this clip from "Ritual" might seem a little familiar:
However, anyone can hear that it uses the four notes from "Weltering in Blood" in a totally different order! And this clip from Nocturnal Slayer" uses the same four notes in an even different order (it shows impressive restraint that Blasphemy did not create a 24 song demo):
Ok, ok, obviously I kid, sure, some of the riffs and that classic Blasphemy formula might be a little similar, but while listening to one of the most visceral albums of all time, one hardly has time to nitpick whether or not certain riffs are too similar. And, honestly, there is a great deal of variety in the music on this album. I especially love when they really get the tremolo picking going like this clip from "Blasphemous Attack":
They might have their roots in death and grind, but supremely evil stuff like that is why Blasphemy has always been a black metal band at heart.
In fact, the best stuff on the album is when they get all sinuous and evil (in a chaotic blasting way, of course) like this clip from "Blasphemy":
That track even features that classic Blasphemy way of ending a song–by just fucking ending it! So, in that spirit…
BLASPHEMY!