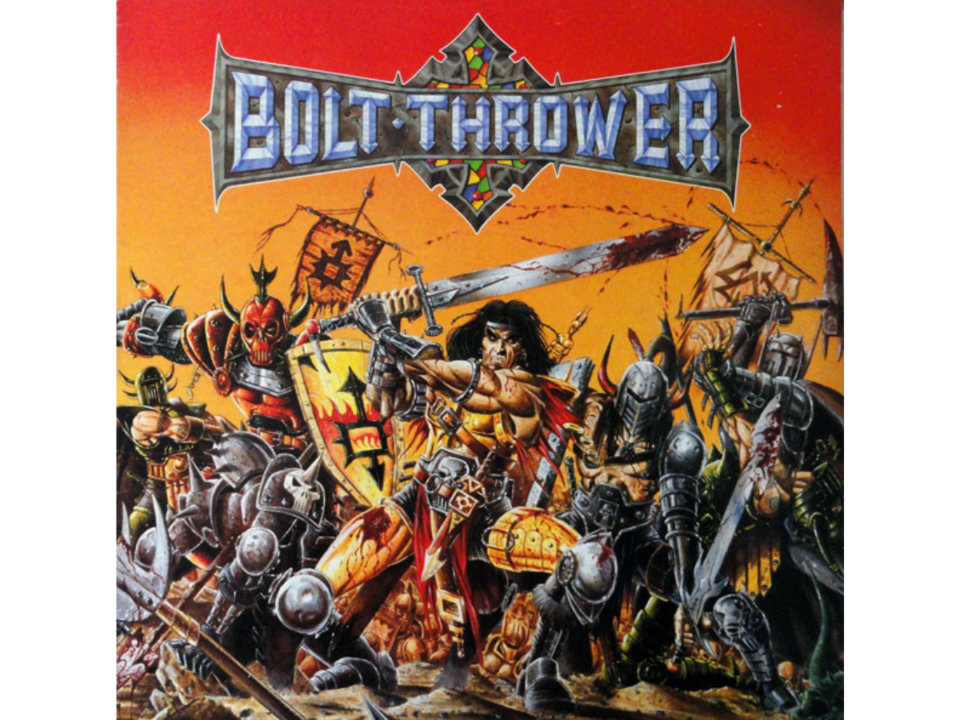 Welcome back to Mid-Month Metal Masterpiece, where I discuss a different classic Thrash, Death, Black or just plain "Heavy" metal album on the 15th of each month. Of course, I'm an old school fellow, so don't expect to see a lot of stuff post-1996 or so. Each installment will be accompanied by several short sound clips illustrating important sections of the album. Anyway, it was either this or a new Daily Metal Reviews section. Consider yourselves lucky I chose the path of moderation.
This month I'll discuss the most awesomely named death metal band ever's 1991 album Warmaster.  A true classic of Warhammer 40K inspired death metal.
There's an old joke that says something along the lines of "Vivaldi didn't write 500 concertos, he wrote one concerto 500 times."  Well, any death metal fan will immediately understand this joke's relevance to Bolt Thrower, a totally badass band that has been writing the same song over and over again since 1986.  Luckily, like Vivaldi, that song TOTALLY kicks ass.
I was pretty torn about how to pick today's album.  1989's Realm of Chaos is probably Bolt Thrower's most interesting album.  But it (like their debut, 1988's In Battle There is no Law) is also partly grindcore, which has never really been my thing.  1992's The IVth Crusade has a truly thunderous production, and the songs are all great.  Unfortunately, they really do all kind of sound the same (a problem that has always plagued their albums).  1994's For Victory… and on are all just as good as The IVth Crusade, but in addition to the repitition problem, they also become increasingly creatively inert as Bolt Thrower tried to stretch a musical style that was good for an album at most into a career.
This leaves us with 1991's Warmaster.  Not quite as varied as the hilariously detuned Realm of Chaos, and not produced as well as The IVth Crusade, it was Bolt Thrower's first pure death metal album and one for which I've always had a soft spot in my blackened heart.
Bolt Thrower are the best there is at what they do…and what they do is play mid to up tempo death metal propelled by a thunderous freight train of a drumming attack.  Drummer Andy Whale was not one of the all time death metal greats, there are plenty of others with faster double bass or more technicality.  But just check out how instrumental he was to the relentless attack that is a typical Bolt Thrower riff from "What Dwells Within":
As that clip illustrates, when the drums start in on a Bolt Thrower track, your ass is getting kicked.  The guitar parts on Warmaster are all very cool too, and served as nice interludes between the driving double bass sections like in this clip from "Destructive Infinity":
Karl Willett's vocals are also pretty great.  Like Morbid Angel's David Vincent, they are clear enough as to make a game of "Guess the Underground Metal Song Lyrics" far to easy to even be bothered with, and yet they are still quite powerful and gutteral as this clip (backed by a cool artificial harmonic's riff) from "Rebirth of Humanity" illustrates:
Of course, by now you should be detecting a pattern to these songs which starts with the first track on the album, "Unleashed (Upon Mankind)":
Squirrely melodic guitar riff (based on whatever harmonic minor scale that they use to write every riff they've ever come up with ) followed by thunderous double bass attack.  It's a good formula, but not exactly one that can sustain interest over multiple albums (or, in the case of their later material, multiple songs).
Still, I said that Warmaster was more varied than most of their output, and for the most part that is true.  The songs jump from slow to fast to midtempo quite effortlessly, and have plenty of cool riffs at all stages like this section from "Afterlife" illustrates:
Not to mention the album highlight of "Cenotaph":
Of course, "Cenotaph", as part II of the three album "World Eater"/"Cenotaph"/"Embers" trilogy is pretty much the exact same song as the other two.  Of course the fact that they went to the trouble to play the same song on 3 different albums (with fade outs/fade ins between albums) instead of just playing a song that sounds like the same song on 3 different albums should tell you how awesome the song is.
As for the solos, they are pretty typically atonal and death metalish.  Though there are some nice simpler sections that work well to diversify the relentless chugging onslaught that is a typical Bolt Thrower album like this clip from the final song, "Afterlife":
And of course the album ends with that awesome Bolt Thrower chugging double bass.
Is it better than The IVth Crusade?  I am honestly not sure…The IVth Crusade has so many totally sweet songs.  But you have a much higher percentage chance of getting all the way through Warmaster without getting completely bored, so I'm giving it the edge today.