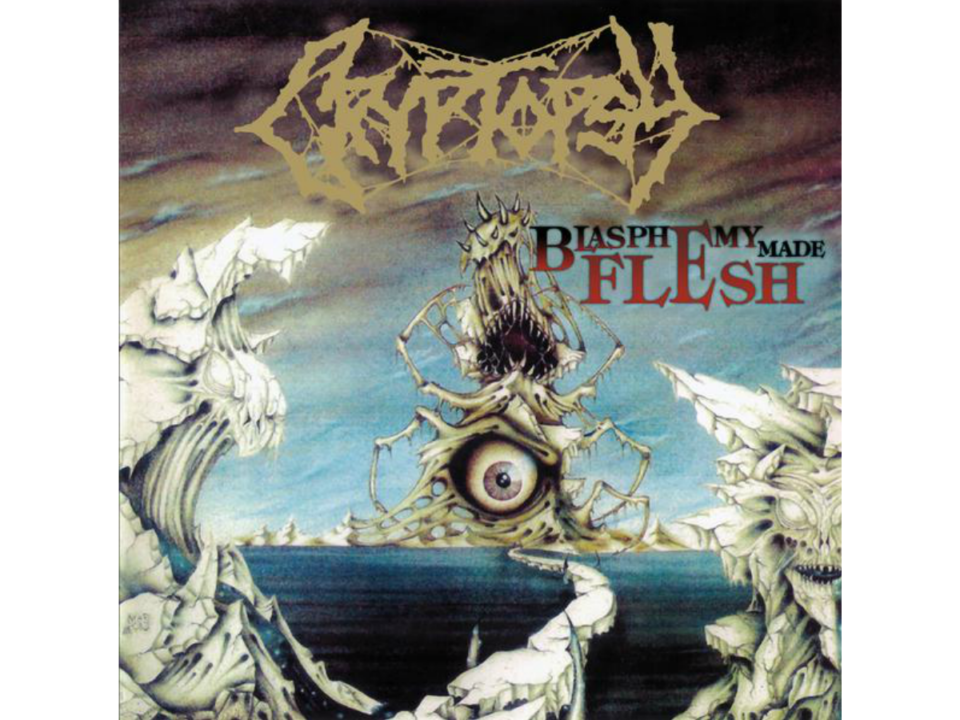 Welcome back to Mid-Month Metal Masterpiece, where I discuss a different classic Thrash, Death, Black or just plain "Heavy" metal album on the 15th of each month. Of course, I'm an old school fellow, so don't expect to see a lot of stuff post-1996 or so. Each installment will be accompanied by several short sound clips illustrating important sections of the album. Anyway, it was either this or a new Daily Metal Reviews section. Consider yourselves lucky I chose the path of moderation.
This month I'll discuss everyone's second favorite Cryptopsy album, 1994's Blasphemy Made Flesh.
Canadian technical/brutal death metal band Cryptopsy was a relative latecomer to the death metal scene, but their debut album quickly catapulted them into the ranks of the all time greats.  Of course, it was their follow up None So Vile that consistently makes "Best Death Metal Albums of all Time" lists, so why am I covering the supposedly lesser debut this time around?
Well, first, just to be a contrarian of course–if everyone loves an album, that's a great reason to pick a different one!  And granted, None So Vile is faster, more technical, better produced, more complex and all around more BRUTAL than Blasphemy Made Flesh.  But, you know what?  When it comes down to it, I've probably listened to None so Vile more times, simply because I think it's a little catchier.  Taking a look at any of my music picks on this site, it's pretty clear that I don't put a premium on complexity, and today I just wanted to call attention to a damn fine album that is too often in the shadow if its more famous follow-up.
But don't take my word for it, check out the opening of the first track, "Defenestration":
I love that ridiculously tinny bass that opens it and then the wash of over trebled blast beats (the parts where he plays the drums really fast) followed by some almost black metalish screams and all hell breaking loose on the drum kit as the song proper starts.  And you'll be happy to hear that the album keeps up the intensity!  Hell, that's really the only clip I need to play this week.  But, since I like making samples of all my favorite parts, we'll keep going.
The album is not all nonstop blastbeats, there are plenty of slower sections in there like the intro to "Born Headless" with some nice guttural vocals from vocalist Lord Worm:
Actually, regarding the vocals, Lord Worm has long been known as the most indecipherable death metal vocalist of all time.  However, after taking some time with the lyric sheet on my CD, I'm here to report that the claims that he didn't actually sing real words are exaggerated in the very least.  These vocals might not be David Vincent clear, but he at least seems to be singing the words.
Anyway, all this has led me to institute a brand new Mid-month Metal Masterpiece feature:
Guess the Underground Metal Song Lyrics!
The rules are simple.  Listen to the clip, and see if you can guess what Lord Worm is saying.  Check the spoilered answer and see how many words you got right!  Get everyone together around the computer and wow your friends!  Anyway, on with the contest:
Clip 1 – Defenestration
Spoiler
Tantalized, a child is wont to
Take an ill-considered
course of action; such is life:
is experience not bitter?
[collapse]
I have to admit, I'd never really read the Cyptopsy lyric sheet before, but I was pretty impressed with what I found.  I even googled this one and it doesn't appear to be a quote…ol' Lord Worm made that shit up himself!  Also, I don't think that's how you pronounce "bitter".
Clip 2 – Pathological Frolic
Spoiler
Felch the dead sphincter:
Cold green meat,
How did his ass taste?
(Tender and sweet…)
[collapse]
I googled this one too, also not a quote.  And actually it was fairly clear for Lord Worm…though I don't know if he actually sings the "Tender and Sweet" part.  I'm pretty that after a solo break he goes straight to the "And then we fucked it…" lyric to end the song (whatever he said had 5 syllables anyway).  Still, most people would be shocked to find out that Lord Worm even sings three quarters of his lyrics!
Clip 3 – Gravaged (A Cryptopsy)
Spoiler
My graveside manner,
lacks no finesse.
These ravaged bodies,
betray no distress.
[collapse]
Ok, this was a hard one.  I mean, he still says everything, but I'm pretty sure he cheated on the delivery of the last line.  Which is too bad, it was a cute poem!
Ok, back to the MMMM!
Musicianship on the album is uniformly pretty great.  It's a rare underground metal album where you can actually hear the bass, but not only is the tone appropriately thunderous in parts (where it is not equally awesomely grating like that opening for "Defenestration"), but it actually makes the individual notes in the mix heard like this nice break down from "Born Headless":
There are also a lot of nice guitar solos on the album.  Nothing too technically jaw dropping, but actually incorporated into the songs quite well like this solo from "Open Face Surgery":
Or this similar melody from "Serial Messiah" after the "proggish" (longtime readers of MMMM know I can't go a full post without saying the word prog at least once) lead in:
Solos like those show just how catchy a lot of the melodies in this album are, as illustrated in this clip from "Pathological Frolic":
Of course, only a poser would listen to a brutal death metal album for the melodies, so in case you thought I was turning poser on you, let me leave you with this clip from "Swine of the Cross":
Hopefully that will serve as a reminder that the melodies are just there to fill time between the blast beats.
Also, if you must know, None So Vile is awesome.  Probably even better that Blasphemy Made Flesh.