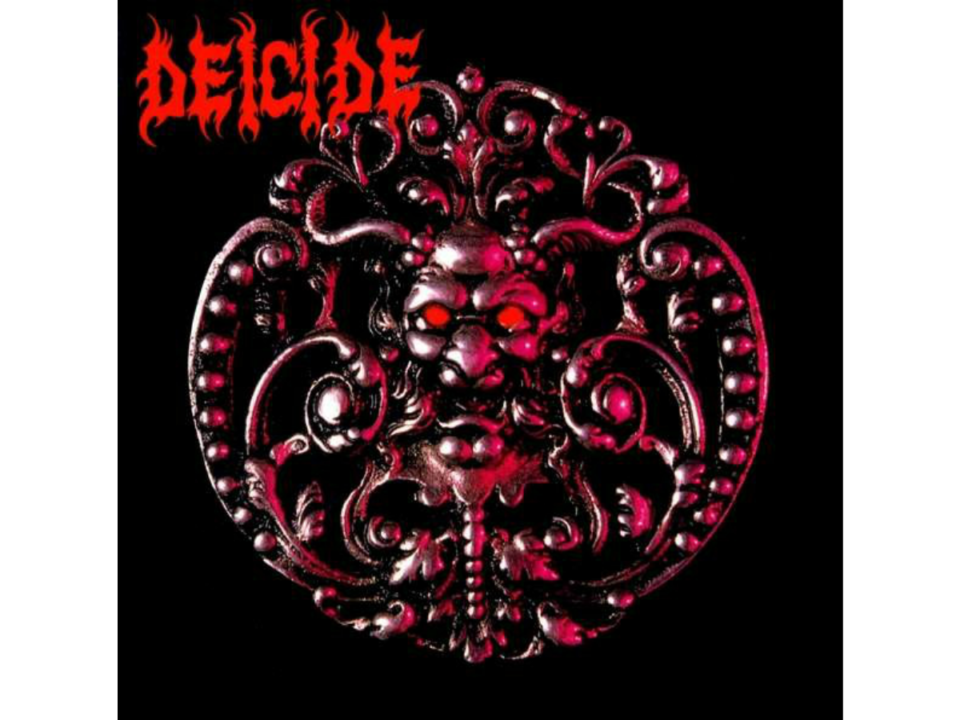 Welcome back to Mid-Month Metal Masterpiece, where I discuss a different classic Thrash, Death, Black or just plain "Heavy" metal album on the 15th of each month. Of course, I'm an old school fellow, so don't expect to see a lot of stuff post-1996 or so. Each installment will be accompanied by several short sound clips illustrating important sections of the album. Anyway, it was either this or a new Daily Metal Reviews section. Consider yourselves lucky I chose the path of moderation.
This month I'll discuss Deicide's 1990 album Deicide.  It's easily my second favorite death metal album of all time (after whichever of Morbid Angel's first three I decide is my favorite that day).
Deicide has released faster albums (Legion), and heavier albums (Once Upon the Cross), but I have always thought that their self titled first album was their strongest.  It is a fairly simple album (by death metal standards), but all that really means is Deicide cut every song to the bare bones.  There isn't a hint of the typical death metal riff wankery present in Deicide, just one brutally anthemic riff after another.  Deicide's Deicide is the death metal equivalent of a Hemingway's prose: short, to the point, and without a bit a wasted space.
Their classic "Sacrificial Suicide" (with lyrics that make Ozzy Osbourne's controversial song "Suicide Solution" from a decade earlier seem like a nursery rhyme by comparison) is a good example of the relentless intensity of the album.  Vocalist Glen Benton's (the guy with the upside down cross branded in his head)  signature dual guttural/screamed vocals combine with the blazingly fast speed picking to create an almost exhausting evil atmosphere:
And, of course they attempted to bolster the evil atmosphere with the usual constant shout outs to their man Sathanas as in this hilarious opening from "Crucifixation" which also highlights some amusingly wild (and well integrated) solo work:
The lyrics on the album are interesting; completely Satanic, yet you can see Deicide's underlying "radical atheiest" philosophy conflicting with the pro-Satan stance of the songs.  Now of course the members of Deicide didn't really believe in all that Satan stuff any more than singer Benton (currently in his 40s) intended to carry out that suicide at 33 in 2000 so he could be the reverse mirror of Jesus' life.  And, if you take a look at the lyrics to a song like the title track "Deicide":
No lord shall stand before myself
I can strike the light and see through the truth
For I'm the Deicide, Dominus, what could you do
Thou has failed you now, once again and always will
On the cross, forgotten son, a sacrifice it had to be done
Died for me, well that's too bad I don't believe
Killed by sins of the evil that I am
Your destruction, reasons of a world in pain
Blind disciple, you will never live again
Wage of death, course of life
Unsympathetic birth of the Deicide
Eyes of pain, pleas of death
As you're put to rest
Three days to rise
If he lives again he is sure to die
I killed Jesus
Just to see him bleed on his puppet throne
I am evil
I'm the Deicide and I killed the lord
No more reasons
I will kill the world in another form
I rule this world
NAIL HIM
You will see that such lyrics don't completely mesh with the "give praise to Satan silliness" (not to say the "Deicide" lyrics aren't all kinds of silly too) of tracks like "Crucifixation".  Of course, as Deicide began to focus more on the antichristian/atheist stuff on their later albums they ironically end up feeling kind of annoyingly preachy about it.  So I've always appreciated the over the top EEEEvil silliness of their debut's lyrics.  Not that you could tell any of this from listening to it:
In addition to the garbled snippets of blasphemy, that title track is an example of how oddly catchy the album is.  Even if the riffs are a bit simple, but the urge to bang your head along with them is undeniable.  Just check out this anthem from the song "Carnage in the Temple of the Damned" for another example:
Again, a simple section, but it is far more interesting that some of the "riff salads" of a lot of "technical death metal" simply because it works as a song.
Not that there aren't plenty of stylistic variances to mix things up from a constant blast of speed picking.  I've always liked the intro from the opening track myself:
Typical death metal, but well done as always (and, for 1990, not exactly derivative).
I feel like too often death metal bands lose sight of the big picture amidst their constant tempo changes and frenzied riffing.  Deicide's first album always keeps the big picture in mind, which is to say that they never forget that their job is to create a solid album full of compelling songs without any boring parts.  With Deicide they do this so well that it really is an almost physically exhausting experience just trying to keep up with all that brutally visceral energy.  Give it a listen…it's so good you'll find yourself wanting to turn it up until your ears beg for mercy.