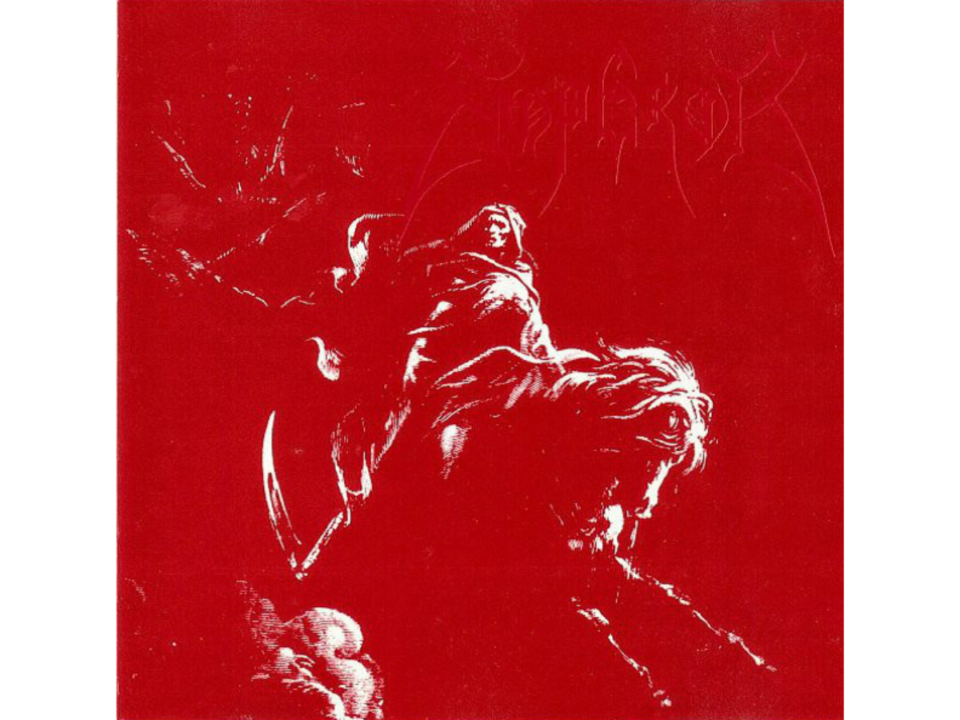 Welcome back to Mid-Month Metal Masterpiece, where I discuss a different classic Thrash, Death, Black or just plain "Heavy" metal album on the 15th of each month.  Of course, I'm an old school fellow, so don't expect to see a lot of stuff post-1996 or so.  Each installment will be accompanied by several short sound clips illustrating important sections of the album.  Anyway, it was either this or a new Daily Metal Reviews section.  Consider yourselves lucky I chose the path of moderation.
This month I'll discuss my very first Black Metal album ever (and still one of the best) – the 1992 Hordanes Land split from Emperor and Enslaved.
I'd like to start today's Mid Month Metal Masterpiece with a story.  It was 1996, and I had only recently learned that the "Enter Sandman" song I had happened to have heard the previous year was by a band called Metallica, not Judas Priest.  From there I had found my way to Master of Puppets, and had even begun to make some explorations into the genre of Death Metal.  However, that was about as far as my metal journey had taken me.
It was around this time that I stumbled across the Hordanes Land split cd at a local used cd store, Yesterday's Discs.  I had no idea what I was getting myself into as I took the album to the store's cd player to give it a listen.  All I knew was that it had a cool cover (What's that?  Why yes, that is indeed a scan of my special Century Media misprinted red cover version signed by Ihsahn and Samoth (and Trym on the back) as the background for the picture on this post…), some really dark liner notes talking about recording under a full moon and stuff, and song titles that rivaled Led Zeppelin for nerdiness.
Well, this is what greeted my ears (the opening track, "I am the Black Wizards"):
I had no idea what I was hearing…at that point, to my uncultured ears, a lot of it just sounded like a wall of noise (which, to be fair, I guess a lot of it actually was).  Still, I knew I had found the aural equivalent of looking into a black mirror and naturally bought it on the spot.
And really, how awesome is that intro?  A totally evil sounding guitar drone starts…and, as if it wasn't distorted enough, suddenly a wall of white noise kicks in over it, and before you are done adjusting to that you get a chilling scream (with even MORE noise…and a buried melody) as the song kicks in proper.  Just listen to the same intro from Emperor's next release, In the Nightside Eclipse:
Sure, it's louder, but it's also a lot muddier, it's lost the edge of the Hordanes Land version.  The muddy production is the one big flaw with the entire In the Nightside Eclipse album in my opinion.  Anyway, Emperor's half of the Hordane's Land album has to be the most imitated Black Metal album ever, all the elements are there…
The tremolo picked guitars in this clip from "Cosmic Keys to my Creations and Times":
The epic keyboards and Donald Duck vocals in this clip from "I am the Black Wizards":
Not to mention the (depending on how much of a grain of salt you want to take it with) "just on the right side of silly" EVIL aura that pervades the whole thing as in this clip from the deliciously titled "Wrath of the Tyrant":
If True Norwegian Black Metal™ is what you are looking for, it doesn't get much truer or more Norwegian than Emperor's tracks on the Hordane's Land split.  Without the muddy production of In the Nightside Eclipse, even simple songs like "Wrath of the Tyrant" are basically awesome:
Granted, that intro isn't as evil as the demo version of the same song:
I've always loved that opening scream.  But at least in the Hordane's Land Version you can actually hear something other than reverb and cymbals once the song kicks in.  Bottom line, the Emperor's production on Hordane's Land is a perfect balance between the overproduced sludge of In the Nightside Eclipse and the reverb gone haywire mess of their demo.  Couple that with Emperor's great songwriting skills and you have a Black Metal classic in your hands!
Of course, considering Enslaved's half of the cd is even better, I'd say we have something more than a mere Black Metal classic on our hands.
Enslaved is often accused of playing "Viking Metal" which is really just a pretentious way to say "slightly less evil, but more epic sounding" Black Metal.  I don't seem to be able to write a post about metal without accusing someone of sounding "prog" (I'm talking King Crimson, not prog metal here), and I'm going to go ahead and accuse them of that too.  Though, to be fair, they are all apparently big Genesis fans, so I might not be too far off.
Enslaved's side of Hordane's Land (technically, Hordane's Land is the name of Enslaved's side, Emperor's side is "self titled") does suffer from one serious flaw (like their Viklindr Veldi album).  The songs are about twice as long as they should be.  Consider the first track, "Slaget i skogen bortenfor" (The Battle in the Forest Beyond), you have riff 1:
Followed by riff 2:
repeat those a few times and then go to riff 3 (gotta love the spoken Norwegian vocals):
Then repeat the whole thing again…almost 14 minutes later…the song is over!  Of course, there are many variations on those riffs, and the feel of the track really is quite epic (I saw them play it live without keyboards (and in tights and tunics) at Milwaukee Metal Fest, and, dare I say it, it was a better show than Morbid Angel).  I could see the argument being made that it is a minimalist masterpiece along the lines of Burzum's 25 minute, 3 note, "Rundtgåing av den transcendentale egenhetens støtte."  After all, whenever I listen to this song they usually manage to keep my interest for at least 11-12 of the 13+ minutes.  I also find it admirably cheeky that they save a cool 4th riff for the final 10 seconds of the song:
The next Enslaved track, "Allfǫðr Oðinn" (All-father Odin), is just another example of that special epic feel that so many Enslaved songs seem to have.  I know to those unfamiliar with Black Metal, all these clips pretty much sound the same (even when compared to Emperor's stuff) but as an melancholic paeon to that which once was, I really do think that Enslaved is able to capture that feel better than any other band in Black Metal (aside from Burzum, of course):
The final track, "Balfǫr" is even more laid back than the first two, and finds Enslaved really diversifying the instrumentation.  For instance, this may be the only Black Metal song ever where you can actually hear the bass!:
There is also a really excellent incorporation of piano into the song:
Along with acoustic guitars (though, like most black metal acoustic guitars…about all you can hear is the pick on the strings):
And, of course, synths!:
So there you have it, the Hordane's Land Split cd, created in the heyday of the second wave Norwegian Black Metal scene (just before the church burnings, killings, suicides and out of control egos destroyed the fragile scene)–it is a true classic of the genre and I don't say that just because it also happens to be the first Black Metal cd I'd ever heard!