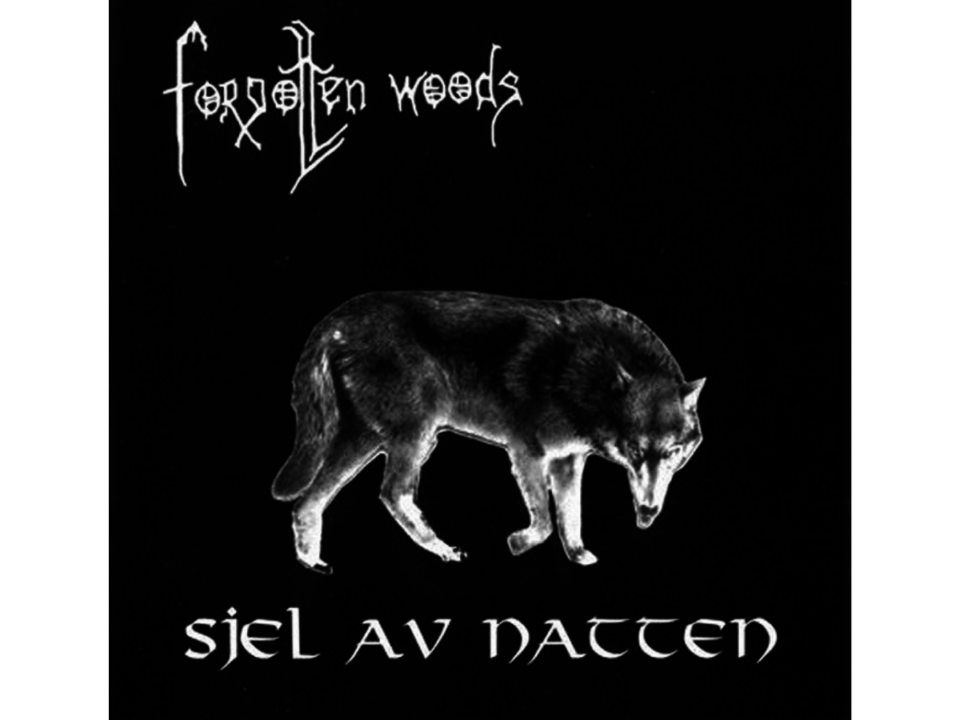 Within the fetid halls of black metal, there exists a genre known as DSBM (not to be confused with NSBM, and also not to be confused with BDSM, both of which are very–well, slightly–different things).  Short for "Depressive Suicidal Black Metal," DSBM is a somewhat slower, more melancholic and depressing variation on a type of music that is already pretty damn melancholic and depressing.  And one of the most important bands to influence the spread of DSBM over the last decade and a half is today's band, Forgotten Woods.  Well, them and Burzum, but Burzum influenced everybody, so we'll just focus on Forgotten Woods today, specifically their 1995 EP Sjel av Natten (Soul of the Night).
DSBM is a good place to start today, considering it was listening to the excellent (I don't care what they say) DSBM band Xasthur that Forgotten Woods was thrust back into my radar.  See, I've owned their first album, As the Wolves Gather since 1997 or so (back when my love of Graveland had me buying up most of the bands on the No Colours record label.  It was a little repetitive, but I always loved the melodies.  However, as the years passed, it sat all but forgotten (much like their eponymous woods) in my cd collection.  All but forgotten until I heard a bonus track cover of their "Dimension of the Blackest Dark" as  bonus track on Xasthur's Funeral of Being.
That was enough to remind me "oh yeah, those guys were pretty great, I wonder what else they did?"  As it turns out, they put out two more albums, both even more brilliant than the first.  Hell, even their later "death rock" stuff under the name Joyless was pretty great too!  Anyway, there has been quite a Forgotten Woods revival in the Unruh household as of late, all of which has led to today's post.
Forgotten Woods is far from the most brutal black metal band of all time.  They were always more rock 'n roll sounding, kind of laid back and mellow, but with a decidedly forlorn quality and some vocals that sound like Varg Vikernes gargling acid.  Check out how groovy "En natt med storm og ravners skrik" ("A Night of Storm and Raven's Cry") sounds, especially once the sweet humming kicks in:
Black metal isn't about solos, but if you are going to solo, it needs to be as simplistic as possible, as in this section from the same song where they add some piercing high end guitar work to the humming:
This isn't some kind of technical tour de force, Forgotten Woods uses exactly the amount of complexity necessary to deliver their message of supreme melancholic night music.
Some sections are heavier or more black metally like this tremolo picked section from "Hvor Vinteren Rar"  ("Where Winter Says"):
However, the same song also has plenty of the slower arpeggioed sections that bands like Xasthur love so much (and even the uptempo section that it transitions into is more rock 'n roll than metal):
This isn't exactly accessible music, but I think even a non black metal fan can appreciate the laid back atmosphere of tracks like "Sjel av Natten":
After all, most of the time when you listen to Forgotten Woods, you are essentially just listening to nothing more than a much less polished version of this (with added shrieking vocals):
And that's not such a bad thing, B.O.C. are pretty kvlt themselves!!